Let Love Take Root ...
... and weave a garden of calm beauty (Nora Corbett)

She writes: I drew this beauty (Blossom Goddess - see below) to represent the moment of harmony and peace I experience whenever I make something with my hands.

In this month's newsletter

Blossom Goddess from Nora Corbett

New card kits and Christmas hangers from Permin

Vervaco's latest collection

Lights, YoYos and Bead Boxes

Needlepoint Cushions

Fine Art Needlepoint from SEG

Anette Eriksson Scandinavian Kits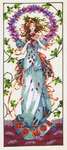 Nora Corbett has produced another design for Mirabilia: a golden-haired goddess titled Blossom Goddess draped in blue with a halo of flowers and blossoms. The embellishment pack is also in stock.

Permin have a new set of hardanger Christmas cards with five designs each available as white on red in a white card or red on white in a red card. There's still plenty of time to make your own special greetings card.

Also new for Christmas this year from Permin, a range of Antique Red metal bell pull hangers finished in dark red enamel. These are available in a range of sizes from 16 cm (6 inches) to 60 cm (24 inches).

Vervaco`s Third 2016 Collection is now available and so far we have in stock a monochrome birth record of mother and baby hands and a sepia picture of a girl with kittens.

Now that the nights are drawing in, getting a decent light to work by is increasingly important. Newly in are portable lights by the Daylight Company. There are two very stylish, functional and reasonably priced foldable LED lamps and a `YoYo` magnifier light (which folds up into what looks like a YoYo!) Easy to carry and quite tactile too!

Also new in the storage line, transparent bead boxes to store all those beads left over when you open a packet, perhaps to work one of Mirabilia's lovely ladies.

Check out our expanded range of needlepoint cushion kits by Vervaco and herb pillows by Cleopatra`s Needle.

We also have striking fine art needlepoint kits by SEG of Paris starting with some based on Gustav Klimt's paintings and others featuring pre Raphaelite ladies by English artists.

Anette Eriksson brings Scandinavian design to her embroidered pillows and lovely samplers.

This month we have some stamped Christmas table covers for you to embroider in our Bargain Basement and as always there are remnants at keen prices.


And finally ...

With apologies to our antipodean readers, the season of mists and mellow fruitfulness is upon us. Or rather it isn't. The trees are still green and the grass is still growing - far too fiercely for our lawn mower. It seems Summer is reluctant to let go this year. Maybe it knows something we don't.

We hope you experience many moments of harmony and peace wherever and whenever you're crafting.



by Arts and Designs on Fri, 30 Sep 2016, 20:07