Quilting, Blackwork and Summer Designs
Patchwork and Quilting are enjoying a revival and have been brought up to date with new fabrics and equipment. You no longer have to make a full quilt by hand and we have lots of new design booklets including one completely of bed runners to add a touch of tradition to your décor.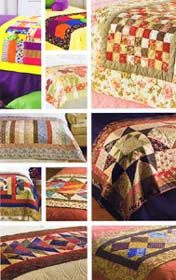 We also have new equipment that is ideal for marking, cutting and stitching patchwork and quilting work.

Classic Embroidery have introduced two new oriental blackwork kits Murano and Burano which should prove to be popular like their Kimonos series. The flowers on the fans are worked in three strands of cotton giving them a velvet feel and each has an added ribbon.

Although our US supplier is currently out of stock, Counted Illuminations designs are all still available from Elizabeth Designs.

Rico Design have released their new catalogue and we have many of their new traced summer table covers in stock. We will have to wait a little longer before the exciting new Christmas designs are in production but we do have some on order.

Permin of Copenhagen have also brought out a range of new summer designs with two new monochromes and a lovely close up flower set. There are additions to the their table linen range in both cross stitch and hardanger.

Anne has been trying out a mini clip-on magnifier while working on a needlepoint tapestry. It started well but after using it for a while the flexible arm became loose and difficult to reposition. The search for a substitute for the eyes I used to have continues!

This month we are featuring silhouette and monochrome kits. Working with one or only a few shades can be very relaxing and for those in the northern hemisphere the lighter days make it easier to work with dark colours. The finished embroideries stand out well - and of course match any colour scheme!

by Arts and Designs on Tue, 05 Jul 2011, 14:32