A Fur Coat in Texas in August
Hello and welcome to our August newsletter!

This month ...

New DMC kits

Rapunzel

Blackbird Designs' Latest

New from Bothy

Lanarte

Winds of Change for Anchor/maia

This Month's Free Pattern
New Kits and Patterns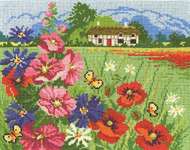 Four sets of new DMC kits have just arrived ...
The latest design from Mirabilia is the fairy tale princess Rapunzel standing on her tower with her long, long hair coiled around her. Another stylish pattern from the great designer Nora Corbett.

Number nine and number ten in Blackbird Designs' Garden Club Series The Gardener and How does the Lily Grow have arrived. There are another two still to come to make up the large composite sampler.

Bothy Threads have a lovely new series of wildlife kits from the beautiful and witty watercolours of Hannah Dale of Wrendale Designs. Don't worry about all the background spots because they are pre-printed on the fabric and not stitched (phew!).

Also from Bothy are two more kits in the Fairy Tales Series :- Cinderella, complete with the Ugly Sisters, the pumpkin coach, glass slipper and Prince Charming, and Snow White with the Wicked Stepmother and poison apple, and of course the seven dwarfs.

Lanarte have released their third 2016 Collection featuring an elegant lady, lots of flowers and a very pretty nature design by Marjolein Bastin.


Anchor and maia

We are sad to say that we have been told by Coats Crafts that the UK company is winding down. The company was founded in the eighteenth century in Paisley, Scotland and grew and merged until it became a world leader. The parent company MEZ in Germany have made arrangements to distribute their products through a UK wholesaler and we understand that all existing products, stranded cottons, tapestry wools, Anchor and Maia kits will still be available. We hope to have a clearer picture by September.


This Month's Free Pattern

To celebrate the summer this month's free pattern is Coreopsis a bright yellow summer flower.

And our Bargain Basement is coming up roses all at half the previous low price!


And finally ...

With the Olympics just starting in Brazil, our sympathies go out to the athletes who have to compete in the tropical heat of Rio. We offer this quote to them: «The pleasure of jogging and running is rather like that of wearing a fur coat in Texas in August: the true joy comes in being able to take the damn thing off» Joseph Epstein (b 1937)

We wish you a relaxed and air-conditioned August.
by Arts and Designs on Fri, 05 Aug 2016, 18:49