Autumns and Advents
Autumn has already started in our wayward Scottish climate - oh, how I wish I was in Australia or New Zealand now!

Whatever the season - or the weather - there's always time to have a seat and get the needle out ...

Derwentwater Designs has a new set of Seasons in Longstitch, this time it's walks bluebell woods for spring, coastal path for summer, river walk in autumn and a village walk in winter. These are all on 14 count canvas using Anchor tapestry wools.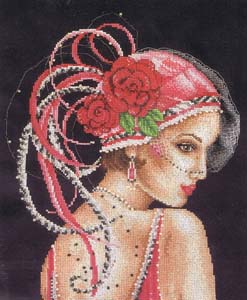 Vervaco's new cross stitch kits are here and we have two of the very popular sepia designs as well as two brand new Deco ladies, one reclining on cushions with her black cat and the other in pink on black fabric. There's also a new abstract design Dharma II.

Also in are the long-awaited new Mr Men and Little Miss kits from Bothy Threads. Princess Carriage would mark an event in your own Little Miss Princess's life and in the run up to the 2012 London Olympics lots of the popular Mr Men characters have taken to a red London bus.

If you love hand-knitting then you'll be interested to know that Alison Ellen, author of the popular The Handknitter's Design Book has just published a new book called Knitting, Colour, Structure and Design, rrp £19.95. Alison has told us this is now on sale at Waterstone's and elsewhere on-line.

Many stitchers are already thinking ahead to Christmas so we are featuring Advent Calendars this month. Advent begins on December 1st so there's just about time to finish one for this year - but of course these calendars will give pleasure to children and grandchildren for many years.

by Arts and Designs on Fri, 02 Sep 2011, 19:16