It's Raining Cats and Dogs
Happy New Year and a very warm welcome to 2016 and our first newsletter of the year.

We hope you were able to find time to spend on your craft projects over the festive season. It all seems to have flown by so quickly, doesn't it!

Our region had lots of rain and some flooding so our thoughts go out to those affected by bad weather anywhere.

In this month's newsletter:
New Lanarte Collection - number 4

New John Clayton Kits

New kits from Dimensions Gold

New designs from Imaginating

Blackbird Designs

Lanarte have added a fourth new Collection to end 2015 in style with lovely ladies, flowers and enchanting wildlife pictures by Marjolein Bastin.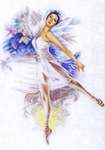 Packhorse Bridge by John Clayton is a winter landscape with an ancient arched bridge and deer in snow by the river. And also new from Heritage Crafts this month is Rachel, another modern lady in John Clayton's Elegance series. Both kits are available in either 27 count evenweave or 14 count Aida.

We have three new Dimensions Gold kits, a Spanish lady, a continental landscape and a flower bouquet.

Imaginating's «Let's ...» series continues to grow this month with another two positive mottos - Let`s Love Our Family and Let`s Hope

Blackbird Designs Garden Series now has a third design Honey Bee. We see a pattern emerging here.

It's Raining Cats and Dogs in the Bargain Basement with lots of kitten and puppy kits at half price. We hope it's dry where you are.

And finally ...
Don't forget to visit our customer gallery in Pinterest!

Why not send us photos of your own work? (just attach a photo to a reply to this email)

New Year's Day has already come and gone so what are your resolutions for 2016? Perhaps it's best not to make any. As Ralph Waldo Emerson put it «Write it on your heart that every day is the best day in the year.»


by Arts and Designs on Fri, 01 Jan 2016, 20:15