No Man Needs a Vacation ...
... so much as the person who has just had one. Elbert Green Hubbard (1856 - 1915)

With the holiday season over and the hurricane season approaching, this month is the quiet before the storm. The coming months will see a host of new kits and designs.

In this month's Newsletter

New kits from Bothy

New Permin Catalogue

New Lanarte

Blackbird Designs

The Prairie Schooler

Canada Post
Kits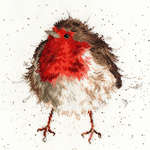 The first to arrive from Bothy Threads are four new William Morris style needlepoint cushions to double the number of those, two more of Hannah Dale's sweet pictures with a Jolly Robin for Christmas and Ducks with Daffs for Spring and a Hallowe'en special - Pumpkin House a goulish silhouette.

Permin have a new catalogue which you can see at https://issuu.com/permin/docs/coll_51 and also a smaller leaflet with table covers and children's designs https://issuu.com/permin/docs/coll_s_2015-4. Please let us know if you see anything you like in there and if we don't already have it we'll be happy to order it in!

There's a new Lanarte catalogue which we hope to add soon to our collections. They are no longer supplying any kits by Maria van Scharrenburg. So if there's one of her designs on your wish list, you shouldn't leave it too long.


Designs

Blackbird Designs' Garden Club series is nearly complete with the arrival of number eleven, the Fairy Garden.

The Prairie Schooler, a very popular chart designer, has closed after over 30 years of producing their own style of sampler. They have transferred their complete catalogue to Hoffman Distributing who are bringing back many of the older 'out of print' patterns in chartpack format. The charts are exactly the same but the paper quality isn't as good.


Canada Post

Canada Post have informed us that their labour dispute has been resolved for the next 2 years. This should mean that Canada Post should return to its formerly excellent reliability.


Bargain Basement

In our Bargain Basement this month we're offering sets of kits with 15-50 percent off the already discounted prices you would pay for the kits purchased separately!


And Finally ...

We hope you enjoyed your vacation/holidays and returned bright-eyed and bushy-tailed.

Ours was a strange mix of helping son-in-law repair his roof and finding ourselves negotiating our way down a precipitous and wet rock scramble on a Scottish Island.

Next year we'll book a beach holiday.
by Arts and Designs on Fri, 02 Sep 2016, 18:04