A Whole New Day
A huge welcome to February - which of course has one extra day this year. What will you do on the 29th? We feel it ought to be a public holiday and everyone should be encouraged to do something completely different. After all it only happens every 4 years. What do you think?

Heaven and Earth designs have added a set of cute and colourful mouse patterns from the artwork of Ellen Jareckie of House Mouse Designs. These cartoon mice have lots of shades and are more suited to advanced stitchers.

After receiving many enquiries we are adding Weeks Dye Works floss to our stock along with more Mill Hill beads. These are both found in many of our design booklets.

Bothy Threads have extended their range of very popular designs for the Spring. A new Cut Thru' features a wedding church with all the usual humorous touches. A new Huggles birth sampler has a baby bear on scales and the kit comes with blue and pink to complete for a boy or girl. London is everywhere this year and Julia Rigby's new design is a collage of many of the tourist destinations with the choice of transport to get there. Something completely different from a new designer to the Bothy, Retail Therapy has ladies shopping.

Our Bargain Basement isn't quite so full as before and not quite so dusty but there are still plenty of special offers available so don't forget to keep checking as we add more bargains!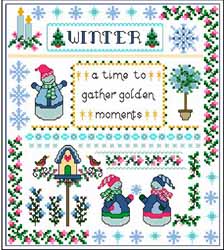 We are delighted to welcome designer Cathy Bussi a.k.a. Designs By Cathy who is well known to stitchers all over the world. Cathy has added some of her very distinctive designs to our downloadable catalogue.

This month we are featuring downloadable designs. Downloading a design is quick and easy and saves waiting for the post! You simply copy or download a file from our computer to yours. You can then print it out like a conventional chart or view it on your computer screen - which has the advantage of making it possible to magnify any part of the chart.

And finally, if you like John Clayton's pictures from Heritage Crafts, be sure to have a look at the Spring issue of The World of Cross Stitching (Issue 188) out in early March, where there is a promotion by Heritage with free gifts.

Whatever you end up doing on the 29th, be safe and treat every day like the gift it is.
by Arts and Designs on Fri, 03 Feb 2012, 19:24