Moscow, March and Mary
Commonwealth Day (on March 11th this year) is when all the member countries of the Commonwealth celebrate their links with each other. The day is intended to promote understanding of global issues and international co-operation. Perhaps surprisingly, Commonwealth Day was introduced first in Canada by Clementina Trenholme way back in 1898! It became popular there and was extended early in the 20th century to other nations in the (then) British Empire.

There's lots of news for stitchers this month with new Spring Collections from all the kit manufacturers. We hope to have some papercraft news next month when our resident papercrafter Julie (who has just had a baby) has time to write it!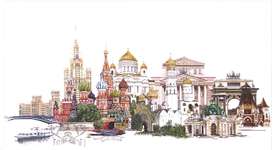 Stoney Creek's Collection of Snowmen of the Month is now complete with a cartoon snowman and verse for every month of the year. These could be a lot of fun as table mats or pictures for the children in the family so we decided as well as offering each pattern individually we'd offer the complete set at a big discount. Doing all twelve wouldn't be such a daunting project as these are quickly worked beginner designs.

Moscow by Thea Gouverneur has finally arrived - a major project whether you choose 32 count linen or 16 count Aida in ivory or black but a wonderful finished embroidery to show for your hard work.

If you're looking for a baby present or one for a first birthday, what could be more attractive than the baby animal set new from Anchor! These are converted for cross stitch from the popular early learning books by John Butler and you could combine your picture with one of the books.

And if your baby has grown into a little princess she'll be delighted by the new Little Jem kits fom Bothy Threads featuring a cartoon toddler in tutu and ballet shoes.

The most recent Imaginating 'Let's' design is Let's Do Wine by Ursula Michael. It's in the same style as the previous patterns but with colourful grapes and should be entertaining and fun to stitch.

Vervaco's new Spring Collection has lovely nursery kits and more of the ever popular sepia designs for babies and weddings along with a few new Easter specials ducks, bunnies and egg cosies. You might be taken with the red-eyed tree frogs (which also have red feet!).

We're delighted to be joined by a new designer Mary Gaines - whose attractive needlecraft designs are derived from her own artistic and photographic work. Her designs are in digital format and so can be downloaded directly without you having to wait for the mail.

Lanarte's Spring Collection as always has some lovely designs which will be very popular. We do have them all on order and we expect delivery very soon.
You can download a preview of this to view on your own computer by clicking here!

Following an enquiry from a customer, we now plan to stock kits from RTO Baltic and we should have more information on that next month along with more new kits from all our designers!

And finally, this month's (mis)quote «After all has been said and done, much more has usually been said than done». Enjoy your crafting!



by Arts and Designs on Fri, 01 Mar 2013, 20:34