Departing summer hath assumed an aspect tenderly illumed
Welcome to the September newsletter! Our title is from the poem September, 1819 by William Wordsworth.

Here in Britain we have had the wettest summer for a century and we are quite happy for it to depart! In many ways we are fortunate here that we don't suffer the summer problems of other countries like drought and forest fires. It often seems as though the world is becoming more and more filled with extremes - but perhaps that's just the media.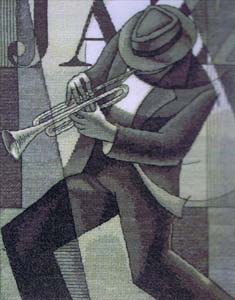 The latest collection from Maia has arrived, a month later than expected but full of stylish pictures of ladies, romantic landscapes and a new jazz player. As usual, these kits are of a very high standard and come in Maia's distinctive packs.

This year Rico Design have lovely new introductions: table toppers, some cartoon, some elegant and all with at least a touch of gold. The printed finished table covers are in either white or natural. There are also new bell pull hanger designs for Christmas Forest Animals and Houses with Christmas trees.

Have you spotted the Snowmen of the Month by Stoney Creek, six months of colourful designs so far and more to come. Along similar lines Imaginating now has all four seasons of the year in colourful samplers.

Cup cakes have become very popular and more and more adventurous. We have three samplers by Bothy Threads and a table cover from Rico Design. These are the non-fattening variety of cup cake, unless looking at the picture as you stitch sends you off to the cake cupboard.

Even while the summer rain is still pouring in the Midlands of England, Christmas is in the air at Heritage Crafts where all their artists have been busy John Clayton with Christmas Cottage, a brightly lit thatched cottage by a bridge; Sue Hill with one of her cute robins perched on a Christmas stocking and Peter Underhill with a satisfied cat and his fish shaped Christmas present from the Cats Rule series.

Three very different designs from Thea Gouverneur Halloween Kitten is the latest in the series of cute puppies and kittens and comes on 16 count Aida; Horse and Foal is a striking picture only on 18 count black Aida; and Cherry Blossom, another of Thea's lovely flower pictures is available on 36 count linen and 18 count Aida in white and black.

We've had a sneak preview of Lanarte's Autumn Collection which should be in stock early September. It includes new kits with a nature theme by Marjolein Bastin and fantasy kits by Maria van Scharrenburg as well as some amazing figurative images.

Cushions come in all shapes and size well maybe just sizes and styles. Some on canvas with wools, some on evenweave or Aida with cottons. Some are bold and colourful, some are more subtle and some are definitely quirky. This month we are featuring kits for cushion fronts and there's sure to be a soft spot for everyone.


by Arts and Designs on Fri, 31 Aug 2012, 15:37