Ne'er cast a cloot ...
Ne'er cast a cloot ... 'til May is oot (Scottish saying - translation below)

New Needlecraft Kits and Patterns

Permin of Copenhagen's new Summer Collection is now available with many of their traditional styles and some very modern ideas too. There are also some new hardanger Christmas tree ornaments in white or in red and white it's never too early to start for next Christmas.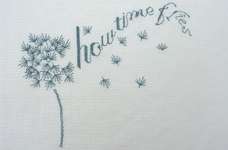 Our in-house design How Time Flies has always been very popular and has now been updated with the addition of the title flying away with the seedheads. If you have already purchased it and would like a copy of the updated design, please e-mail us and we'll provide you with a download link. It's also now available in kit form on 27 count white Linda.

Lanarte's latest Collection - the second of 2015 - has more lovely ladies, girls, flowers and animals. We have the catalogue available to view but as yet our UK supplier doesn't have the kits! We will get them in stock as soon as possible. (We're also waiting for the latest Vervaco collection from the same supplier.)

The new Bothy Threads Spring 2015 designs are in and will be on the website next week. In the meantime, there's a downloadable catalogue to preview.

DMC has two new themes for April For the Little Ones with cartoon soft toys and By the Seaside with beach scenes in primary colours to bring Summer all year round.


New Fabric

Everyone loves owls (apart from small mammals of course) and when we saw Permin's printed table cover, we knew it was going to be popular. It's finished at the border and stamped with a pair of owls at each corner. The illustration was stitched by Anne in Autumn shades but since no threads are included you can be as colourful or as traditional as you like.


And finally ...

Summer is fast approaching here in the Northern regions and the rate of introductions of new collections has - mercifully - reduced somewhat. Which makes our newsletter shorter than usual.

This month's title was prompted by a warm spell of weather we had a couple of weeks ago. This rapidly turned cold and the heating had to go back on (we're a hardy lot). The translation of the aphorism is Never remove any clothing until after the end of May. A lesson Nature reminded us of again here in Scotland!







by Arts and Designs on Thu, 30 Apr 2015, 18:15