No one relaxes in March
Indoors or out, no one relaxes
in March, that month of wind and taxes,
the wind will presently disappear,
the taxes last us all the year. (Ogden Nash)

We can't help with your taxes - or winds - but here are some new arrivals that might make you feel like spring is on her way ...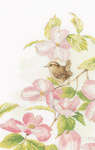 Spring has already arrived in the world of needlecraft even if it's still a bit grey out of your own window. The first of the new Collections is from Lanarte with lovely ladies, lovely flowers and cartoon cats.

As an introductory offer we have reduced these kits by 10% on the final price which will apply when the first batch have gone some of our regular customers have already taken advantage of this.

Romance is in the air with a pretty new Love Birds from Bothy Threads and Valentine Kitten and Valentine Puppy from Thea Gouverneur.

For those who have admired Thea's cities but feel that they are just too big a project to undertake, she has chosen two excerpts from the latest city of Jerusalem the Al-Aqsa Mosque and the Dome of the Rock to make smaller but still challenging and impressive kits.

We have a selection of kits from Vervaco`s Spring Collection with more of the ever popular sepia series - and also some romance with two fairies and blue and pink butterflies. There's a hard-to-resist design of three kittens in a garden and a simple and cute image of pink and green cartoon cats.

We now have four more bright, vibrant colours in 7 count plastic canvas making a total of 18 colours in addition to clear, black and white. Let your imagination run riot!

Look out for new papercraft items over the coming weeks with more new quilling kits. Quilling is easier than you might think, especially with the right tools.

This month we are featuring kits of daffodils and tulips, symbols of Spring.

And finally, make sure to get out and enjoy the real daffodils and tulips when you see them on the grass verge and to appreciate the power of Nature for bringing them to us every year.
by Arts and Designs on Thu, 27 Feb 2014, 19:12