Clocks, Crafting and Ceremony
Our clocks went 'back' last weekend and we've still to adjust to our new time zone after a week. Like most countries we go through this palaver twice a year. Couldn't we all just go to bed later instead?

For Needlecrafters ...
We have two lovely new ladies from Riolis' Premium Collection: Summer Delight, a lady with a bouquet of flowers, and Harmony, a mother and daughter wearing daisy chains.

Also new from Riolis this month are two very unusual and modern designs Tree of Happiness and Tree of Money with beads, charms and bows.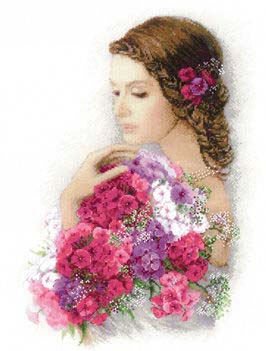 Vervaco's Autumn Collection has new and colourful Disney designs, sweet sepia cherubs and two attractive pictures of the Holy Family, one in sepia and the other Mother and Child with lamb. We also have two romantic pictures of couples in 30s style and the other sort of 'lovebirds' blue birds in a cage.

Nostalgic for summer already? Heritage Crafts have produced two new cross-stitch kits from the artwork of John Clayton. The cricketing theme features a Bowler and a Batsman in action.

Stoney Creek have added to their 'Babies' patterns with the latest Woodland Babies featuring a birth sampler and an afghan of cartoon forest creatures.

Permin of Copenhagen have just hiked the cost of their Copenhagen range of brass bell pull hangers. We will hold the price of existing stock but unfortunately the replacement hangers will be significantly more expensive. Single brass bell pull hangers and Heart of Brass hangers are now no longer available to order although we still have a few in stock.

And for Papercrafters ...
New to our papercrafts section is the digital downloads area. In it, you'll find a selection of Digital Stamps to download for the bargain price of only 99p! (or equivalent in your own currency). An absolute steal when you consider how much use you can get from one download - print as many times as you like from your home printer, with no mess and no fuss! We are introducing more and more digital stamps for download in PDF format, including several Christmas themed stamps.

Illustrated is the finished article from the Birthday Bouquet. This printed-out stamp was coloured using Marvy Uchida Le Plume II marker pens, and embellished using a Craftime Glue Pen with DecoArt Glamour Dust in Gold. The finished card features some ribbon, cardstock, and Vintage Buttons too.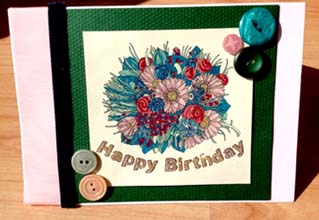 You can see much more about papercrafting and special techniques by visiting our papercraft blog.


This month's Feature ...
November is a month of remembrance from 'Remember, remember the 5th of November' celebrated as Guy Fawkes night with bonfires and fireworks to Remembrance Sunday on the 11th November commemorating the end of WWI. In keeping with that theme we are featuring poppies kits in many different styles and even colours from single flowers to bouquets to landscapes to ladies with flowers.


by Arts and Designs on Fri, 02 Nov 2012, 20:00