Kings may be blest
As the birth of our national bard, Robert Burns, was celebrated a few days ago and it's snowing here we thought a short extract from his most famous poem Tam O'Shanter would be apt ...

"... Kings may be blest, but Tam was glorious.
O'er a' the ills o' life victorious!

But pleasures are like poppies spread,
You sieze the flower, its bloom is shed;
Or like the snow falls in the river,
A moment white - then melts for ever; ..."

And so from a cautionary Scottish tale to the latest in needlcrafts (no, there isn't any connection!).

As promised Bothy Threads have two new Paddington Bear designs based on the new and exciting feature film especially for young enthusiasts.

After the success of Jasmine, John Clayton has introduced another new lady with a minimal amount of stitching. Roxy has dark hair and a wide brimmed white hat and is available in 27 count Linda or 14 count Aida.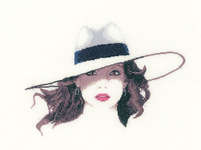 The first of Lanarte`s new collections for 2015 is now in stock. There are three lovely designs by Marjolein Bastin with little birds and flowers all available in Aida or evenweave and three lovely ladies with a striking flower design and a leopard. All are produced to Lanarte's high standard.

Tatty Teddy the Me to You bear is moving from Anchor to DMC and the Anchor kits are being phased out. Our stock of Anchor Beatrix Potter kits is also dwindling as our our Glorafilia tapestries. Don't delay if there's one of those Anchor kits you would like as we won't be able to replace them. The new Anchor catalogue will be out soon, probably with lots of new kits.

DMC have lots of new designs as well as Tatty Teddy and many more will be arriving soon.

This month's special offer is Jillian`s Joy which is available in 27 count evenweave or 14 count Aida. Now at half previous low prices for February 2015 or while stocks last.

And finally ...
You can read the full version of Tam O'Shanter - with a translation into modern English - at
https://www.robertburns.org.uk/Assets/Poems_Songs/tamoshanter.htm
We hope you enjoy this witty, satirical, tongue-in-cheek masterpiece.

by Arts and Designs on Thu, 29 Jan 2015, 20:10