January, month of empty pockets!
Welcome to our January 2013 newsletter, and may we start by wishing you a happy and peaceful year.

One of our customers spent last year working one of the incredibly detailed patterns by Heaven and Earth Designs and we just had to show it to you! The finished size of Merlin and Arthur is 91 cm (36 inches) x 53 cm (21 inches) and it was worked on 32 count Belfast linen.
It took 312 days, 8 km of thread, a steady hand and remarkably good eyesight and gave a great deal of pleasure. Other customers have also sent us examples of their work and we hope to build a proper gallery to show them off!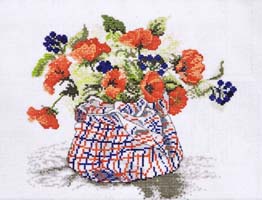 We have a few early releases from Permin's Spring 2013 Collection to add some colour to the dark days of winter - especially the two colourful designs of wine bottle aprons which are very quick to do and can be ready in no time.
Three traditional historical samplers taken from museum pieces will require more time but are immensely rewarding. The watercolour-style picture of poppies certainly reminds us of Summer - something to look forward to on long winter evenings.

Permin's collection of printed table toppers for surface embroidery are very popular and we have a special range of them hemmed and printed with floral designs with an extra reduction while stocks last.

New from Sue Hillis Designs Dreaming of Chocolate 5 easy patterns for the chocoholic. Think inside the box!

Valentines Day is fast approaching, so why not show your loved one that you really care with a hand made card! We stock a range of Valentine themed papercraft products, such as stickers, heart-shaped punches, digital downloads and brads. Or why not try your hand at some quilling? We've just got in a range of quilling paper, and nothing says "I love you" quite so boldly as an intricately fashioned and self-made quilled card. Don't forget to stock up on your card making essentials. For Valentines cards, we recommend the Hero Hues Folded Cards in Blush Mix - great quality cards in pinks and reds, pre-folded in packs of 12 and including matching envelopes. And where would you be without those most useful of products, our range of various adhesives!

[This month's title is from «Journey for Myself» by Sidonie-Gabrielle Colette better known simply as Colette.]
by Arts and Designs on Fri, 04 Jan 2013, 19:50