December 2011 - Beads, Tapestries and Hotheads
December is upon us again. Oh dear, it seems to come around sooner every year! Here in Scotland, we have had some storms recently and we are hoping for a quieter lead-up to Christmas with crisp days and moonlit nights - just not too crisp!

We are pleased to now offer a range of Mill Hill Beads. These beads are often used in needlecraft patterns, especially those from Lavender and Lace and Miribilia Designs. We only have a fraction of the huge range of beads available at the moment but give us time and we may find space for the lot!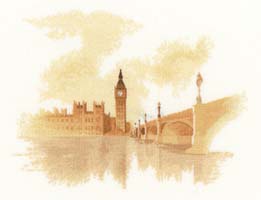 The prolific and talented John Clayton has introduced a new design, called Westminster. This atmospheric sepia-toned image shows the Houses of Parliament and Westminster Bridge. It's available in 14 count Aida or 27 count Evenweave fabric.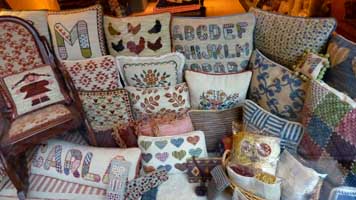 We recently spent a week in the lovely city of Barcelona and looked in on the colourful shop of Taller de Canamazo. Although small, as you can see the store is packed with lovely tapestries and their own dyed wools.

This month we are featuring tapestry and needlepoint kits, any of which would make an interesting project for the dark months following Christmas. Not all are large - there are some small and pretty kits from Derwentwater Designs - but if you prefer a large project there are lots to choose from!

In Britain we are fond of eccentric traditions. For example, late on New Year's Eve in Allendale, Northumberland, men in costume carry burning tar half-barrels on their heads to a bonfire in the market square and throw them in at midnight. These seems only marginally more sensible than diving into a freezing pond on Christmas morning (another tradition). We prefer presents.

It only remains for us at Arts and Designs to wish you and yours a peaceful and happy time this Christmas.
by Arts and Designs on Fri, 02 Dec 2011, 19:13