Shamrocks, Walls and a Touch of the Blarney
Welcome to your April 2016 newsletter!

We Northern folk can now look forward to lengthening days and hope for a little more sunshine. We do a lot of hoping here.

Activity in the world of needlecraft hasn't been quite as high as it was last month but there's still plenty that's new.

This month ...

New kits from DMC, Derwentwater and Heritage

A new concept in stranded cotton

A new pattern from Blackbird Designs

This month's free pattern


New Kits

Heritage Crafts have two lovely new kits from the artwork of John Clayton. Jug of Poppies and Snowy Village are each available in both 27 count evenweave and 14 count Aida.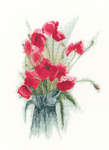 DMC's most recent kits have two themes colourful and funky samplers with uplifting mottos and afternoon teas with cream cakes.

We now have in stock the latest in the Wildlife series by Rose Swalwell of Derwentwater Designs. Badger is a combination of cross stitch and coloured blackwork and is the ninth in the series.


Concept Color

Coloris is a brand new set of stranded cottons from DMC. Each skein has four alternating colours. The Christmas floss in red, greens and whites, the American in red, blues and silver the effects are captivating.

To get you started, we're enclosing a free pattern with each purchase of Coloris threads (while the patterns last).


Blackbird Designs

Home for the Holidays by Blackbird Designs is a 40 page booklet of cross stitch for Christmas with mini stockings, pincushions and samplers with lots of ideas for using them. Tender Hearts Series is a new collection of sweet little pincushions in Blackbird's style.


This Month's Free Pattern

Last month we had St Patrick's Day and to mark the occasion Anne designed a Celtic Knot Shamrock pattern. The three-leaf shamrock is related in Irish tradition to the Holy Trinity. This pattern is free for you to download for the month of April.


Bargain Basement

We've had a spring clean in the Bargain Basement. It's still Buy One Get One Free like last month but a whole new set of kits. We hope that you'll find something in there to take your fancy.


And Finally ...

We read a report that US Presidential hopeful Donald Trump had said the Scots should build a wall to keep out the English as too many of them were moving north. It turned out to be an April Fool's joke. It did catch us out however as Mr Trump is known for his fondness for wall-building.

We think there are enough walls in the world already and so we are happy to see Hadrian's Wall (the one between England and Scotland) remain the ruin it has been since Roman times.

Have a safe, happy and unbounded April.
by Arts and Designs on Fri, 01 Apr 2016, 19:57