The stockings were hung by the chimney with care ...
... In hopes that St. Nicholas soon would be there (from 'Twas the Night Before Christmas
attributed to Clement Clarke Moore)

A warm welcome to December's Newsletter!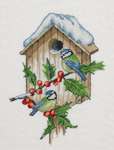 In this month's issue:

New Permin Kits

Heads up for Heritage Crafts, Bothy Threads, Coats and DMC

Alessandra Adelaide and White Willow designs

Blackbird Designs

Bargain Basement news


Needlecraft Kits

We have many new kits from Permin's Winter Range in stock with more on the way. Birth and wedding hangings and table covers and mats in counted cross stitch, surface embroidery and hardanger.

Also in their latest collection they have introduced new colourways for Escher's Sky and Water - grey/blue, dark grey, lime, turquoise, pink and navy. Please inquire if you are interested in any of the new colours.

Heritage Crafts have lots of new kits in the pipeline. The first to emerge is High Street by Peter Underhill of a parade of stores. A very detailed and traditional design.

Bothy Threads are saying goodbye to many of their older designs to make way for their many new ones. If there was something you planned to stitch, don't leave it too long. DMC are also preparing for their 2016 range.

Coats Crafts have greatly reduced all of their catalogues - Anchor, Maia and Royal Paris with no news yet of new designs. They seem to be shifting their emphasis to wools and fabrics.

Look out for new kits from DMC featuring favourites like Tatty Teddy. We'll also soon be stocking DMC threads at our usual discounted prices!


Needlcraft Patterns

We love these stylish, interesting patterns by Italian designer Alessandra Adelaide and in a different distinctive style by White Willow Stitching. We're sure to return to their catalogues again and again.

Blackbird Designs monthly series have proved very popular. The first two in the most recent Garden Club Series have sold out for the moment but we'll be re-stocking soon.


Bargain kits, charts and papercraft

With Christmas on our doorstep we've topped up our Bargain Basement with lots of half price items. Among them are Robins from Sue Hill, Rico Design Christmas table covers and hangings, Cinnamon Cat Christmas kits and charts, Cotton Zoo from Bothy Threads and, for papercrafters, Deep Red Christmas stamps.


And Finally ...

No need to remind you of what's just around the corner! The (attributed) author of this month's poem was born in 1779. He seems to have been an interesting character and the slightly unlikely author of such a well-loved poem. You can find out more about him by visiting Clement Clarke Moore.

We wish you and your family a safe, peaceful and very happy Christmas!

by Arts and Designs on Fri, 27 Nov 2015, 19:13