A spirit of youth in everything
The title is taken from Shakespeare's Sonnet XCVIII From you have I been absent in the spring. And as Will would have been 450 this year if he'd lived, we imagine he would have wished for a little youthful spirit. Or perhaps just a pint of ale.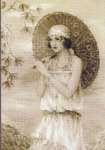 Summer must be just around the corner, and certainly that's what our clocks say, although our weather disagrees. Permin's new Summer 2014 collection is starting to arrive here - with attractive nature sketches, wall hangings, wine bottle aprons and counted cross stitch table covers.

Stoney Creek have now completed their latest '... of the Month' series, this time it's attractive small birds. These designs are suitable for beginner and are intended to be displayed on magnetic boards. Each month available separately and all twelve come at a considerable discount.

We have two brand new kits of lovely Art Deco ladies in very different styles. Old Photo, Riviera by Riolis (illustrated) is in soft sepia and Midnight Fountain by Design Works is striking with the use of beads and sequins on a black background.

Bothy Threads have four new designs in the popular Gorjuss series.

Following a customer request we're now stocking Anchor stranded cotton Multicolour which is available in 24 colours.

In the papercraft section we have some new colourful buttons from the German company Dill World of Buttons.

Our in-house designer, Julie Lynes, has been busy creating new digital stamps in Celtic designs. They are intricate and beautiful.

On the technical side, our website has had a makeover - the new version is tidier to look at and gives you easier access to useful stuff like your wishlist. It's being tested at the moment and we hope to go live this month - which might cause a little disruption for a short while. We hope you like it!

And finally ... in the long sunny summer what could be better than relaxing in a deckchair with an interesting needlepoint project? This month we are featuring the classic Glorafilia kits. And if it rains? What could be better than relaxing in an armchair with an interesting needlepoint project?
by Arts and Designs on Thu, 01 May 2014, 16:31