A Big Year
Happy New Year!

We hope you had a relaxing holiday and that you are looking forward to the coming year with hope and optimism as we are. Our newsletter this month is short as the craft trade has been enjoying its Christmas break and so not much has happened! However, there will be lots to come over the next few months as new ranges and collections are released - watch this space.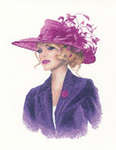 The prolific John Clayton has been busy again and Heritage Crafts produced two new kits in the Elegance collection just before Christmas - Isabella is a full length dark-haired beauty in an evening dress while Sarah wears a smart jacket and an ornate hat perhaps for a wedding or a day at the races?

Coats Crafts who produce Anchor, Maia, Glorifilia, Penelope and Royal Paris have announced that some kits have been discontinued and these will be available only while stocks last. These are being replaced by new designs to be released in February, including some of the popular Beatrix Potter designs and more Emily Button and Maia kits.

With St Valentine's Day only just over a month away, why not send a message with a very personal touch - one you made yourself! We are featuring papercraft items with a Valentine's theme to help make that extra special card for the one you love.

And finally ... 2014 is a big year for our country, Scotland, for in September we have a vote on independence from the United Kingdom. Whichever way the vote goes, we don't expect much to change - especially the Scottish weather.
by Arts and Designs on Thu, 02 Jan 2014, 19:00