Spring Cleaning
It's «out with the old and in with the new» this month as many suppliers have been having a Spring clean.

The new Spring Collections just keep on coming. There are two pretty nursery designs from Sue Hill and Heritage Crafts featuring Toffee the teddy bear.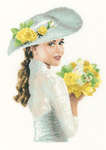 Heritage have also released two new elegant ladies from the artwork of John Clayton. One, a modern beauty, has a large red hat perhaps for a wedding or Ladies' Day at Ascot. The second is a sweet girl in white with a flowery hat and bouquet of daffodils. Both are available in 14 count Aida and 27 count evenweave.

... and from Peter Underhill another new design in the Cats Rule series entitled Do Not Disturb.

Bothy Threads have six new kits to add to the Gorjuss Collection of cute cartoon girls ... and a new «dictionary» - this time it's A Dictionary of Mums and a colourful Walled Garden. More new designs coming next month!

Unfortunately Vervaco no longer have a licence to produce Disney kits. Their Winnie the Pooh designs have been very popular and we still have some left in stock and some on order. Anchor and Royal Paris also lost their Disney licences recently so at the moment the Disney kits are disappearing.

Rose Swalwell of Derwentwater Designs has a new long stitch kit of a Pink Peony which is sure to prove as popular as their White Poppy and Poppy Head kits. She has also added another design to their Misty Morning series with sheep and lambs in a wintry landscape.

The new Lanarte catalogue for 2013/2014 features their latest kits and lots from years back although a few old favourites have disappeared and will only be available for a short time so if there's a kit you've been planning to order please don't delay and miss it. A few discontinued Lanarte kits have made it to the Bargain Basement so remember to check that out.

Thea Gouverneur's latest release is a collection of Tulips, eleven in total, all available in 36 count linen and 18 count Aida. As an introductory offer we have reduced all these by an extra 10% on our already low price but only while stocks last.

And finally ... in case you're doing some Spring cleaning yourself here are some tips on de-cluttering ...

If you can't find a place for it, it's clutter so make it into 3 piles: junk, charity and don't know; throw out the junk pile, donate the charity pile and put the rest in a box until you can decide whether you really want to keep it. (Don't forget that your sewing materials are - by definition - not clutter).

If you find clutter piling up on a table, remove the table so the clutterers will be more inclined to put it away tidily; if you find it piling up on a shelf or window-ledge, cover as much of the space as possible with a pot plant, ornament or similar.
Have a great May!
by Arts and Designs on Fri, 03 May 2013, 17:25