Hot Cross Stitches
You may be enjoying your break for Easter which falls this weekend. We ourselves have shut up shop for the weekend. Many customs have sprung up around Easter, the most important Christian festival. Surprisingly the most widespread customs involve decorating eggs. Here in Scotland we hard boil them, decorate them and then roll them down a steep hill. Of course they soon break but being Scots and unwilling to waste anything, we eat them anyway.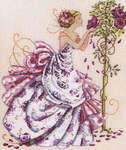 The complete Lanarte Spring Collection is now in stock. As we have come to expect from Lanarte, there's something for everyone ... romantic, colourful and cute. And all with traditional Lanarte quality.

It's getting harder to find black evenweave fabric, especially now that Zweigart have dropped many of their colours. At the same time we are getting more leaflets with attractive designs that only work with a black background. So for those of you with keen eyesight who like to work on black we have found some black 14 count Aida and 28 count Jobelan in black.

Permin of Copehagen have moved on to summer (we wish!) with their new collection and we've selected a few brightly coloured flower squares to frame or decorate cushions and delicate hardanger mats.

We have now begun to stock up with cross-stitch kits by RTO, the Baltic-based maker. Let us know if you want one we haven't got!

John Clayton and Heritage Crafts have been busy again with a brand new circle Up and Away and more sportsmen. This time it's golfers on the fairway and in a bunker. All are available in 27 count evenweave fabric and 14 count Aida.

Also new from Heritage Crafts, two new Cats Rule series by Peter Underhill of gravitationally-challenged and pampered ginger cats.

Rosewood Manor have come to the end of their Nostalgia series of sampler sections with number twelve which has a few 'extras' - borders and mini charts and lots of ideas for using one or all of the designs.

Roses of Provence is a new cross stitch design from Miribilia in their classic style with ladies in elegant dresses. Their superbly talented designer Nora Corbett has produced another winning umage.

Among lots of new kits from Coats Anchor comes A Day in the Life of Peter Rabbit with scenes from The Tale of Peter Rabbit by Beatrix Potter. There are also more cute pictures in the Me to You series featuring Tatty Teddy.

We are pleased to introduce samplers from The Historical Sampler Company with two birth samplers, a wedding sampler, a silver anniversary sampler and a celebration sampler. These are all available in 32 count linen and 16 count Aida in Ecru and would make lovely traditional presents.

We still have some surface embroidery table covers by Permin of Copenhagen from our recent special offer and now we can offer another attractive batch. 100% cotton and finished with a woven border, these will be ready to use when the stamped design is complete. These are all reduced by a further 10% on our already reduced prices while stocks last.

We hope you enjoy your Easter break. Why not have a go at decorating a couple of eggs and rolling them down a hill! There's always room for new traditions.

by Arts and Designs on Fri, 29 Mar 2013, 20:19