The Month that May be Named
Did you remember to wash your face in the morning dew on 1st May? Thought not. The prospect of being able to see fairies or the face of your next husband seems somehow less appealing than it used to. At least here in southern Scotland we have been able to see the face of the sun - which is nearly as remarkable as seeing fairies.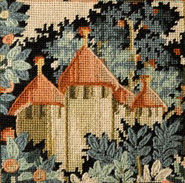 Glorafilia traditional needlepoint tapestries make wonderful decorative touches and we now have a few small pictures - all 'Medieval' - for those who enjoy the style but would rather not tackle a large project.

The delicate art of hardanger is becoming increasingly popular and we are always on the lookout for new designs and kits. Emie Bishop of Cross 'N' Patch specialises in traditional band samplers usually with sprays of roses. She has a new design booklet - Pieces of my Heart - which is a tribute to vintage lace and comes with a tutorial sampler. This would be a suitable introduction for intermediate to advanced stitchers who don't have a great deal of experience of hardanger.

We now have all (well almost all) of the Weeks Dye Works floss. New shades are being added all the time and older ones removed from the range. These feature in many of our pattern booklets, usually only one or two per design to be used as highlights.

Finally, there's lots to look forward to this summer in the UK - an extra holiday and celebrations for Queen Elizabeth's Diamond Jubilee. Oh, and there's also an international sporting event which few are allowed to name as it's trademarked. Let's just call it the sporting-event-that-must-not-be-named. This month we are featuring some kits related to these special events.

Enjoy your stitching!

by Arts and Designs on Fri, 04 May 2012, 18:11