On a bank of flowers, in a summer day
Perhaps summers were better when Burns wrote the poem whose first line forms our title this month. Or perhaps a poet just sees the world differently!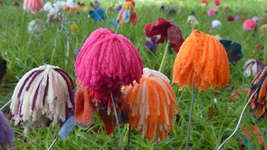 In this month's issue ...
Bothy Threads new kits

Lavender and Lace stranded cottons

LanArte kits

Vervaco kits

Nora Corbett patterns

Blackbird pattern set

and more from Imaginating and Heritage


Firstly, our website has experienced several technical problems over the summer so please accept our apologies if you have been inconvenienced.

Bothy Threads have introduced lots of colourful new cartoon designs over the summer. The silhouette Fairy Tale designs have been very popular - especially Alice in Wonderland - and they've added a Mad Hatter's Tea Party in the same style. Love Spring and Love Summer, trees by Kim Anderson, will - we confidently predict - be followed by ... Love Autumn and Love Winter.

There are more funky designs and a set of Thelwell ponies and from the artwork of Julia Rigby 'hangups' of Noah's Ark, Farm and Seaside each with heart hanger. Some of Bothy's designs have been retired so if you are interested in Paddington or Cotton Zoo, don't leave it too long.

Lavender and Lace have a collection of stranded cottons called Needlepaints which were specially commissioned for some of their earlier designs. It has taken some time to collect them all but we now have all those that are in production: 2001 2011. Another set 2101 to 2106 are no longer manufactured but DMC 500 504 can be used in combinations instead.

LanArte's Third 2015 Collection is in our store now for immediate despatch. It features ladies and flowers and sometimes ladies with flowers, cupids and a little hare. All these kits come on evenweave fabric, two on 30 count linen and the remainder of 27 count cotton fabric. They are all challenging but gorgeous and worth the effort.

Vervaco also have a third 2015 collection which can be viewed on our online catalogues as many of you already know. We're just waiting for them to arrive at the UK supplier and we'll order all the requested kits and a few more. Thank you for your patience.

Following a customer request, we discovered that there is a whole range of Nora Corbett designs. These are smaller designs than those with the Mirabilia label but very stylish with added sparkle. Bead packs are available for all and we have started with La Petite Mermaid Collection and two brand new patterns The Rain Queen and The Willow Queen Black Forest Pixies.

Blackbird traditional sampler designs have been very popular since a customer requested one. When we ordered one of their new patterns recently, we found that it was the last in a series of twelve which can shown as a single display, so we now have all twelve in stock - but of course they are still attractive individually!

There's yet another Let's design from Imaginating. Let's Retire is the forty third in the set. I wonder if they're trying to tell us something.

All you need is Love and a Cat is a cute new kit from the Cats Rule Collection by Heritage Crafts. There are also two new 'silhouettes' of sepia scenes from days gone by.

Anne has been trying out and reviewing several smaller kits by various designers. There is a lot to talk about and you can read her reviews in our articles section.

And finally ...
The world's longest tapestry - The Great Tapestry of Scotland - is on tour and you can go and see it. Please visit https://www.scotlandstapestry.com/ for the details.

We snapped the picture at Brodick Castle on the Isle of Arran. The 'flowers' are in fact made of wool and other materials. Being summer, it had been raining heavily and you may be able to make out the drips!

On a bank of flowers is a poem by Robert Burns. Perhaps Willie in the poem is Burns himself.


by Arts and Designs on Thu, 27 Aug 2015, 19:39