Time to Reflect
Less than 3 weeks to Christmas now so if you didn't manage to finish that cross-stitch Advent calendar in time ... it'll do next year! Have you noticed how time seems to speed up as you get older? I'm sure I've lived through this year but it feels less than real - as if I've been watching it on TV.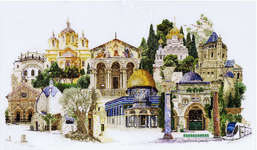 We now have John Clayton's lovely new counted cross-stitch lady in the Elegance Series. Josephine has been very popular and we're already looking forward to the next elegant ladies in the series. We have pre-ordered them and they should be with us in late December. Isabella is another full length lady in a blue evening dress and Sarah shown in head and shoulders looks like a very stylish wedding guest.

Thea Gouverneur's latest city Jerusalem (illustrated) is now available just in time for Christmas - for a Christmas present rather than to be ready to hang by Christmas of course as it's a large and detailed design for advanced stitchers.

Bothy Threads moved north to the English Lake District earlier this year and now that they have settled in they have many new designs planned for next year. To make way, some of the old favourites are going including all the Mister Men. If you were interested in any of these kits, now`s the time to order before they're all gone.

Our supplier for Crescent Colours overdyed floss has informed us - «Crescent Colours hand dyed threads will now be manufactured by Classic Colorworks, a brand new company in the cross-stitch industry. The soft and vibrant colours stitchers have come to love, as well as the high quality of the threads will remain the same. The names and colours of current threads will not change.»

Over the past few months we have been adding to our stock of Crescent's stranded cottons and now that we have the complete range (and following a customer request) we'll be adding their No.5 Pearl cotton.

Just for Christmas we have a special offer on some small beginner kits from Anchor including Forever Friends and Tatty Teddy.

And finally, Christmas is a festival whose traditions have evolved over the centuries - for example Turkey dinners, carols and christmas trees in the 19th century - and continues to evolve today as families and friends often spend their lives far apart. Wherever your loved ones are, we hope you have the chance to get in touch and celebrate the spirit of the season.

A Merry Christmas to you and yours!

by Arts and Designs on Thu, 05 Dec 2013, 14:47