March Winds
The long awaited Thea Gouverneur city design of Sydney (cat. no. 480) has arrived.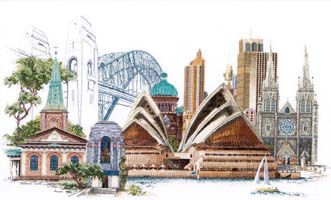 As with all the other Thea Gouverneur cities this has terrific detail in the important buildings and the design has the harbour in the foreground as the heart of the city. The kit is available in 35 count and 18 count Aida and - for the very adventurous - is also on black Aida. Thea has also produced a set of six lovely new flower pictures, not on black fabric but with a stitched black background making the bright colours really stand out.

This month there are some brand new Gloria and Pat booklets featuring the popular cartoon children and another appearance of the cherub.

Heritage Crafts have released many of their designs as chart packs. These include John Clayton's Panoramas, Ovals, Outlooks and his larger landscapes. Also available now are the handsome men from the Elegance series, the complete Precious Moments series and the three military designs by Malcolm Greensmith. All are still also available as kits, both in evenweave and Aida.

We now stock Anchor 'Aida' cotton (for crochet). This is a 6-ply crochet thread available in thicknesses 5, 10, 15, 20, and 30 and is made from 100% mercerised cotton. Aida has a superb range of 57 colours to choose from including 12 multicolours but at the moment we are only stocking some weights in white and ecru. If you have a project requiring another weight or shade, we can easily order it.

In case you hadn't heard (!) a Royal wedding is in the offing and Heritage Crafts and John Clayton have produced a new kit William and Catherine - based on their engagement photo. There's also a new kit in the Power and Grace series of an Indian tiger. Peter Underhill has two new cartoon meerkats and Sue Hill a pretty new bird picture.

This month we are featuring realistic wildlife designs in kits by John Stubbs, Maia, Lanarte, Vervaco and John Clayton.
by Arts and Designs on Fri, 25 Feb 2011, 19:48