No Time for Poetry
There's no quote from a great poem this time! The trouble with Autumn poems is that they are rather dark and foreboding as if poets can see nothing positive in it. But I rather like Autumn with its childhood memories of play in field and forest, crisp, darkening afternoons and home to a warm fire and tea. I hope you have such fond recollections.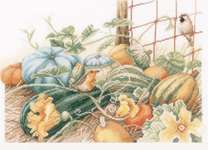 It's also a time for a new releases from the major design houses ...

The complete Lanarte Autumn 2013 Collection is now in stock with some gorgeous designs. From the largest, the glittering Asian Couple, to the smallest Dog in a Bowler Hat, they are - as usual - stunning.

Among the new Lanarte kits are the remainder of the Elements designs - Earth, Air, Fire and Water by Maria van Scharrenburg available in Aida and evenweave. Our best selling kit so far has been Marjolein Bastin's Pumpkins - which captures the spirit of Autumn beautifully.

On to Vervaco who have also released their Autumn Collection. We have selected a few including the ever popular sepia designs and a lovely picture of Madonna and Child.

The ever-popular John Clayton has produced a new Christmas landscape design. Christmas Church shows families on their way to midnight service at a brightly lit church and is a companion to Christmas Cottage.

From Imaginating and the imagination of Ursula Michael the latest 'Let's' design is of a house and family - Let's Be Family!

The latest pattern from Mirabilia Designs is Red an elegant and very grown up Little Red Riding Hood.

Emily Button the cute rag doll with her friends Bobble the cat and Mousey the mouse are among the latest kits from Coats Anchor. Every little girl will want her own.

Classic Embroidery have four new 'wordy' samplers, one especially for Christmas and three alphabet samplers.

The lengthening nights at this time of year (with apologies to those down under!) are an opportunity to spend more time enjoying your crafts. We hope you have the opportunity to savour crisp evenings in front of a warm fire.
by Arts and Designs on Fri, 27 Sep 2013, 18:13