If there is a limit to all things
Welcome to the July newsletter!
This month ...
Christmas Already

Woodland Creatures

John Clayton Flower Panel

New from Luca-S

Grafitec Canvasses

Anchor/maia kits News

This month's free pattern

End of Line Bargains
Christmas is half a year away, so don't panic when you see Permin's 2016 Christmas Collection! It features hardanger Christmas tree baubles, advent calendars, stockings, tree skirts, table covers and runners and new and interesting baskets. Some of these are available already and more will come in during August.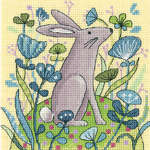 Woodland Creatures are a charming new series of cartoon wild animals produced by Heritage Crafts from the artwork of Karen Carter. So far we have mouse, hare, hedgehog and fox.

Heritage Crafts have introduced a new Flower Panel by John Clayton - the first in several years! Foxglove Panel has the purple flower on a green background and comes in either 27 count Linda or 14 count Aida.

We have some lovely new designs by Luca-S a set of cute animals and couples under umbrellas. Each kit has sepia or colour variants.

Grafitec is a Greek company who produce quality printed canvas for needlepoint. The first design to come in is a picture of a snowy owl by night. This is supplied as canvas only giving you the choice of which silks or wools to work it with tapestry wools, stranded cottons, soft embroidery cottons or pearl cottons. There are lots of lovely designs in their catalogue and we are sure to add more. Ask us for more information!

For the last few years Coats Crafts have been reducing their catalogue of Anchor and maia cross stitch kits. They have now announced that they will now be making the kits to order and that delivery times will be four to six weeks. This seems really short-sighted to us and we can only assume that Coats have been taken over by evil aliens. We will continue to order their kits if you request them - with the proviso that they may not arrive for about three months.

Our free pattern this month is called Iris in Iris and uses a mixture of blackwork and cross stitch. If you haven't tried blackwork before, this is a chance for you to have a go!

The Bargain Basement has a selection of end-of-line kits over the next two months. Don't hesitate if you see one (or two!) you'd like because we can no longer get them in. Another reason to buy now is that the Pound Sterling is in the doldrums which makes these quality kits especially great value if you're a non-UK stitcher. Prices will go up as the Pound recovers against other currencies.


and Finally ...

«If there is a limit to all things and a measure
And a last time and nothing more and forgetfulness,
Who will tell us to whom in this house
We without knowing it have said farewell?»

from Limits by Jose Luis Borges (1899-1986)

A rather sombre message from the great Argentinian writer which captures our mood at the moment!

On a brighter note, we hope you have a great July whether it's the middle of summer or the middle of winter.


by Arts and Designs on Fri, 01 Jul 2016, 18:42