Imagination Rules the World
We were inspired by the 200th anniversary of the Battle of Waterloo on the 18th June 1815 and so this month's title is a quotation attributed to Napoleon Bonaparte (1769-1821).

In this month's newsletter ... French Fancies, Poppies, Let's ..., a Raven Queen, cats and dogs ... and it's never too early for Christmas.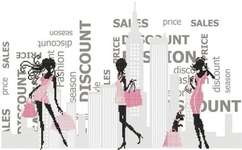 With France in the air we're pleased to introduce two new ranges of kits sourced from France Marie Coeur and Princesse which are oozing french style, even the ones not depicting the Eiffel Tower.

You can also see the entire range of new kits and browse the complete collections in our online catalogues - Marie Coeur and Princesse. We'll be happy to order any kit that we don't stock which takes your fancy.

Poppies is a lovely new design from Thea Gouverneur of a field of poppies and cornflowers. In stock and available now in 36 count antique white linen, antique white 18 count Aida and black 18 count Aida.

Ursula Michael's Let's series of patterns from Imaginating now number 39. This month's new designs are Let's Go Green, the cute Let's Love Little Boys, the very cute Let's Love Little Girls and the not quite so cute Let`s Drink Beer. Where will it end? Another two Let's are arriving next week! Let's reach a century.

Mirabilia's brilliant new design The Raven Queen is in stock with optional embellishment pack, Kreinik #4 braid, Kreinik cable and Caron Collection Waterliles specified. It's selling out quickly but we have more stock coming today - hopefully here by the time you read this.

The new DMC kits for June are cats and dogs by the well known animal designer Jayne Netley Mayhew. There are four cats in surreal colours and six dogs in items of clothing with amusing tag line.

You may say it's too soon to think of Christmas (it is), but the designers are way ahead. Permin's next Christmas Collection is out and we have two new sets of wine bottle aprons, one of Rudolph reindeer and the other of smiling cartoon hedgehogs in Santa hats. Don't worry, there's plenty of time to finish these conversation pieces well before Christmas.

And Finally ...
Napoleon met his Waterloo at, er, Waterloo and we have a personal interest in the battle as one of our ancestor's brothers fought there with the Royal Scots Greys, 2nd Dragoons. He survived and went on with his army career, eventually becoming a Chelsea pensioner. He received an extra 2 years pension for being in the battle.

For our part, we are much happier to see a united Europe, even with all its faults and petty squabbles, than a return to the chaos of two centuries ago.

We wish you a warm, pleasant and peaceful July.


by Arts and Designs on Thu, 02 Jul 2015, 18:34