March marches in and the year marches on
Welcome to our March 2012 newsletter. March is the month that's reputed to come in like a lamb and go out like a lion (or the other way round). During March we in the UK have Mother's Day or Mothering Sunday which is on Sunday the 18th (not that you will have forgotten!).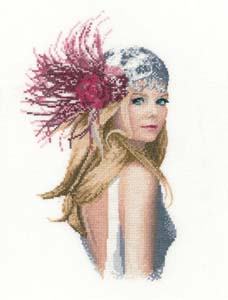 The leading suppliers Lanarte, Anchor and maia have released their new spring collections - although not all have been delivered to us yet! Look out for new additions from your favourite designers in the coming month as they come into stock.

maia have added a new series of kits to their artistic collection with an African scene, an Urban scene and dancers with still more to come.

In the Anchor range we have a lovely wedding sampler, Four Seasons Cats and a colourful seaside landscape as well as new additions to the Winnie the Pooh nursery kits.

Thea Gouverneur has produced a whole set of cute puppies and kittens to accompany the Christmas ones. We have all eight in stock in Aida. She has also introduced another in the popular cities series - the Eternal City, Rome and we expect to have that in stock soon in three fabrics: 35 count evenweave, 18 count Aida and black 18 count Aida.

For lovers of the colourful viennese artist Gustav Klimt, Riolis have introduced a new kit - Lady with a Fan.

Just in from Design Works another three in their popular series of cartoon cats Martini, Fashionista and Chandelier.

Our designer and wannabee godmother Anne has just completed a birth sampler for a new baby in the family. Janlynn's Baby Shoes comes with both pink and blue floss and so it's possible to get ahead and add the final touches when the new arrival ... arrives.

Heritage Craft's artist John Clayton has been busy again with a lovely new elegant lady from the 1920s called Fleur, a charming picture of HM Queen Elizabeth in this her Diamond Jubilee year and another sepia watercolour picture to accompany Westminster - this time London's famous landmark Tower Bridge. We know many customers are enjoying working the Elegance series and we are offering Fleur at a special introductory price while stocks last.

This month we're featuring kits with an Art Deco theme, not only deco ladies but landscapes, posters and even the odd cushion. Art Deco was the style of the 1920s, inspired by the art of ancient Egypt - notably Howard Carter's 1922 discovery of the tomb of Tutankhamun - and has recently begun to come back into vogue. Why not have a look through our collection of the beautiful and the bizarre that is art deco!

by Arts and Designs on Fri, 02 Mar 2012, 19:30