Lanarte Autumn releases, Taller de Canamazo and Disney Dreams
Welcome to October - normally a time for misty mornings and central heating. However this year, much of Britain (but not us!) has been sweltering in unseasonal heat. Let's hope for more - and could you push it a little further north, please?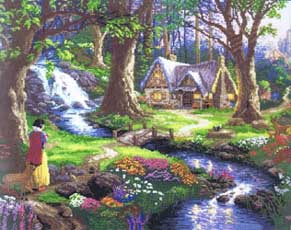 As usual, with a new season come new releases. We now have the complete Lanarte Autumn Collection in stock and of course there are some lovely new designs. Ladies of different cultures are represented with a Russian bride, a Japanese girl, an Arab lady, two Indian ladies and two colourful African designs. There are flowers animals and birds too with two pretty pictures from Marjolein Bastin, a pet and a wild cat and a set of four entertaining cartoon dogs. We find the Little Girl with Apple particulary attractive and the group of teddy bears is hard to resist.

A new range for us are tapestry cushion kits from Taller de Canamazo an exclusive design studio from Barcelona. These are of high quality and are beautifully packaged, too!

There are two pretty new Assisi design kits from Classic Embroidery.

Where did you get that hat? - John Clayton's latest lady from the Elegance collection has a very ornate hat and is of course very elegant herself.

We are delighted to have in stock The Disney Dream Collection produced by Candamar Designs from the paintings of Thomas Kinkade. The larger designs measuring 16 by 12 inches would provide a focal point in a child's bedroom and the smaller vignettes at 5 by 7 inches would make a lovely Christmas present. Don't forget that not all Disney fans are children!

As well as the standard rectangular sheets of plastic canvas in 7, 10 and 14 mesh, we now have a large range of circles of different diameters, small shapes and a large oval.

As you know, in October we celebrate Hallowe'en. If you are planning a party, our own designer Julie Lynes has produced a couple of very stylish Halloween party invitations that can be customised and downloaded :-

Contact Julie directly to get her to customize your invitation and delight your friends.

During October we are featuring some interesting Christmas decorations wall hangings, wine bottle aprons, napkins, gift tags, candle holders. These are mostly small and could be worked in plenty of time this year.

We hope you have a productive October wherever you are - whether you're heading towards winter or summer.

by Arts and Designs on Fri, 30 Sep 2011, 18:11