Summer's lease hath all too short a date
Vervaco's summer Collection arrived hot on the heels of their Spring Collection! There are more of their trademark designs with babies in sepia and also two jazz designs in sepia.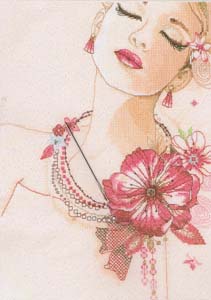 Our favourite design in the new collection is Deep in Thought - an elegant lady worked on pink fabric with lurex thread. She really sparkles.

Rosewood Manor's traditional samplers are very popular. If you would prefer to start small, they are currently releasing a small sampler every month called Nostalgia. Eventually there will be twelve and so far we have numbers one to four. They can be worked individually but also as a complete large sampler and there are instructions in each about the fabric required and the layout.

Also among our new pattern booklets is Nora Corbett's Stitching Fairies - a series of sparkling designs from this most accomplished designer.

Our Bargain Basement is bulging at the seams with over 100 items! Why not visit or re-visit now to check out what's available?

There are many new collections in the pipeline - additions to the Maia series and lots of new Anchor kits next month. And Permin has already released details of their Christmas Collection while the rest of us are hoping Summer is still to come.

This month we are featuring Sepia kits which are always very popular. With fewer floss colours these are just the thing for a relaxing project while you're on holiday.

Be sure to heed Shakespeare's advice (our title - from Sonnet 18) and make the most of your summer, even if it does require wellies.

by Arts and Designs on Fri, 29 Jun 2012, 17:50