Lux Tua Via Mea: Your Light's My Way
Greetings and a warm welcome to our June newsletter.

This month's title is from a poem titled 'June', by Hilaire Belloc (1870-1953):

«Rise up, and do begin the day's adorning;
The Summer dark is but the dawn of day. ...»

(see the whole poem at poetry.net/poem/19164)


In this month's issue ...

Marvellous Mirabilia, Brilliant Blackbird and Fabulous Pfeiffer

Sublime Safari

Adieu, Classic Embroidery

New stitching frames and magic thread

Special Offer - Rico Design Hardanger

This month's free chart
Marvellous Mirabilia, Brilliant Blackbird and Fabulous Pfeiffer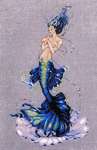 The heavenly Aphrodite Mermaid is the latest design from Mirabilia. She rises from a shell and glitters and shines with beads and metallic floss. Another stellar design from Nora Corbett.

We now have number 8 in the Garden Club series by Blackbird Designs. Despite ordering number 7 several times, we still haven't received any - but we will keep trying!

Heritage Crafts have recently released all of the current Valerie Pfeiffer designs as chart packs. Her flowers and especially her little birds have always been very popular. Only the Harmonies series have made it to our web site at the moment but the Trios and Duets will be coming soon.


Sublime Safari

New kits from DMC this month include six wildlife designs by Jayne Netley Mayhew. We have these sublime Safari animals on an introductory offer while stocks last.


Adieu, Classic

Classic Embroidery are ceasing production at the end of this month. Over the years they have brought out a wonderful range of blackwork designs, some cross stitch and a few hardanger. We will be sorry to see them go and wish them well in their retirement.


Able Frames and Easy Count Thread

We have a new style of embroidery frame, the Able Stretcher from Viking Loom is a portable, lightweight craft frame made of rigid plastic. It's currently available in two sizes and has adjustable size and great tension.

An innovative cross stitching aid, Easy Count Guidelines is a very fine nylon thread which can be used to make a grid and then be removed after stitching.


This month's special offer - Rico Design Hardanger

We have hardanger on special offer in our Bargain Basement for the month of June Rico Design hardanger table covers kits, Rico Design table covers to stitch in hardanger patterns, hardanger pattern booklets and Anchor Pearl cottons all at half price.


June's Free Pattern

This month's free pattern is a Paisley motif using DMC Coloris. Paisley is a town in the West of Scotland which used to be a centre of textile production and from where the designs were popularised.


And Finally ...

Lux Tua Via Mea: your light's my way -
Then do rise up and make it perfect day.

Have a bright, warm and peaceful June!
by Arts and Designs on Fri, 03 Jun 2016, 18:51