The important thing in life
Here in Britain we are full of the Olympics and it's easy to get caught up in the carnival atmosphere, especially when the local boys or girls win (which is not often!).

The founder of the modern games, Pierre de Coubertin, is famous for expressing the Olympic ideal: The important thing in life is not the triumph but the struggle, the essential thing is not to have conquered but to have fought well.

Perhaps if his dictum was followed by more, all our lives would be much better!

We ourselves have been working hard over the past few months to set up a new paper craft section. Papercrafters produce their own greetings cards, albums and personalised scrapbooks. Like needlecraft, it's fun to do, needs creative flair and lots of patience, and rewards your efforts with the glow of satisfaction.

Papercraft is increasingly popular and new techniques are coming along all the time, making it quite possible to produce professional results at home. Our new papercraft section has several hundred lines from Adhesives to ... Stamps (well, nothing begins with Z!).

Our papercraft specialist, Julie, is of course happy to offer advice and help.


Meanwhile, back in the world of needlecraft ...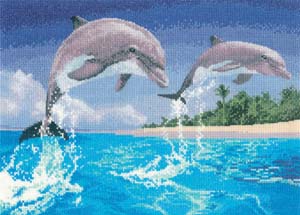 We have two stunning new kits from John Clayton - the latest in scenes from his watercolour paintings - Stepping Stones with Deer in Winter and the brightly coloured Dolphins with two of these fascinating animals mid air.

And since it's never too soon to think about Christmas(!?), Heritage Crafts have produced a new lady in the Elegance series in a red fur trimmed coat with enigmatic style.

From Sue Hill, there is a cute new penguin couple carrying holly.

New from Gloria and Pat is Precious Moments a quartet of new booklets with the signature doe-eyed children and mottos.

Still more colourful, fun kits from Bothy Threads ... Four Owls and Four Russian Dolls each representing a different season and the crazy Hen Fun.

Zweigart have produced Easy Count fabric in 14 count Aida. This has an overall grid of 10 by 10 and so when lined up with your pattern will be a great boon either for beginners or the more experienced working on large designs which completely cover the fabric as in those by Heaven and Earth Designs.

The fabric is machine washable and Zweigart say that the darker lines disappear after 30 minutes washing at 40 degrees. Being natural skeptics we decided to test this on a sample - but not in a washing machine because having spent a long time hand-stitching an embroidery nobody is likely to put it in a machine! We tried soaking it in mild detergent but after an hour although the lines had faded slightly they were still visible. We couldn't advise using it on designs where background fabric still shows.

Permin of Copenhagen's wine bottle apron kits have proved very popular and now we have blank wine bottle aprons in stock for those of you who would like to make something a little more personal.

Rico Design have a new catalogue of table covers for all seasons. This month we have some of their summer designs in surface embroidery and the new Christmas table linen will be arriving in plenty of time for this year's festivities.

Eva Rosenstand has released her new season's kits with wildlife, flowers and advent calendars.

Unfortunately, Anchor and Royal Paris are no longer producing Disney kits and so those in stock will be the last we have. We're sure that the Classic Winnie the Pooh designs will be missed.
The Disney cartoon Pooh still of course features in many Vervaco kits.

Some lovely new Permin Christmas kits have already arrived and we do know that it's a long time to Christmas. But with so many interesting projects wine bottle aprons, hardanger angels for the tree, decorated towels as well as the more usual table covers and advent calendars, it's never too soon to begin!

by Arts and Designs on Fri, 03 Aug 2012, 16:07