Soft in Flowered Languor
April is "... soft in flowered languor, ... cold with sudden anger" as Ogden Nash put it (Always Marry An April Girl). I only hope Mrs Nash didn't read his poetry.

We now have in stock the eagerly awaited Lanarte Spring Collection. The Gypsy Girl and the Lady of the Camellias are already very popular as are the four lovely new floral designs by Marjolein Bastin. The lovely large Roses makes a triptych set with Tulips and Irises.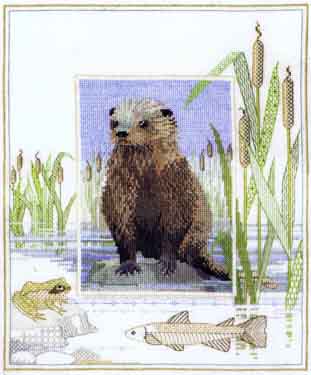 Thea Gouverneur's latest city - Rome - is available in all three fabrics, 36 count linen, 18 count Aida in ivory and black for anyone ready for a challenge!

We also now have more of the new Spring Collections from Maia and Anchor.

The latest in Derwentwater Designs' Wildlife Series is the Otter. This rare British mammal has the light glinting on his fur as he sits on a rock at the river's edge. As with all these designs by Rose Swalwell, the central area is worked in cross stitch with a distinctive blackwork border around.

John Clayton has produced another lovely picture in his watercolour series. The Rialto shows the covered bridge in the romantic city of Venice with its canals and gondoliers. Also new from Heritage Crafts is St Paul's Cathedral which will be a focal point in the Queen's Diamond Jubilee celebrations.

As the year progresses, there is more excitement over the big events of the summer in London and the UK. The Queen's Diamond Jubilee and the London Olympics have inspired many new cross stitch designs - but more on that next month!

This month we are featuring African themed kits with colourful ladies (and one man!) and the stunning wildlife of the continent.

Whether you encounter your April on the way to summer or to winter, have a relaxed and productive month.
by Arts and Designs on Fri, 30 Mar 2012, 18:20