Childhood's Beginning
As the Christmas season approaches, we, like everyone else, are preparing for the big day. It's easy to miss the spirit of Christmas , especially as you get older - as many books and movies remind us. However, we can keep alive our own happy childhood experiences by helping the young to make their Christmasses into happy memories.

And so in the spirit of Christmas, this month's newsletter is regressing to childhood!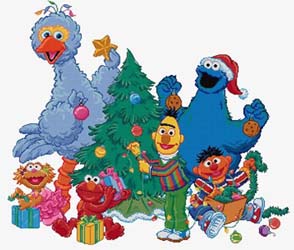 For needlecrafters ...

Thea Gouverneur's latest kits are very different from her usual style. They feature the characters from Sesame Street and are bright and colourful - ideal for a nursery. There are seven to choose from and as an introductory offer we have reduced them even further while stocks last.

The latest designs from Bothy Threads are in their usual colourful cartoon style - Rainbow Cup Cakes are lots of low-calorie fun and there's another two of the four series: Birdboxes and Outfits reflecting the four seasons.

Jaguar is a new addition to the Power and Grace series by John Clayton and produced by Heritage Crafts.

Crochet doesn't have to be traditional and to prove that it isn't just for grannies (although it could be grannies who crochet) Annie's Attic have three new booklets of modern stylish designs. Crochet Dolls has four teenage dolls with clothes and accessories, Treasure Cakes has a collection of colourful boxes in plastic canvas and crochet for all the family and Baby Shower Cakes has tiered cakes made from nappies (yes, nappies) and decorated with a host of useful crochet baby items.

And talking of nappies ....

Re-usable diapers/nappies are making a welcome comeback. Some experts say that using washable diapers/nappies for your baby can significantly reduce your costs. The environmental benefits are fantastic too!

Unfortunately, the start-up costs of buying ready-made reusable nappies/diapers can be prohibitive. Costing anything between £8.00 and £15.00 per nappy, buying ready-made reusable diapers/nappies can be significantly more expensive than sewing your own!

We now have all you need to get started :-

Babyville Boutique PUL waterproof fabric

Babyville Boutique Wicking fabric

Fold Over Elastic

1/4" Braided Elastic for Topstitched Style

Babyville Boutique Snap pliers and Snaps OR Babyville Boutique EZ Adjust Velcro tabs.


And with a design booklet to show you how to make your own, you'll be all set.

This month on the website we are featuring kits with a Japanese flavour, from ladies in traditional dress, stylised landscapes to flowers and birds.

And finally ...

We hope you have a happy and peaceful Christmas this year, and that you help to make it a happy memory for someone else.

by Arts and Designs on Fri, 30 Nov 2012, 20:01