This Sporting Summer
This year it's certainly another summer of sport with the World Cup in Brazil as well as the usual round of tennis, golf and other tournaments. And then there's the Commonwealth Games ... If you're looking for an antidote to the cacophony of crass comment and clairvoyant creatures, then why not have a peek at a few new additions to our comprehensive collections!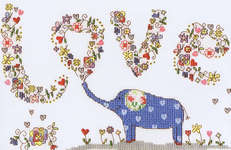 More kits from Vervaco`s Summer Collection have arrived with a twins' birth sampler, puppies and kitten in sepia and a new wedding sampler.

Attractive new blackwork kits from Classic Embroidery.

We have added six new colours in Kreinik #4 braid to the already large sparkling collection.

Thea Gouverneur's new Summer Collection has some old favourites and some things that are a little different. There are close-up cats in pairs and a new pastoral design of a brown cow and calf. A little more unusual are the birth samplers of rose, sunflower or little bird overlaid with baby footprints in gold and personalised with baby's name, date of birth and weight at birth.

Don't miss LovElly, the pretty new elephant and flower design from Bothy Threads.

If you're waiting for the new range of Lanarte, Marjolein Bastin and Maria van Scharrenburg kits, then please accept our apologies. These brands have been part of the Vervaco group for some time and in their wisdom Vervaco have decided to change their UK wholesaler. Unfortunately the changeover has not gone very smoothly and we haven't been able to place any orders for a couple of months. Although we don't have a definite date for resumption of orders, we have been told it will happen in July. We'll issue another newsletter as soon as we can get the new Summer Collection into stock as we've had lots of enquiries.

And finally ... we're going where - as the song says - the sun shines brightly and the sea is blue so we'll be offline for a couple of weeks from the middle of next week. We wish you all the best for your own summer holiday (sorry Australasia).
by Arts and Designs on Thu, 19 Jun 2014, 20:28