A warm welcome to our March Newsletter. There is much that is new this month.

In this month's newsletter ...
The very latest needlecraft kits

Creative embroidery

The Snow Queen and more Garden Club designs

More baby bibs for you to personalise

March's free pattern
Lots of fresh new kits arriving every day ....
The first batch of new kits comes from
Classic Embroidery
with two new stunning bird pictures, small blackwork designs and a blackwork Art Deco lady in two sizes.
three collections
. The Flowered Forms Collection is reminiscent of the current fashion for adult colouring. The Modern London Collection is stitched in bold blocks of reds and blues with a touch of humour. And if you like cartoon cows, then the Cows on the Moo-ve Collection has an abundance of them.
Thea Gouverneur's
latest big project showcases Japan - the country and its landmarks. Available in 36 count antique white linen, 18 count Aida in antique white or black. If that's too large a project, there's also a sweet picture of traditional Japanese Kokeshi dolls which would take a fraction of the time to complete.
Click here for more
.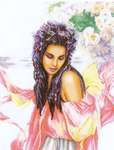 Lanarte's
First 2016 Collection
and we have chosen two pretty new birth samplers from it.
Rose Swalwell
of
Derwentwater Designs
has produced more new Creative Blackwork (which ain't so black!). Seasons Panels are delicate flowers, leaves and berries one for each season. There are also two more of the popular long stitch lanes series Bluebell Wood Lane and Hollyhock Lane.
art of free-form stitching
. The plain white fine fabric comes printed with intricate designs and stitch diagrams leaving you to be bold and creative with colour and stitches and beads too!
More designs from Mirabilia and Blackbird
Butterfly Garden
has arrived seven to go.
Baby Bibs and Transfer Pencils
We have some pretty new
Embroidery Transfer Pencils
to make it a lot easier.
Our Facebook Page
Don't forget to visit our
Bargain Basement
has two for one offers on pairs of matching kits. Some large, some small, in different styles and from different designers, so there should be something for everyone.
This month`s free pattern
is a little thistle motif which you can stitch in a single evening.
And finally ...
Our title this month is inspired by the book
Zen and the Art of Motorcyle Maintenenance: An Inquiry into Values
by
Robert M. Pirsig
. The book has a little to say about carburettors and much about the mysteries of life ...
«We're in such a hurry most of the time we never get much chance to talk. The result is a kind of endless day-to-day shallowness, a monotony that leaves a person wondering years later where all the time went and sorry that it's all gone.»
(And the epilogue to the book is especially poignant).