If we had no winter, the spring would not be so pleasant - Anne Bradstreet
February was the month of purification for the Romans - who evidently did their spring cleaning earlier than most of us. This February brings the start of the Chinese year of the Snake (on the 10th), and of course Saint Valentine's Day which celebrates the first Valentine, written by Valentine himself as a farewell to the daughter of his gaoler.

February usually sees lots of new needlecraft kit releases and first out of the blocks are Bothy Threads with some additions to their current collections and some completely new introductions. All of course are in Bothy's signature light-hearted style - fun to do and fun to view.

History Time Line is from the artwork of Pete Smith and has characters from different ages of the earth, Cut Thru' Steam Train has all the entertaining ideas from the previous Cut Thrus and is driven by a duck (of course!). Home Sweet Home is a pretty house and garden, New Arrival has a row of soft toys personalised with baby's name and Nine Dogs has cartoon pooches of different sizes and shapes.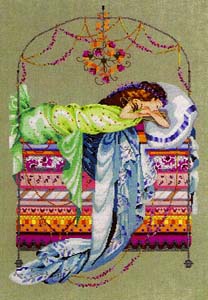 Mirabilia has a charming new Nora Corbett design - Sleeping Princess - to remind you of the little princesses in your life. As well as lots of colour, it features sparkling braid and many beads.

Among the new designs from Stoney Creek comes Bethlehem Silhouettes which contains two patterns, Mary and Joseph and The Wise Men worked on black fabric with deep blues in the skies and white stars over Bethlehem.

Rumour has it that the next Thea Gouverneur city will be Moscow and is 'in the pipeline'. It is however not yet available and we haven't been able to get a definitive answer on when it will show up. Let us know if you're interested and we'll put you on a special mailing list for information.

In the meantime, keep crafting and leave the spring cleaning to the autumn.
by Arts and Designs on Fri, 01 Feb 2013, 20:42