Treacle Scones
Welcome to our November newsletter ...

In this month's newsletter:

Kits from DMC, Heritage and Eva Rosenstand

Patterns from Northern Expressions Needlework and Mirabilia

Baby fabrics from Jobelan

A traditional Halloween recipe

Cross stitch Kits

All the new DMC Christmas kits are coming in. DMC have introduced new designs of the Snowman and the Snowdog and lots of new Tatty Teddy designs.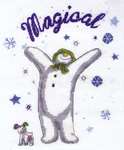 At Heritage Crafts, John Clayton has a new Nativity Scene, Peter Underhill has a grumpy cat at Christmas and Sue Ryder has three lovely Christmas cards with a stained glass look.

There are some lovely new kits from Eva Rosenstand. Her silhouettes are always popular and there are two new ones - Papercut Castle and Papercut Harbour. The Nightingale is a large sampler based on the fairy tale by Hans Christian Anderson. There's also a new small birth record and two family scenes.


Cross Stitch Patterns

Northern Expressions have a tradition of producing an annual band sampler. The last two years have been diagonal rainbow designs Twisted Band Sampler and Twisted Rainbow Sampler. This year although still multicoloured the design has waves and Autumnal shades. Challenging but fun.

The most recent Mirabilia Designs pattern The Twin Mermaids has arrived. Very stylish and glittery and sure to be popular.


Baby Towels and Bibs

We have added some new hooded baby towels and baby bibs from Jobelan. These have 16 count rather than 14 count Aida areas and are available in white and yellow so far.


Further Reading ...

We suggest the excellent cross stitch blog by Stitchhappy. Lots of ideas and projects and free patterns!


And Finally,

As you've probably been preparing for Halloween, here's a traditional Scottish recipe for Treacle Scones (good for kids parties anytime)

8 oz plain flour
2 oz butter
1/2 tsp baking soda
1/2 tsp cream of tartar
1/2 tsp cinnamon
1/2 tsp ground ginger
a pinch of salt
1 tbsp treacle (black treacle or molasses)
milk

Rub the butter into the flour. Add the soda, cream of tartar, cinnamon, ginger and salt. Mix thouroughly. Melt the treacle with a little milk. Stir into flour mixture adding just enough milk to make a firm dough. Knead lightly on a floured board. Roll outr to 3/4 inch thickness an cut into triangular pieces. Bake in a greased tin in a hot oven for 10 to 15 minutes.

After the scones have cooled, thread a string through each one (your stitching skills should come in handy here), dip each threaded scone liberally in treacle and suspend them at about waist height. The game is to have your kids eat the scones with their hands behind their back. Very messy and a lot of fun.

A bientot!



by Arts and Designs on Fri, 30 Oct 2015, 19:48