Spring Into Life
April has started with showers but we're hoping the sun will show up in time for the royal wedding (and for our daughter who's getting married a couple of days after).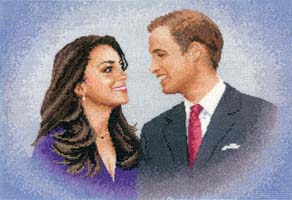 We wish William and Kate the very best and we too are looking forward to the end of April with anticipation and increasing nervousness!

This month saw the arrival of new Design Works kits which are already very popular. Polka Dot Purse and Leopard Purse are companions for Polka Dot Shoe Kitty and Leopard Shoe Kitty. Collette, Bubble Bath and Baby Hugs are all very stylish and different.

We have some kits from a new supplier Riolis, the leading Russian maker. At the moment we have a few ribbon embroidery kits but we will of course expand our range of these very attractive and popular traditional kits.

Stoney Creek have produced a new baby booklet to compliment the popular Jungle Babies and Farm Babies. This one - Sea Babies - has a matching afghan and birth sampler. These make lovely baby presents Anne recently stitched the Jungle Babies Afghan and the new mum was thrilled!

Among the new kits from Derwentwater Designs for Spring are the first in a new range Misty Mornings Winter Tree and Winter Bridge and two new Silken Longstitch.

Lanarte's new Spring Collection is now available and is a mixture of flowers from Marjolein Bastin, African ladies, small silhouettes, African animals, garden scenes with birds and a lovely lady on a beach.

Please note that Dimensions leaflets are being phased out by the new owners of the company and we will not be able to replace them.

Derwentwater Designs have been having trouble sourcing Paternayan wools which is the floss used in their longstitch kits. To get round the problem they are currently converting their Seasons in Long Stitch designs to be worked with Anchor Tapestry wool on 14 count canvas. The kits will come out a little bigger and also unfortunately a little more expensive.
The long stitch kits designed by Jean Coates are currently available 'while stocks last'

Following an enquiry about Rainbow Gallery floss used in a Lavender and Lace design, I found that their web site was very helpful with colour charts and conversion charts. If you are having difficulty finding their floss then this would be a good place to start - https://www.rainbowgallery.com

For April, we are featuring kits which are New for Spring 2011 from all our suppliers - so there's quite a diverse selection!

by Arts and Designs on Fri, 01 Apr 2011, 18:20