Transylvania and Turnip Lanterns
Welcome to the end ... of October (.... bwahaha ....)

We have a spooky new range of cross stitch kits from Moldova (which is quite near to Transylvania). Luca S specialise in more traditional designs and their well-produced kits use Zweigart fabric and Anchor cottons neatly presented on bobbin cards. This month we have a large project kit in the Mona Lisa and a set of four little girls but more of these superb new kits are sure to follow. A special feature is the Magic Count fabric included in these kits.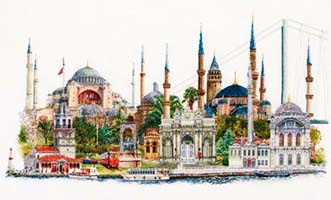 The exotic city of Istanbul is the latest in the series from Thea Gouverneur. There are also another two religious icons since the previous set proved so popular. Along with more close-up flowers, there's a set of carnations in four colours.

There are two new Silken Longstitch designs from Rose Swalwell of Derwentwater Designs with two more Misty Mornings and four attractive Christmas card kits.

Peter Underhill has added four more designs to the Cats Rule series called Little Sew and Sew, The Synchronised Yawn, Self Pawtrait and especially for Christmas Silent Night. He also has a complete new series Bad Taste Bears which do exactly what it says on the tin.

Bothy Threads have two new large designs. Twelve Days of Christmas from the artwork of Lesley Teare has a colourful angel for each of the days. Kings and Queens has each of the monarchs of England from 1066 to the present day - all forty two of them - many with amusing characteristics. Two other new kits, Huggles are sweet birth samplers with both pink and blue floss to finish off when the baby's born.

Plastic canvas has been very popular and we have expanded the colours to include sheets in white, red and green with more colours still to come. We also have some perforated paper in 14 count. This comes in twin packs of sheets 9 x 12 inches and at the moment in white and ecru. Something for the more adventurous.


Linen fabric is too expensive to waste any so we've decided to offer a smaller cut size, a skinny eighth which is a fat quarter cut in half. This will usually measure 50 cms by 35 cms and should suit smaller projects. Don't forget we stock linen bands in 10 cms, 20 cms and 30 cms widths which would also be suitable for smaller embroideries and espeacially wall hangings. We are also offering skinny eighths in some of the wider Rico Design fabric.

Just in from Riolis a lovely lady Lilac Evening, a companion for Velvet evening.
https://www.artsanddesigns.com/cgi-bin/viewDetails.pl?catnumber=1790280745

Our designer Julie Lynes has a range of paper Christmas cards, either to buy already printed or to download and print yourself. :-

And on that theme, this month we are featuring lots of Christmas cards from several designers. They're quick to work and will be proudly displayed every Christmas!
by Arts and Designs on Fri, 28 Oct 2011, 19:21