Profile - Siesta Frames
Siesta Frames Ltd is a family business founded in 1994, and manufactures many of their own products under the brand names Siesta, Whitmac and CraftLite.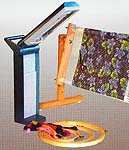 Siesta's CraftLite lighting products are compliant with the RoHS directive that defines the use and restrictions on the use of certain hazardous substances in electrical and electronic equipment.
Siesta is also a member of WEEECARE (Membership no WEE/CD0102WU) to comply with the WEEE directive (Waste Electrical & Electronic Equipment) that aims to minimise the impact of electrical and electronic goods on the environment.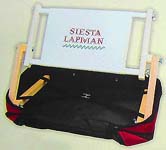 We stock a wide range of their products relating to cross stitch and needlecraft including
sewing hoops and frames

daylight craft lamps

spectacle and clip-on magnifiers

scissors, snips, shears and sharpeners

magnetic tools

craft bags and lap stations

tweezers

storage boxes, jars and bobbins

pattern holders