Cross stitch, Needlecraft and Embroidery Glossary: 2-4-6-8 stitch to 2-4-6-8 stitch
A comprehensive illustrated needlecraft dictionary with clear definitions and working diagrams. Includes 766 terms used in cross stitch, embroidery, tapestry, blackwork, and goldwork. (
Click thumbnails to enlarge
.)
A counted thread stitch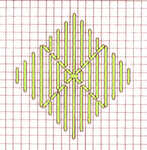 This stitch consists of large, diamond shapes formed by working vertical stitches over 2,4,6,8,6,4, and 2 threads of fabric. Work the diamonds in horizontal rows, leaving two threads of fabric between each group. On second and subsequent rows the diamonds fit in the gap left by the previous rows. When the whole area has been worked backstitches can be worked along the edges of the diamond shapes, which works best is fewer ply or a thinner thread is used.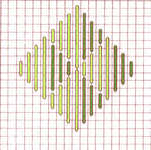 A variation can be worked by using a second shade for some of the stitches as shown and another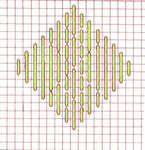 by alternating the 2-4-6-8 stitch with Hungarian stitch.
Please wait ...