Review of Gardener Chick by Heritage Crafts
Heritage Crafts have lots of birds and flower kits converted from teh artwork of Valerie Pfeiffer which are very pretty and timeless.

I decided to try out one of the smaller Chickadee kits Gardener Chick which comes from the set Artist, Christmas, Fisherman, Gardener, Golfing, Kitchen, Rain and Tennis. A weekend project, these would make nice little gifts or even be suitable for a greetings card. The Christmas Chick has been the most popular of the set.

The kit has large black and white charts, the cross stitch on one A4 sheet with the added backstitch shown on the facing page superposed on a faded version of the chart.

The only problem I had with the chart was that solid symbols are quite difficult to distinguish, especially the playing card club and spade shapes which are used in the same area. The spade shape is a blend with one strand of the club so close in colour too. To get round this I highlighted one of the symbols on the chart.

The design is worked with several variations on partial cross stitch, only a few quarter and three quarter but more of vertical and horizontal halves in different colours. The instructions given are very clear with diagrams of how to stitch these on evenweave and on Aida fabric and certainly it wasn't difficult on the evenweave version I worked on. It might be a little more tricky on Aida but the result is effective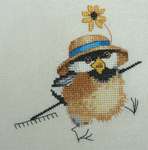 by Arts and Designs on Thu, 16 Jul 2015, 14:05
Review of Cow - Sheep- Pig - Bull
We decided that it would be a good idea to stitch a few different suppliers' kits to review them for our customers.

I started with this small Lanarte kit and found that although it's small, working one over one in half cross stitch on 28 count evenweave presents some challenges. It took some time before my eyes become accustomed to the very fine stitching especially since I began in the middle with the pink pig. There isn't much contrast between the light colours and the white fabric.

After stitching the pig, I decided that there was little point in stitching the white areas. This meant that I had to be even more careful about finishing off the thread ends so that none would show through, but this was already essential with the black floss.

As time went on I became quicker. The black contrast of the bull stitching was easier, the sheep being mostly unstitched white didn't take long and the cow with dark thread and white areas was quite easy.

There is off course plenty of left over floss. And as I planned to make this a present for my little granddaughter, it seemed a good idea to add the animal names as in lots of her little books. I chose the red of the sheep's tongue but there's enough floss of other shades as it took less than four strands of the enclosed length.

We'll add a copy of the word chart with purchase of the kit.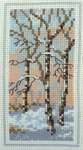 Now it just remains to see if she can identify the rather lopsided cartoon animals and I'll make my next project something on a bigger stitch count.
by Arts and Designs on Wed, 15 Jul 2015, 10:18
Quaker Style
Crewel work was very popular in Europe during the sixteenth and seventeenth century. With the new trade routes to the Far East opening there were exciting new possibilities to use silks and linens and ladies began to make elaborately patterned clothes and bed hangings.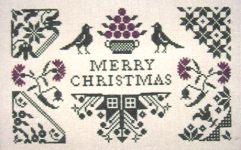 The ladies of the New World also enjoyed embroidery often dying their own floss and taking inspiration from the birds and animals around them The simple style of working in only one shade of floss on a contrasting background appealed to the Puritan mind but the floss could be shaded by steeping wools in indigo over varying lengths of time to give different effects.

We have put together a collection of cross stitch patterns in Quaker style. Since most are worked in whole cross stitch using one or very few shades of floss these are often ideal for beginners. Shading can be introduced with overdyed floss or sampler threads to recreate the American Colonial style.

Simple Fabric Dyeing

Some of the patterns use specially dyed fabric to give an antique look but if these are not available or just to add your own individuality to the samplers, why not dye your own fabric using tea or coffee. The finished fabric comes out a warm cream with slight shade variation.

First wet your fabric and then dip it it a cup of black tea or coffee. By varying the amout of tea or coffee used you can achieve lighter or darker fabric. When you are happy with the colour add two tablespoons of white vinegar to the cup and dip the fabric again. The vinegar sets the fabric. Then let the evenweave fabric dry naturally, iron it and it is ready for use. The smell of the vinegar disappears.
by Arts and Designs on Thu, 23 Oct 2008, 17:10
An Introduction to Bargello
There are lots of names for this style of canvas work including Florentine embroidery, Irish stitch and Hungarian stitch showing that this popular stitch has travelled and been adapted to suit the style of the time and place.

Flame stitch is a very descriptive name for one version where points and gradual shading remind us of a fire. But there are few rules and this style of canvas work needs little practice before the stitcher can design and create very individual items.

Worked in straight stitches and usually in one direction, adjoining stitches should overlap by at least half of the length of a stitch, so that if the pattern is being worked over six canvas threads you would not move up or down more than three. The traditional flame would be the best place to start with where each stitch is the same length and the pattern is set by the first row and then following rows are exactly the same but in different colours or shades.

A colour wheel will be a useful aid when choosing colours, two directly opposite colours such as red and green or yellow and purple will make the brightest finished article. Work dark to light in one colour followed by dark to light in the other or dark to light followed by light to dark to give a different effect. More subtle designs can be worked by choosing shades from one area of the colour wheel or work entirely in pastels or dark shades the possibilities are endless.

The flame stitch pattern is useful for all sorts of articles from spectacle cases to cushions and the article can be worked very quickly. With larger pieces, it is best to work on a frame to keep the canvas straight and care must be taken when making up as canvas does have a tendency to fray.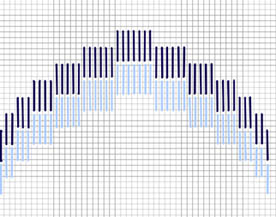 The example shown was used to make a simple curtain tie back and worked in four shades of blue. In this case the stitching was worked in six strands of stranded cottons over 20 count double canvas. The finished embroidery was back with plain blue cotton and loops were crocheted at each end. This was worked to co-ordinate with a large project a dressing table stool. Add a few stitches to the width and back with velvet and make a stylish spectacle case.

Good fun and quick to work, Bargello will continue to be a favourite for generations to come.

by Arts and Designs on Wed, 17 Sep 2008, 19:11
Half Cross Stitch
Some cross stitch designs have areas of half cross stitch (which is the first leg of a cross stitch.) Half cross stitch is a very useful stitch to cover areas which don't require so much prominence such as shadows, reflections and backgrounds.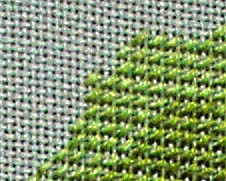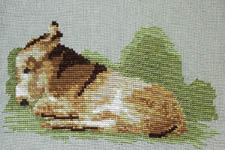 When stitching The Little Donkey picture the most interesting part is the subject itself but it needs a background or it would be floating in mid air. The half cross stitch background is effective and unobtrusive and best of all very much quicker to work.

So even where the pattern doesn't specify half cross stitch for a background it is always worth considering for at least part of those large green boring areas after the interesting bits have all been done. Especially since we all have the next project in mind by the time we get to that stage.
by Arts and Designs on Fri, 23 May 2008, 14:46
Band Samplers
Band Samplers are a very old form of embroidery dating back to the Late Middle Ages. These were stitch references where the lady of the house tried out new stitches and then put away the rolled up sampler until she needed it for reference or wanted to try out a new stitch. They went out a fashion when books of stitches became more readily available.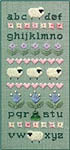 Modern band samplers although often also a collection of different stitches are meant to be displayed and usually have a theme or attractive colour scheme.

Hardanger is often found in band samplers and this makes an interesting project to try out this form of embroidery especially if it's combined with cross stitch. Some band sampler use a variety of flosses giving interesting textures while others work with a limited pallette.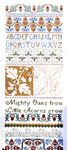 From the traditional 17th Century band sampler by Donna Vermillion to the very modern Chocolate Cake Sampler by Casey Buonaugurio, from the simple one nighter band sampler by Jeannette Crews to the challenging Wildflower Drawn Thread Sampler by Linda Driskell, there's sure to be a band sampler to suit everyone.

Click here to see our current range of patterns.
by Arts and Designs on Mon, 26 Nov 2007, 13:33
Swedish Weaving
This traditional craft had a revival in the 1930s and 40s and is becoming increasingly popular today.


It is a type of pattern darning worked on Huck fabric which has floats on one surface running vertically. The technique picks up these floats and weaves geometric patterns. The needle used is blunt and never pierces the fabric. Because of the use of regular weave it is considered to be a counted thread technique.

Unfortunately, the fabric is becoming more difficult to find but it is possible to use Aida and pick up part of the loops. Then the weaving can be used in conjuction with other counted thread stitches.

However although Swedish Weaving has only two basic stitches, straight and loop stitch, complicated patterns can be built up. If special threads are used such as sampler or watercolour floss, then very interesting effects can be achieved. See the Swedish Weaving Pillows by In a Gentle Fashion.
Straight stitches are threaded between loops either in a straight line or in a pattern and go through a float only once.





Loops are worked first through one float and then another returning to the first and passing through again.





Although the stitches are simple they can be worked into very elaborate designs mainly used for household linens.
by Arts and Designs on Sat, 20 Oct 2007, 19:40
Something a little bit different



Douglas Designs with designer Virginia Douglas does have some more unusual designs. There are lots of Victorian style ornaments for Christmas and other seasons with some very interesting Hallowe'en ornaments. Many of these are worked on perforated paper and similar examples can be found from other designers.

Their most unusual designs come from their Stitch-n-Quilt range, taking the idea of combining the arts of cross stitch and quilting

The cross stitch elements of the patterns are fairly simple and easy to work. When quilting, an extra layer of fabric is needed under the cross stitch fabric to prevent the filling from coming through especially when worked on larger count fabric. The quilting is then worked as usual for hand quilting but for cross stitchers unused to quilting there is the benefit of using the count of the top fabric to make the quilting stitches very even and regular.

There are two leaflets in this style so far, one of birdhouses and one of flowers. Work an individual design or a large project, the scale can be varied by the count of your fabric. For those of us who would love to try quilting but don't have the confidence to work a large project these designs are a good idea - have a look at Douglas Designs range here.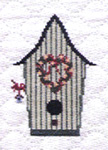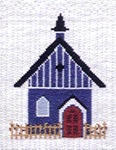 by Arts and Designs on Thu, 11 Oct 2007, 09:09
Ribbon Embroidery



ictorian ladies sometimes used narrow silk ribbons in their embroideries to give an attractive three dimensional effect and subtle shading. They could make up flower shapes and sew those down but often they were used as threads in simple stitches such as french knots, bullion knots and lazy daisy stitch.

These traditional designs are still popular today and ribbons can be found in many more shades than were available to our great, great grandmothers. This craft can be used for very decorative items from brooches and lavender sachets to large pictures and cushions. Ribbons can be used in widths from 1/16' to 5/16' (2 mms to 7 mms) but the most common width is 1/8'.(3 mms) Try to work with short lengths, no more than 12' as that will keep the freshness of the ribbon and prevent twists. When you begin, thread the needle and then take the point of the needle back through the ribbon approximately 1/4' (6 mm) from the end. This will allow you to use more of the ribbon and save you searching around on the floor should the needle fall.






Daisies and leaves are easily worked using lazy daisy stitch. Roses can be worked by making a french knot followed by straight stitches around using the same shade or lighter shades of the same colour. Another version uses fly stitch and is also known as spiderweb rose.. A daffodil can be worked with four lazy daisy stitches for the petals and four buttonhole stitches for the trumpet. Tulips can be worked with two or three ribbon stitches and crocuses with two lazy daisy stitches slightly overlapping and a bullion knot in the centre. Detailed diagrams for all these stitches can be found in the glossary.






As well as giving shape and texture to a picture, ribbon flowers will vary in shape slightly to give a more natural look. It's important to keep the tension light, the looser the stitches the more elegant the finished work.

We have found a few booklet with designs combining cross stitch and ribbon embroidery in a variety of projects including pictures, greetings cards and cushions. The patterns all have detailed instructions and stitch diagrams. In particular there is a 'Basic Stitches' booklet from Jeanette Crews Designs which will give you the opportunity to start with a small article and progress to bigger things. If you would like to look at the details click here.
by Arts and Designs on Wed, 03 Oct 2007, 18:18
Counted Beadwork
Beadwork was very popular in Victorian times when it was used to decorate evening dresses and bags and in furnishings such as cushions and footstools.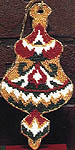 Nowadays many cross stitch designs have a few beads to add dimension and interest but it is also possible to work patterns completely in counted beadwork either on fabric, waste canvas or perforated paper to make a variety of exciting articles and cards.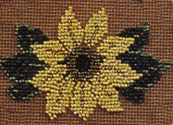 Beads are attached with a half cross stitch using either a beading needle or a fine needle number 9 or 10 with a double thread of the chosen floss. All crosses must be worked in the same direction. As with cross stitch, never use knots but work the end of the thread into the back of your work.

Choose a thread shade to match the fabric and not the beads so that you don't have to change thread when you change to a different colour of bead. It's best to work in rows where possible and each bead will tighten when you begin the next stitch.

As with cross stitch, practice will soon make perfect and you will find it easy to get the correct tension.

We have selected a few leaflets from top designers especially to try this interesting craft:
From Country Cross Stitch, Beaded Favourites is a large range of flowery designs;

Stoney Creek's Beaded Christmas ornaments has instructions for 19 projects, and

Imaginating's Beaded Accents has four patterns to be worked on garments.

If you would like to find out more about these booklets click here.

These would make a good starting point to try out the art of beadwork and give you the confidence to be more adventurous with beads in other designs.
by Arts and Designs on Thu, 27 Sep 2007, 09:33
Earlier Stitchcraft Articles ...
Assisi Embroidery ... Assisi embroidery comes from the Italian town of that name and was once used to decorate ecclesiastical linens.
Blackwork Easter Egg - a simple example. ... There's nothing very complicated about blackwork.
Would you like to try hardanger ? ... Some of you have recently expressed interest in hardanger, so we decided to research the subject a little and look for a few products.
New Baby? ... News of an expected new baby is always very exciting, and not just to the parents-to-be!
Miss Potter - Renaissance Woman ... Hollywood has seen a ready market for adaptations of British childrens' classics - Alice in Wonderland, Winnie the Pooh, Peter Pan, and so on, but now director Chris Noonan has made a new movie based on the life of the storyteller rather than the stories.
Christmas is coming, the goose is getting fat ... ... Or perhaps, «gravitationally challenged», but it just doesn't scan.
Searching for Golden Threads ... I had a long search to find the
Mounting Your Embroidery On Card ... This is a short piece with advice on mounting your embroidery on card for framing - what type of thread to use and how to do it.
What Colour Is Blackwork? ... Blackwork is over four hundred years old
Not Another Embroidery! ... There are many, many cross stitch and embroidery designs and kits out there.
Goldwork ... Goldwork embroidery
Stitching Techniques And Tips ... An introduction to working cross stitch, blackwork and needlepoint designs with some useful tips and advice for beginners.