Rico Design Hooded Baby Towels
These baby towels make lovely gifts and can be used from birth and for many years. Made of 100% cotton, they are soft and fluffy and have a hood attached on one side with a 14 count Aida band.

I used one of Rico Design booklets especially for these towels. There are many designs to choose from in four booklets.

I had already stitched polar bears and puppies and this time decided on whales on a mint towel. The good scale charts are in full colour and easy to follow. The design can easily be stitched in under three weeks.

One problem is probably unavoidable. I prefer to stitch with a hoop, but it's difficult to use one for the last motif at either end of the Aida band since the seam gets in the way. I ended up stitching these without tension and although they probably look exactly the same to anyone else, I can see they are not as neat.

These towels will be washed many times so I'm very careful to work in the floss ends well, perhaps taking more stranded cotton than indicated. Of course, cottons are cheap compared to the fabric used and to the stitcher's time so it really isn't worth skimping on it.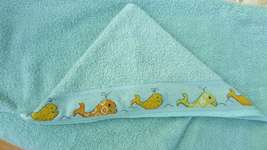 by Anne Peden on Fri, 25 Sep 2015, 10:07
Easter Rabbit by Eva Rosenstand
Eva Rosenstand kits are now produced by Permin of Copenhagen and the key and instructions are in the same format as their designs. New customers to Permin sometimes think that the instructions are incomplete or are in Swedish, but in fact although terse and pictorial, all the information is there in a logical and consistent system.

This might be a good opportunity to explain that format, so we have prepared a short file which you can download to read which will hopefully help, but if not let us know and we'll try to improve it.

To get back to the Rabbit. The floss organiser has a couple of useful features. There's a box under each number where you can draw the cross stitch symbol which saves always referring to the key. The circular holes have a slot underneath so that you can pull the unused and partly used thread down into that to keep it tidy.

I've seldom worked on linen evenweave and prefer cotton evenweave because of the closer and more even weave. However the fabric in this kit is easy to work on, the threads are narrower making the holes easier to see and I was pleasantly surprised. Of course, for the same reason, you can't carry floss over unstitched areas and have to be careful not to leave floss ends at the edges.

There were no problems stitching the design although the two darkest shades for the fur are pretty close. When the cross stitch was complete, the picture did look a bit bright but the backstitch toned it down.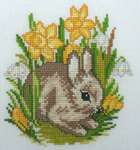 by Anne Peden on Fri, 18 Sep 2015, 14:42
Iphone 5 Phone Covers by Anchor.
This is a quick and easy project worked completely in whole cross stitch on silicone covers. There are a choice of designs to work either black on white or white on black. I chose what I thought would make a 'his and hers' set.

The floss came in lengths of 1 metre, two black and two white. Not a very useful size as the full length is too long to use and half was a bit short as it means more lengths used. I normally work with about 66 cms and perhaps this had an effect later.

Since I wasn't sure how much wear the inside of the cover would get, I was very careful not to carry thread over the reverse and to leave long ends which could be worked in well. I always do this for items which are to be used rather than put behind glass. However the black on white design came out just slightly short of floss.

The white on black was equally easy to work but perhaps not such a good contrast. It also came out short of floss by even more than the first cover.

I perhaps chose the most stitched option for both colourways and the other designs would have enough floss but these are clearly beginner designs aimed at young stitchers who would be unlikely to have extra floss lying around to complete. It would be a disappointment.

I certainly couldn't recommend this kit and we won't re-order. We will include extra floss in any we do sell.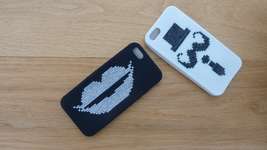 by Anne Peden on Fri, 11 Sep 2015, 11:20
Flexihoops
I decided to use one of these frames to mount the reversible Little Owl from the Classic Embroidery pattern.

These hoops are available as circular and oval shapes which are much harder to find in traditional frames. I have heard that larger frames are less suitable for embroideries but the 5 inch circular frame I used was ideal and the fabric could be stretched until taut.

If using the frame to hang on a wall, the reverse could be laced, but I wanted to hang it so both sides could be seen.

The problem was in finishing off the edges. I could have just cut them but since there is no glass to protect the fabric, over time it could get dusty and require washing. There's always the option of zigzaging the edges with a sewing machine which would be fine for straight edges but a bit more difficult in a circle.

Once I had the embroidery centered in the frame, I did a row of running stitch close to the edge on the unwanted fabric. Then I removed the fabric from the flexihoop and put it in a larger embroidery frame to work buttonhole stitch inside the line using Pearl cotton no.8 926 cream.





With the embroidery back in the flexihoop in its original position, I trimmed the excess fabric as close as I could to the buttonhole stitch using my new hardanger scissors and now it's hanging at a window.
by Anne Peden on Fri, 04 Sep 2015, 08:46
Review of Little Owl, blackwork kit by Classic Embroidery
This pretty little design is sold as a 'weekender' and certainly can be completed in a weekend or a few evenings.

I chose the evenweave version but all of the stitching is suitable for Aida. The instructions are very detailed and I started with the backstitch outline. I realised that the horizontal centre on the chart isn't correct but since I'd already started and there was ample material I continued. It's always a bit risky to unpick in blackwork as traces of the threads may be left behind.

When I work backstitch in blackwork, I'm always aware of the reverse stitching showing through to the front so to make right angle crisp, I work some stitches forward so that they are not at an angle on the back. This may not be necessary and perhaps it would be better to use running stitch.

With the backstitch and whole cross stitch in two strands complete, the three infill patterns are worked with a single strand. The running stitch on the bird's front was quick and easy and the instructions give an order for the more dense stitching on the head to make them reversible.

The wing stitching can also be worked as reversible following the stitch guide given but I'm afraid I found that a bit more tricky in the small space and gave up. Afterwards I thought that perhaps working the pattern vertically rather than horizontally may have made it easier as most of the rows are longer. So when I tried that on one wing, it was a lot easier to follow and the reverse is patterned but not a copy of the front.

The finished owl is three and a half inches in diameter and if reversible would fit in a four inch round flexihoop. If mounted carefully it would make an attractive window hanging. My finished owl looks perfect from the front but perhaps I'll try again and take more care over the backstitch.

The kit in available in evenweave and 14 count Aida. There was a little black floss left over.

Having finished the Little Owl, I still felt that making it completely reversible was a challenge. Obviously not necessary but interesting. So I started again, this time in brown on cream and worked in outline in running stitch with two strands. This looked very neat but better after I'd invested in a pair of hardanger scissors to cut the ends closer.

Whole cross stitch as I normally work it is not reversible but if I worked every second stitch then it would slope on the back. I remembered a pattern booklet called Reversible Cross Stitch Sampler by Needlemade Designs and there was the answer:-

Work one half cross stitch every second space left to right;
Return with second half of crosses in spaces;
work top stitch on alternate stitches left to right;
work under on return to make stitches lie in the same direction.

The filling stitches for the bird's head and breast had come out reversible the first time but try as I might I couldn't make the honeycomb pattern the same on the back following the instructions. I tried variations on scrap fabric and finally worked out a completely reversible order of stitching. The front still looks neater than the back as I had to finish off ends in the running stitch making some places thicker than others. You can judge for yourself from the photos.





My next challenge is mounting the finished Litle Owl in a flexihoop.
by Anne Peden on Fri, 28 Aug 2015, 10:16
Review of Believe by Designs Works
A pretty little design of the word with fairies and beads.

The pattern advises running cold water over the darker red and blue shades of floss because they may not be colourfast. I wondered about using vinegar to fix the colour but decided to play it safe. As it was the colours didn't run at all.

The threads were already on the shade card in the same order as the key but no floss numbers are given even for comparison just colour names. I was a bit worried about mixing them up after I'd removed some to rinse so I took a photo. Even then I wasn't convinced about where to place them on the card. Only one shade dark lavender didn't seem to be correct but it matched the photo.

I began in the centre with the whole cross stitch of the word. That and the star shapes were easily worked. The little fairies with partial cross stitch, backstitch and french knots were more intricate to work but not too difficult.

That left the beads which are sewn on with a single strand in a similar shade using the beading needle provided. There was lots of leftover floss in all the shades, the least in the brown of the backstitch but still ample.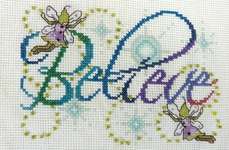 The whole design was worked in less than a week and the finished embroidery fits a standard photo frame of 7 by 5 inches. Imagine, Dream and Hope are from the series with the words in the same shades and there are other series in similar style but different colours Faith and Love, Family and Friends so if you like this idea there are lots of others to choose from.
by Anne Peden on Fri, 21 Aug 2015, 09:04
Review of Woodland Winter by Rose Swalwell
A pretty little design from a seasonal set. Derwentwater Designs has many Spring, Summer, Autumn Winter sets. This is one of the smaller sets.

Firstly I had to sort the threads onto cards by colour. Rose Swalwell never uses any partial stitches but the stitching completely covers the design area so that can be a bit complicated if there are lots of shades.

I decided to begin with both browns in the tree trunks as it's easier to go wrong if you work too far in a single shade. The shade with the most floss is a mid grey so I decided to leave that to last and use it to fill in the gaps without having to refer to the chart.

I gradually introduced all the other shades so that I could check I hadn't made any mistakes. Then when I was happy that all but the mid grey was stitched I finished the whole cross stitch. A border of the same shade left only the backstitch. That is worked in two shades of brown, the lighter brown charted with a dotted line which wasn't so easy to see so I had to refer to the finished picture to check.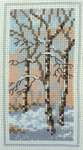 The whole embroidery was completed in less than a week with lots of leftover floss.

Woodland Winter is brighter and with more peach than the illustration on the kit cover. The set of four seasons could be worked and mounted in a single frame.
by Anne Peden on Fri, 14 Aug 2015, 10:55
Review of Gardener Chick by Heritage Crafts
Heritage Crafts have lots of birds and flower kits converted from the artwork of Valerie Pfeiffer which are very pretty and timeless.

I decided to try out one of the smaller Chickadee kits Gardener Chick which comes from the set Artist, Christmas, Fisherman, Gardener, Golfing, Kitchen, Rain and Tennis. A weekend project, these would make nice little gifts or even be suitable for a greetings card. The Christmas Chick has been the most popular of the set.

The kit has large black and white charts, the cross stitch on one A4 sheet with the added backstitch shown on the facing page superposed on a faded version of the chart.

The only problem I had with the chart was that solid symbols are quite difficult to distinguish, especially the playing card club and spade shapes which are used in the same area. The spade shape is a blend with one strand of the club so close in colour too. To get round this I highlighted one of the symbols on the chart.

The design is worked with several variations on partial cross stitch, only a few quarter and three quarter but more of vertical and horizontal halves in different colours. The instructions given are very clear with diagrams of how to stitch these on evenweave and on Aida fabric and certainly it wasn't difficult on the evenweave version I worked on. It might be a little more tricky on Aida but the result is effective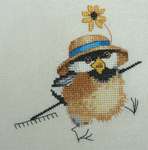 by Arts and Designs on Thu, 16 Jul 2015, 14:05
Review of Cow - Sheep- Pig - Bull
We decided that it would be a good idea to stitch a few different suppliers' kits to review them for our customers.

I started with this small Lanarte kit and found that although it's small, working one over one in half cross stitch on 28 count evenweave presents some challenges. It took some time before my eyes become accustomed to the very fine stitching especially since I began in the middle with the pink pig. There isn't much contrast between the light colours and the white fabric.

After stitching the pig, I decided that there was little point in stitching the white areas. This meant that I had to be even more careful about finishing off the thread ends so that none would show through, but this was already essential with the black floss.

As time went on I became quicker. The black contrast of the bull stitching was easier, the sheep being mostly unstitched white didn't take long and the cow with dark thread and white areas was quite easy.





There is off course plenty of left over floss. And as I planned to make this a present for my little granddaughter, it seemed a good idea to add the animal names as in lots of her little books. I chose the red of the sheep's tongue but there's enough floss of other shades as it took less than four strands of the enclosed length.

We'll add a copy of the word chart with purchase of the kit.

Now it just remains to see if she can identify the rather lopsided cartoon animals and I'll make my next project something on a bigger stitch count.
by Arts and Designs on Wed, 15 Jul 2015, 10:18
Quaker Style
Crewel work was very popular in Europe during the sixteenth and seventeenth century. With the new trade routes to the Far East opening there were exciting new possibilities to use silks and linens and ladies began to make elaborately patterned clothes and bed hangings.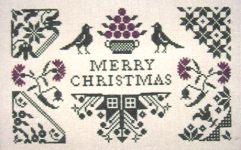 The ladies of the New World also enjoyed embroidery often dying their own floss and taking inspiration from the birds and animals around them The simple style of working in only one shade of floss on a contrasting background appealed to the Puritan mind but the floss could be shaded by steeping wools in indigo over varying lengths of time to give different effects.

We have put together a collection of cross stitch patterns in Quaker style. Since most are worked in whole cross stitch using one or very few shades of floss these are often ideal for beginners. Shading can be introduced with overdyed floss or sampler threads to recreate the American Colonial style.

Simple Fabric Dyeing

Some of the patterns use specially dyed fabric to give an antique look but if these are not available or just to add your own individuality to the samplers, why not dye your own fabric using tea or coffee. The finished fabric comes out a warm cream with slight shade variation.

First wet your fabric and then dip it it a cup of black tea or coffee. By varying the amout of tea or coffee used you can achieve lighter or darker fabric. When you are happy with the colour add two tablespoons of white vinegar to the cup and dip the fabric again. The vinegar sets the fabric. Then let the evenweave fabric dry naturally, iron it and it is ready for use. The smell of the vinegar disappears.
by Arts and Designs on Thu, 23 Oct 2008, 17:10
Earlier Stitchcraft Articles ...
An Introduction to Bargello ... There are lots of names for this style of canvas work including
Half Cross Stitch ... Some cross stitch designs have areas of
Band Samplers ... Band Samplers are a very old form of embroidery dating back to the Late Middle Ages.
Swedish Weaving ... This traditional craft had a revival in the 1930s and 40s and is becoming increasingly popular today.
Something a little bit different ...
Ribbon Embroidery ...
Counted Beadwork ... Beadwork was very popular in Victorian times when it was used to decorate evening dresses and bags and in furnishings such as cushions and footstools.
Assisi Embroidery ... Assisi embroidery comes from the Italian town of that name and was once used to decorate ecclesiastical linens.
Blackwork Easter Egg - a simple example. ... There's nothing very complicated about blackwork.
Would you like to try hardanger ? ... Some of you have recently expressed interest in hardanger, so we decided to research the subject a little and look for a few products.
New Baby? ... News of an expected new baby is always very exciting, and not just to the parents-to-be!
Miss Potter - Renaissance Woman ... Hollywood has seen a ready market for adaptations of British childrens' classics - Alice in Wonderland, Winnie the Pooh, Peter Pan, and so on, but now director Chris Noonan has made a new movie based on the life of the storyteller rather than the stories.
Christmas is coming, the goose is getting fat ... ... Or perhaps, «gravitationally challenged», but it just doesn't scan.
Searching for Golden Threads ... I had a long search to find the
Mounting Your Embroidery On Card ... This is a short piece with advice on mounting your embroidery on card for framing - what type of thread to use and how to do it.
What Colour Is Blackwork? ... Blackwork is over four hundred years old
Not Another Embroidery! ... There are many, many cross stitch and embroidery designs and kits out there.
Goldwork ... Goldwork embroidery
Stitching Techniques And Tips ... An introduction to working cross stitch, blackwork and needlepoint designs with some useful tips and advice for beginners.