Summer has two Beginnings
A Windy Welcome to the October 2018 Newsletter!

Our title is from a poem by American poet Emily Dickinson (1830-1886):

«Summer has two Beginnings
Beginning once in June
Beginning in October
Affectingly again ...»

In this month's Issue ...

Kits from Nimue, Permin, John Clayton, Anne Peden and Luca-S

Patterns from Nora Corbett

October Bargains
Kits

Nimue Fee Main has a new Art Nouveau lady design inspired by Brittany and the traditional Breton costume. Available as a kit in linen and as a chart.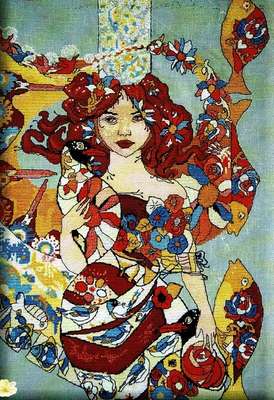 Permin have a new catalogue which includes this year's new releases. We have some Christmas designs including advent calendars and hardanger wine bottle aprons.

We now have in stock the first part of Permin's Secret Stitch Along advent calendar. This comes with all the materials fabric, threads and red plastic rings. The first chart of the design is included and the rest will be downloadable at two weekly intervals.

There are two new Elegance ladies from John Clayton and Heritage Crafts this month. Martina wears a powder pink evening dress. Holly in her burgundy evening dress stands by a white Christmas tree both sparking with gold metallic floss. These kits are available in 27 count evenweave and 14 count Aida.

Anne's latest design in her Blackwork Garden Birds series is a pair of goldcrests in a yew tree. This one comes as a downloadable or paper pattern or as a kit on 28 count cream Jobelan.

We have some lovely new designs from Luca-S. There are two realistic Santa pictures (if that makes any sense!) - that we love - and a cute robin picture for Christmas - and a set of three cartoon birth samplers for other happy events.

Bothy Threads have released a new set of kits of cute soft toy rabbits, from Bebunni. Some are especially dressed for Christmas.

With so many new designs, they have had a clear-out of some older ones, both by Bothy Threads and Derwentwater Designs, so don't delay if you are interested in one of their current kits.



Patterns

Nora Corbett's latest designs are Autumn Flame and Autumn Blaze. These are in the Autumn Pixies series and are in vibrant Autumnal colours.


October Bargains

This month in the Bargain Basement there are many ladies in different styles - elegant, wild, ethnic, victorian, feisty ... - and as usual at half the previous low price. Offers are only for this month and while stocks last.


And Finally ...

Those of you in the southern hemisphere (who we often overlook in this newsletter!) should actually be experiencing the beginning of Summer - although of course that's not what Emily Dickinson meant!

As for us here in Scotland we have had high winds and lots of trees down - which passes for summer here.

Well, at least we have seasons and each one has something new to offer. So we rejoice in the beauty and magic of each season and enjoy it while we can.

We wish you an enjoyable Autumn/Fall/Summer wherever you may be.








by Arts and Designs on Fri, 28 Sep 2018, 19:36
September days are here
Welcome to our September newsletter ...

This one's going out on Sunday 2nd September as we didn't have time to prepare it for the usual Saturday release. We're very sorry if you were disappointed yesterday!

In this month's issue ...
Problems accessing the website?

New kits from Magic Needle and Bothy Threads

Nora Corbett's Latest Design

Permin's not-so-secret Stitch Along

The DMC Floss card

Teddies and Toys in the Bargain Basement
Problems Accessing the Arts and Designs website?

We moved to a larger web server early in August and some people reported problems seeing the new server. After a lot of head-scratching we worked out what the problem was and we have a fix if you still can't access artsanddesigns.com. The fix is to click this link and ignore your web browser's security warnings (which are wrong in this case as it's just our new website). Click 'proceed' or 'advanced' and proceed to the website to clear the problem. You should only need to do this once to clear the problem for good. Please let us know if this doesn't work for you!

Kits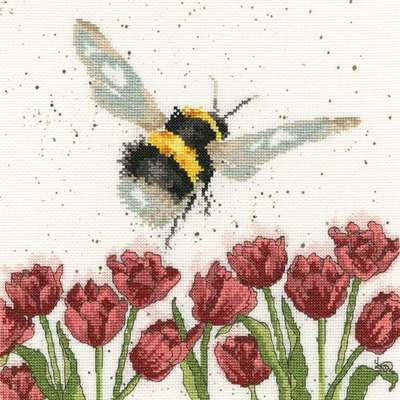 In stock we have a new range of cross-stitch kits from a Russian company - Magic Needle. Only a few to begin with - but we'll put their catalogue online so you can see see the full range.

The designs are great quality covering everything from fantasy to traditional and are printed in colour on large easy-to-read sheets. Floss is pre-sorted on card and fabric and needle (ordinary, not magic) are of course also included.

Bothy Threads have released their Autumn 2018 Collection. These are

Two more magical designs from Lavinia Stamp worked against a backdrop of a full moon

Two contrasting dance inspired designs by Beryl Cook

Two more colourful cat designs by Rosina Wachtmeister on 14 count white Aida measuring 28 by 19 cm. Both use metallic threads and beads are used for the raindrops

Four more cross stitch designs from the Wrendale Collection by Hannah Dale. As usual they are worked on specially printed 14 count speckled Aida;

The first kit from Michelle Grace's art work of a retro take on Little Red Riding Hood

From another new artist for Bothy Threads, Paul Liggins bases his comical artwork on scenes from the Dorset countryside

A new Love Country design by Sarah Reilly shows a hare, fox, badger and robin snuggling up ready for the cold weather ahead

Two cute designs by Nicola Mason - Decorating The Tree uses some sparkle thread while Robin Wreath uses Lana and tiny black beads

Two Christmas Slightly Dotty designs to add to this series. Slightly Dotty Xmas Puds is embellished with beads, sequins and ribbon whereas Slightly Dotty Snowmen isn't embellished

Three cute Christmas card designs by Karen Tye Bentley are worked on misty blue Zweigart Aida and use silver metallic and Lana

Tapestry Kits from The Wrendale Collection by Hannah Dale. Each one is worked in Anchor Tapestry Wools on a full colour printed 10 count interlock Zweigart canvas. They measure 36 by 36 cm. (The cushion pad and backing are not included in the kit.)
We have chosen a few of the kits from the collection to begin with and you can see the whole collection in the online catalogue.


Stitch-Along-a-Permin

Permin have decided to have their own Secret Stitch Along. It's not completely a secret as we know it starts with an elf (which is a clue).

The secret stitch along comes in six parts and the first has the material and all the threads with only the pattern for the first section. The next five parts are printed at two weekly intervals finishing in plenty of time for Christmas (oh dear, what a giveaway).

To save you postage costs - and to help the environment, we have decided to offer it for sale when we have the complete set. Which we admit does rather spoil the fun.


Mirabilia

The latest Mirabilia design is March Aquamarine Fairy in teal and lemon with lots of beads. Although we have already sold out, we should have more back in stock soon.


DMC Floss Card

If you've ever tried to find out the number of a piece of DMC floss, then you'll know it can be really difficult.

We now have the latest floss card from DMC which has real samples of all the stranded cottons including the new shades, Color Variations, Light Effects, Pearl Cotton and Metallic Pearl.

This is an invaluable aid to choosing and identifying colours and will be useful to you for years to come.


Bargain Basement

There are Teddies and Toys in the Bargain Basement for the month of September. They're already selling fast so don't delay!


And Finally ...

Our inspiration this month is the poem September by Hilaire Belloc (1870-1953)

...
By all these lovely tokens,
September days are here,
With summer's best of weather,
And autumn's best of cheer.
...

Amongst the «lovely tokens» are ripening corn and apple trees laden with fruit. Of course if you're in Australia or New Zealand, such things are half a year distant - but we're sure you remember!

Wherever you are and whetever you're doing - Have a golden September!
by Arts and Designs on Sat, 01 Sep 2018, 16:24
Remember to be Gentle
A warm welcome to our sultry August newsletter ...
This month ...
The Russian connection

John Clayton's Chloe

Poison Pixies and Tropical Butterflies

Blackwork Birds

Fairies in the basement
Kits

This month we have some lovely new wildlife designs from the Oven Company of Russia. The designs range from realistic to quirky and all of the kits are very reasonably priced for their quality. The charts are in bright colour (not a match for the stranded cottons) and some have no written English but the graphic instructions are clear enough for most stitchers.

From another Russian company Panna there are three `white lace` designs of animals stitched in white outlines on dark fabric and some watercolour style designs.

We love these kits but the supplier for these companies is taking a summer break so we'll start placing orders again in Mid-August.

John Clayton's latest Elegance lady - Chloe - wears blue and carries a blue parasol. As usual the kit is available on either cotton evenweave or Aida.


Designs and Patterns

This month the ever-productive Nora Corbett has produced two new Poison Pixies and a new Holiday Village design called The Coffee House.

Our granddaughter's new bedroom has a jungle theme (and she is a wee monkey!) so Anne designed and stitched tropical butterflies and mounted them on flexi-hoops. These are available as downloadable charts or kits on 28 count evenweave.


Blackwork Birds

Robin is the most recent blackwork bird from the Garden Birds series by Anne. The design can be downloaded as a pattern (in PDF format) or mailed as a paper chart pack.

Robin is also available as a kit on 28 count cream Jobelan. Anne's garden is a haven for wild birds so there are plenty more to choose from - just by looking out of the window! Anne has already started on the next one.


Updates, Advice and Fairies

We must apologise to those of you who are still waiting for kits from Lanarte's Second 2018 Collection. These have been very slow to arrive at the UK distributor and then only come in dribs and drabs. We check daily for updates but we understand from customers that they are in short supply everywhere.

And now a tip if you have your own system for storing floss for a project. A lady who had bought a large Thea Gouverneur kit called us this week to check on the shade of one of the stranded cottons. She had taken all the threads off the original floss card and re-arranged them into her own system. Unfortunately, doing this lost some critical information about which colour goes with which symbol. It took several days and photos to reconstruct the key. If you feel the need to take the floss off the cards that come with the kit, you can save a lot of time and trouble if you take a photo first!

There are fairies in the Bargain Basement this month, all at half previous low price while stocks last.


And Finally ...

Our title this month is from a poem by Kent Nerburn ...

Remember to be gentle with yourself.
Be gentle with others.
We are all children of chance.
And, no one can say why some fields will blossom,
while others lay brown in the August sun.

Kent Nerburn (American writer b. 1946)

May your August blossom!
by Arts and Designs on Fri, 03 Aug 2018, 16:22
Answer July
In this month's Issue ...

Not so much that's new - it's holiday/vacation season and we've been away ourselves!

Part of our trip took us to the Forêt de Brocéliande in central Brittany, France in which lies a magical area with an enchanted spring ...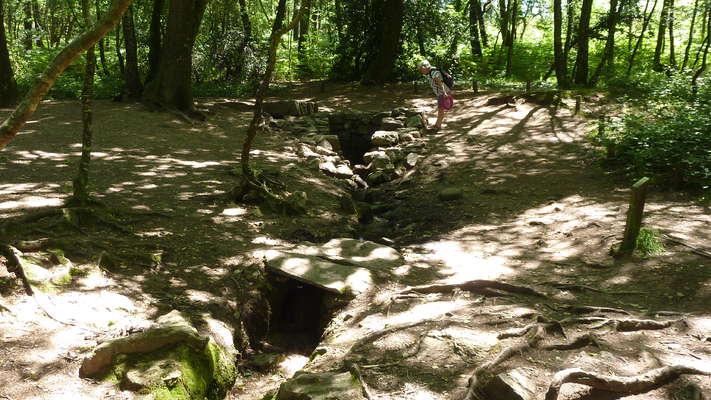 Unfortunately we didn't see any fairies. Perhaps a little vin de pays would have helped.


New Designs from Nora Corbett

Congratulations to Nora Corbett of Mirabilia Designs now celebrating her silver anniversary - designing for 25 years. Her beautiful designs of fairies, mermaids and ladies have given and are continuing to give great pleasure to many stitchers around the world.

We have the anniversary design Lady Mirabilia with embellishment pack and all the necessary materials. With an Art Deco look and a touch of silver, she is a very elegant lady. Each pattern comes with an exclusive silver butterfly not available separately. Sadly, all of these have been snapped up but we hope to have some more very soon.

Alice (of Wonderland fame) in ribbons and lace with her own pocket watch is another new Mirabilia design (from Nora Corbett of course).

Last month we tried to order some of the other new Nora Corbett designs like Butterfly Fairy, Lady of the Flag, the Queen Mermaid, the Seaside Kingdom and the fairy Moon but Wichelt cancelled our order. We really don't know why we (and other retailers) weren't able to get these patterns given the hoo-ha about the 25th Anniversary.


New Kits from Lanarte and Vervaco

The second Lanarte Collection of 2018 is now available. We have chosen an attractive lady and flowers by Marjolein Bastin and you can see all the new designs in the Catalogue.

The second Vervaco 2018 Collection is also now available. We have chosen some designs in shades of grey (one with a splash of red) and a sepia design.

This catalogue is also available to view.

Please let us know if there's something in either of these that you like that we don't have in stock and we'll be happy to order it for you.


Bargains

This month there are Kitchen and Bathroom items in the Bargain Basement - towels, tea towels, toilet roll holders and some foodie samplers.



And Finally ...

The title this month comes from a short poem by Emily Dickinson (1830-1886)

Answer July
Where is the Bee
Where is the Blush
Where is the Hay?

Ah, said July
Where is the Seed
Where is the Bud
Where is the May
Answer Thee Me.

Well, we have all these bounties this year and we hope our untypically glorious summer never ends!

We wish you untypically glorious weather wherever you are.


by Arts and Designs on Fri, 06 Jul 2018, 19:17
Knee-deep in June
Welcome to June's Newsletter!
In this issue:
New Kits from Vervaco, Merejka, Bothy Threads and Heritage Crafts

Patterns and Charts from Shannon Christine, Riverdrift House, Lesley Teare and Nora Corbett

Fluffy Floss from Rainbow Gallery

Kits ...

Vervaco`s first 2018 collection has finally arrived in the UK. We've selected the popular sepia designs and a colourful birth record. The whole collection is available to view in our online catalogues so please do let us know if you'd like any of the kits you see there.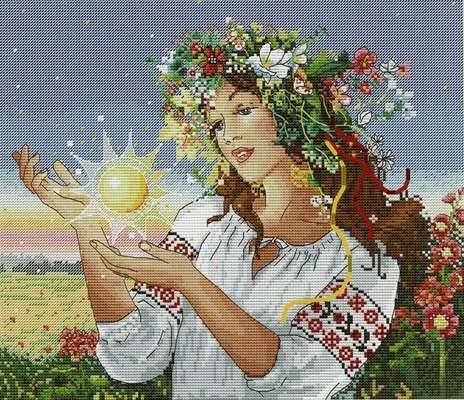 We now have kits from another European company - Merejka of Poland. Merejka have some lovely floral designs, landcapes, children, fantasy and cute ethnic cartoons.

Bothy Threads have released their summer collection with more Wrendale Designs kits, four colourful stylised ladies from the artwork of Mila Marquis and three pretty fairies from the artwork of Sue Waddicor.

The latest Elegance lady from Heritage Crafts is John Clayton's Emily who has a floral dress and a circle of flowers in her long blonde hair. A great project for hazy summer days that will warm you right through the winter.


We have some exciting new designs by various artists ...

Shannon Christine is the publisher of patterns by Shannon Wasilief, a Canadian designer, who has lovely ladies finished with metallic gold floss and beads.

We have for a while offered colourful sampler kits by Riverdrift House and we've now added some patterns from the same stable.

Lesley Teare is a well known UK designer who has contributed many designs to magazines. We have chosen some of her blackwork designs, angels and fairies.

The two new Nora Corbett Butterfly Misses, Miss Black Swallowtail and Miss Aurora Morpho flew off the shelves in May. We will be re-ordering as soon as possible so please let us know if you would like either of them so that we can be sure to order enough for everyone.

If you're looking for Rainbow Gallery Wisper Floss, then you've come to the right place as it's now in stock! Wisper is fluffy mohair floss and many patterns now use it in white. For the more adventurous, we have a few other shades, too.


June Bargains

The Bargain Basement has Cats and Dogs kits at half price for the month of June.


And Finally ...

We're off on holiday (vacation) this month and as usual we'll have our 'skeleton staff' to look after your orders. Kits, charts and most supplies (except those that need special packing) will still be available.

Let's hope it doesn't 'rain cats and dogs' in Brittany, France - where we're going.

Our title is from a poem by the American poet James Whitcomb Riley (1849 1916) who wrote mostly in his Midwest dialect.

Tell you what I like the best --
'Long about knee-deep in June,
'Bout the time strawberries melts
On the vine, -- some afternoon
Like to jes' git out and rest,
And not work at nothin' else!

We wish you a warm, happy and rain-free June wherever you may be!
by Arts and Designs on Fri, 01 Jun 2018, 18:16
In the Cherry Blossom's shade ...
In the Cherry Blossom's shade
there's no such thing as a stranger
- Kobayashi Issa

A Floral Welcome to our May 2018 newsletter

Flowers and blossoms feature this month and we have news on

Kits by Permin, Thea Governeur, Luca-S, Riolis, Lanarte and Vervaco

Patterns by Ink Circles, Nimue Fee Main, Nora Corbett and Arts and Designs (that's us)

Blossomy Bargains for a floral feast
Kits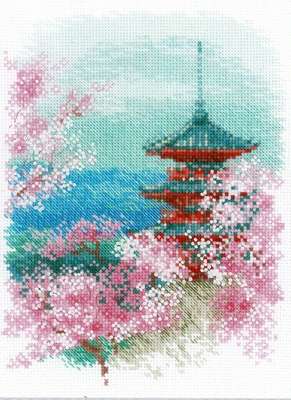 Permin have released their second Collection of 2018. There are landscapes, flowers, printed table covers, cushions, hardanger and baby birth samplers and pictures. We have chosen a few and if you are interested in others you can find them in our online catalogues.

Thea Gouverneur has a lovely new design of American wild flowers. Available in 36 count line and 18 count Aida in white or black, these are on special introductory offer while stocks last.

There are lots of new kits from Luca-S. From the artwork of Gail Elizabeth McCormack there are more romantic flowers and rose patterned china. These are all available on 20 count evenweave fabric and 16 count Aida. They also offer a counted cross stitch table runner with pink blossom and border.

The Riolis Spring 2018 collection has three lovely Japanese designs all with pink cherry blossom a pagoda (this month's picture), a red wooden bridge and a wide design of Mount Fuji. Together they make a lovely tryptich. For a quick project we couldn't resist their cartoon hedgehogs. As a variation on their embellished cross stitch, there are two new kits of flowery plates to be completed in surface embroidery.

Lanarte`s First 2018 Collection has arrived with some lovely ladies and pretty flowers and birds by Marjolein Bastin. Tones seem more muted this year.

We've had lots of enquiries about Vervaco's new collection. It's still not available in the UK but we are watching for it coming in and we'll make the kits available as soon as we can.


Patterns

Ink Circles has added a new pattern called Forests of Sumatra, a companion to Dragons of Sumatra which has been very popular.

Robin`s Jig is a quirky and fun new design by the French designer Nimue Fee Main. There's also a kit version of this design.

Nora Corbett's Mirabilia design for April, Mooka has already sold out but we will be ordering more soon. If you would like one, please click the 'inquire' button and let us know so that we can order as many as needed.

Arts and Designs' own Anne Peden has a second blackwork design of a garden bird, a Cock Sparrow this time available as a kit or pattern.


Blossomy Bargains

With May arriving and the garden blooming we have been inspired to offer flowers in our Bargain Basement this month all at half price while stocks last.


And finally...

When we think of Cherry Blossom, we think of Japan and our title this month is from the Japanese Haiku master Kobayashi Issa (1763 - 1828), known simply as Issa.

Spring is here in the Northern Hemisphere (it's always spring in Australia and New Zealand!) and the Cherry Blossom is out on our trees ready to be washed away by the rain.

If you do find yourself sitting in the shade of a Cherry Tree on a warm spring day, please do remember Issa's aphorism.
by Arts and Designs on Fri, 27 Apr 2018, 20:30
See the land, her Easter keeping ...
Welcome to our Easter 2018 newsletter

Easter is upon us again with its traffic jams, hot cross buns, chocolate eggs and all the other paraphernalia. We hope you can relax a little while browsing some new offerings from the world of needlecrafting.

In this month's newsletter ...

New Charts from Nora C, Blackbird Designs and Heartstring Samplery

New Kits from Janlynn, Coats Anchor, Riolis and Design Works

Free chart and Bargain Basement offers

New Charts, Graphs and Leaflets

Every year in February there is a large cross stitch design fair at Nashville, Tennessee. This year's designs are beginning to filter through with historical samplers being the latest trend. Here are just a few of the new patterns with more arriving every week.

It's taken us several weeks to get the latest Mirabilia Design's lady, but Sun Goddess by Nora Corbett was worth the wait.

Nora Corbett has been busy! There are two new Poison Pixies patterns: Thistle and Castor Bean. All of our first delivery has sold out but we're expecting another next week. There are only two more Letters from Mermaids to go now that W and X have arrived.

There are three new booklets by Blackbird Designs.

It seems that Beth Twist of Heartstring Samplery likes her coffee! Another new coffee-related design, Coffee Bean Sampler, is just out.

Anne has started a new collection of garden bird designs in blackwork and Jenny Wren is the first one. It's available as a chart or as a kit in evenweave.


New Kits

Lots of new kits this month ...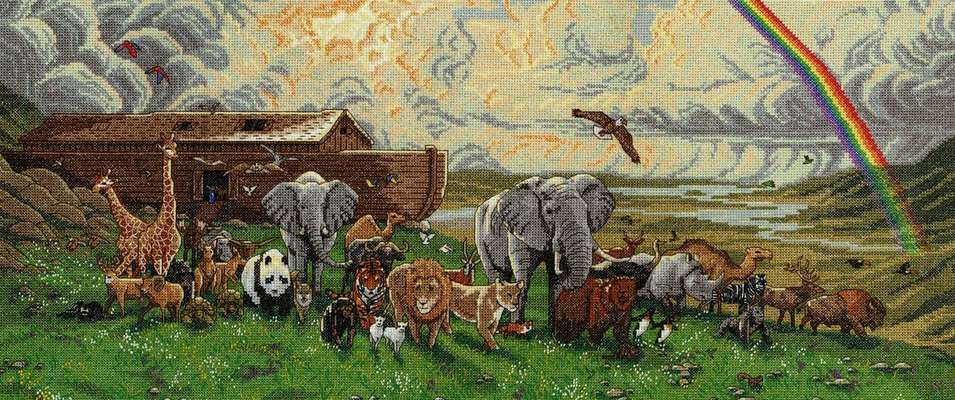 Free Pattern to Download

When DMC launched the new floss Coloris, it looked so exciting. However it doesn't work well in most cross stitch patterns so Anne thought she'd try it out in a line drawing. It was drawn by our granddaughter - in pink of course - and Anne used 4502 Camelia with its deep pink shades. Here's a free pattern to try out yourself that's quick to do - and you can add a name for your own little treasure.


Fabrics

We have been building up a collection of Permin linen fabric in 28 count and 32 count in a wide range of colours. Of course, not everyone likes to work in linen so now we have expanded our colour range of Jobelan which is 51% cotton and 49% modal. The new Jobelan fabric pieces are available in fat quarters.


Bargain Basement

Anne found an Art Deco style Charleston Lady by Vervaco who seems to have been forgotten for a while.

For the month of May there are Tatty Teddy and Tiny Tatty Teddy kits in the Bargain Basement at half price. Some are by Anchor and some by DMC. There are designs for all occasions with the cute grey teddy.


And Finally ...

If Easter means anything, it's rebirth and renewal. Of course, our cousins in the souther hemisphere have to wait six months but the sentiments are just the same!

Our title comes from an 1887 poem on the subject of renewal

See the land, her Easter keeping
Rises as her Maker rose.
Seeds, so long in darkness sleeping,
Burst at last from winter snows.

by Charles Kingsley, 1819-1875, who was a clergyman and social reformer.

We hope you're able to enjoy some time off over the Easter weekend for a little "me-newal". It seems increasingly difficult to take a step to one side in this 24/7 world we've made for ourselves. We hope you manage it.

Happy Easter!

by Arts and Designs on Fri, 30 Mar 2018, 19:24
The winds of March were wild and drear ...
A warm (especially if you live in Britain) welcome to our March newsletter. Brrrr!

In this month's newsletter:

Glorafilia revived

Bothy's Spring Collection

Mackintosh Rose

Villager Jim

From the back of the Drawer

Easter Papercraft Bargains


Kits

As promised we now have more Glorafilia needlepoint kits back from retirement. As well as stylised birds and flowers, there are a pair of nursery designs and two excerpts from the Bayeaux tapestry.

Bothy Threads' Spring Collection has a new series of designs from the artwork of Sarah Reilly of Love Country, a young English artist whose work is inspired by the local countryside. Two to begin with but there are sure to be more to come.

Bothy have also added four new fairy silhouette designs to the Enchanted series and four new Wrendale designs a deer, a badger, a rabbit and a fox. With two new wedding samplers there's lots to choose from.

Rose Swalwell of Derwentwater Designs has four new kits: two feature Mackintosh roses and the other two are additions to the Silken Long Stitch series.

Bailey, a sad eyed dog from the photograpy of Villager Jim is new for Spring from Heritage Crafts. Available in 27 count evenweave and Aida.

There are also lots of cartoon designs from the ingenious Peter Underhill The Insomniac, The Intellectual to join the Antagonist, The Imposter and The Individual; a new cartoon cat design and ... dancing frogs.


Rescued from the Drawer

Anne found an interesting booklet at 'the back of the drawer': Award Winning Designs in Hardanger Embroidery by the Nordic Needle. The 48 page booklet has detailed instructions for nine patterns from a little biscornu to a doilly for a piano and sizes in between.


Easter Freebie

There's not much that's new for pattern seekers this month so Anne has worked a new Easter freebie pattern for you to download. It's a blackwork design of a golden Easter egg with beads which is free to download.


Bargains

We have Easter papercrafts in our Bargain Basement this month all at half price just in time to get on with those Easter cards for April 1st.


And finally ...

Our title is from the poem In A London Square by English poet Arthur Hugh Clough (1819-1861).

December days were brief and chill,
The winds of March were wild and drear,
And, nearing and receding still,
Spring never would, we thought, be here.

Here in Dumfries we have missed the worst of the arctic storm that has hit Britain and we are working normally - but orders we despatch may have to travel through affected areas. A big thank you to all our customers for your forbearance.

They say if March comes in like a lion, she goes out like a lamb. We look forward to writing about lambs in our next newsletter.

by Arts and Designs on Fri, 02 Mar 2018, 19:55
Fair Maid of February
A very warm welcome to February's newsletter!

Our title is from an 1879 magazine poem (more details later).

Now we've had a whole month to find out how hard it is to realise our New Year resolutions, we can settle down to normal life with a clear conscience.

In this month's newsletter ...

New kits from Riolis, Luca-S and Arts and Designs (that's us!)

New patterns from Nora Corbett

Glorafilia are back

From the Forgotten Cupboard and the Bargain Basement

New Kits

Eastern European designers seem to have been working overtime ...




Chinese New Year - it's the year of the dog - is on the 16th of February. Among the new designs by Riolis, there's a very pretty kit of Chinese lanterns which may be stitched as a single picture or three mini pictures.

Riolis have also introduced two new fine art designs Almond Blossom after Vincent van Gogh, Bastille after K. Korovin and a sweet picture of giraffes and a another of swans with cygnets.

There are some very pretty floral pictures and some more traditional country designs from Luca-S this month. They are all challenging but worth the effort as the quality is top notch.

Also with Chinese New Year in mind, Anne has produced a new design of an Assisi Chinese knot based on one used as a decoration. It's available as a downloadable design or as a complete kit on evenweave fabric or Aida.


Cross Stitch Patterns

The prodigious Nora Corbett has four new designs this month. Miss Goss Swallowtail and Miss Columbian Nymphalid are from the Butterfly Misses Collection and are in striking shades of blue. Midnight Laguna Mermaid is a companion to Sunrise Laguna Mermaid and The Gothic House is from a new series Holiday Village. They are selling out quickly but we will re-order soon.

Glorafilia are coming back after an extended absence. Noted for their Arts and Crafts style of design their tapestry cushions have been unavailable for some time but are now being produced again. There are a few of the old favourites and also some new nursery and floral designs. We hope to have them in stock during February.


From the Forgotten Cupboard

This month Anne found a cute set of three egg cosies at the bottom of the cupboard. By Vervaco, there's a juggling bunny, a hen and a chick on an Easter egg. Plenty of time to stitch as an Easter present!

In the month of St Valentine's Day, it seems appropriate that we offer wedding samplers at half the previous price in our Bargain Basement. So if someone close to you pops the question, you should have plenty of time to finish a sampler before the big day.

Most companies release new collections at the Spring trade fairs - which is why they aren't here this month. We'll be at one of the world's largest in Birmingham, England later in February and we hope to have lots of news for you in next month's newsletter.


And Finally ...

Our title is from this poem (author unknown) published in 1879

Fair Maid of February! drop of snow
Enchanted to a flower, and there within
A dream of April green, who without sin
Conceived wast, but how no man may know ...

from "A Flower" Fraser's Magazine, Vol 19., No. 1813. March 15, 1879.

The snowdrops and crocuses are flowering here in the north and autumn approaches in the south. How much simpler things must be at the equator with only one season!

Every year, life on this beautiful blue planet goes through its familiar phases and we can only look on in awe at its power, its elegance and its mystery.

Have an awesome February!
by Arts and Designs on Fri, 02 Feb 2018, 18:47
The New Years Come, The Old Years Go ...
Welcome to our last newsletter of 2017 (and first of 2018).
In this issue ...
Poison Pixies and Royal Games II

New Kits from Heritage, Thea and Permin

Wine Bottle Aprons and New Beginnings
Poison Pixies

There are two new very attractive Poison Pixies patterns from Nora Corbett Angel White Trumpet and White Clover together with their embellishment packs.

But perhaps more importantly to Nora Corbett fans the long awaited Royal Games II has been released and is in stock. The bead pack is also available.


New Kits from Heritage, Thea and Permin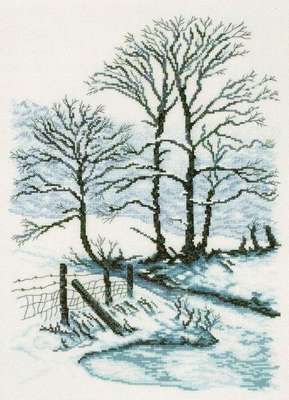 Darcey is a lovely new lady from John Clayton. She has a green dress and auburn hair and with a harp, perhaps smiling Irish eyes? From Heritage Crafts, this lovely kit is available in evenweave or Aida.

Thea Gouverneur has two new cute animal designs a little owl in a bauble hat and a fox cub in a scarf. Available in black and ivory Aida.

We have a selection of kits from Permin`s first 2018 collection. There's a lovely new hardanger design with roses in two sizes of runner, two new dollhouses and landscape pictures.


Wine Bottle Apron Pattern

At this time of year, family dinners have been very much on our minds. Our son-in-law Steuart is only half Scottish but feels that the Royal Stuart tartan (plaid) belongs to him so this year Anne stitched a wine bottle apron in Royal Stuart tartan for a Christmas present - along with the wine of course! You can find the free pattern of the Royal Stuart Wine Bottle Apron to download from our website. Non-Scots are cordially invited to download this pattern too!

We also have the wine bottle apron blanks to save you making them up.


New Beginnings

In the Bargain Basement this month we have half price birth samplers specially for those who have a new beginning in the New Year.


And Finally ...

Our title is taken from a short poem called The Year by American writer Ella Wheeler Wilcox (1850-1919).

...
The new years come, the old years go,
We know we dream, we dream we know.
...

You can find the whole poem at https://www.best-poems.net/ella-wheeler-wilcox/year.html

Whether you celebrate it in winter's cold or in summer's heat we wish you all the best for the New Year when it comes and we hope you see some of your own dreams realised.
by Arts and Designs on Fri, 29 Dec 2017, 16:49
Earlier Stitchcraft News ...
I heard the bells on Christmas Day ... A warm, festive welcome to our December newsletter!
The Black Cat and The Philosopher ... Hello and welcome to our Halloween newsletter ...
O wad some Power ... ... A warm welcome to our Autumnal newsletter.
Faith is the Bird that feels the light ... Welcome to September's Newsletter!
If ever any beauty I did see ... ... ...
She sights a Bird ... Welcome to our July 2017 newsletter
There are Moments ... ... "There are Moments, above all on spring evenings, when the lakes that hold our moons are sucked into the earth and nothing is left but wine and the touch of a hand."
Ne'er cast a cloot 'till May be oot ... A warm Spring welcome to the May 2017 newsletter!
Paint the Meadows with Delight ... A warm welcome to our April 2017 issue ...
Each minute sweeter than before ... A warm welcome to our March 2017 newsletter!
I wonder if the sap is stirring yet ... ... A warm welcome to our February 2017 newsletter!
One Little Person ... «One little person, giving all of her time to peace, makes news.
Warlocks and witches in a dance ... « Warlocks and witches in a dance;
Let Love Take Root ... ... ...
No Man Needs a Vacation ... ... ...
A Fur Coat in Texas in August ... Hello and welcome to our August newsletter!
If there is a limit to all things ... Welcome to the July newsletter!
Lux Tua Via Mea: Your Light's My Way ... Greetings and a warm welcome to our June newsletter.
Love, whose month is ever May, ... ... Welcome to May's Newsletter
Shamrocks, Walls and a Touch of the Blarney ... Welcome to your April 2016 newsletter!
Zen and the Art of Stitching ... A warm welcome to our March Newsletter.
Year of the Monkey ... We hope you enjoyed your Christmas and New Year celebrations.
It's Raining Cats and Dogs ... Happy New Year
The stockings were hung by the chimney with care ... ... ...
Treacle Scones ... Welcome to our November newsletter ...
Drawing the Impossible ... A warm welcome to our October newsletter.
On a bank of flowers, in a summer day ... Perhaps summers were better when Burns wrote the poem whose first line forms our title this month.
Imagination Rules the World ... We were inspired by the 200th anniversary of the Battle of Waterloo on the 18th June 1815 and so this month's title is a quotation attributed to
When pleasant sights salute the eyes ... «It is the month of June,
Ne'er cast a cloot ... ... Ne'er cast a cloot ...
Happy Easter! ... In this month's newsletter ...
We are Stardust ... ... «We are stardust
Kings may be blest ... As the birth of our national bard,
Ring in the New ... Welcome to 2015!
'Tis the season to be jolly! ... As the cold nights draw in, it seems a good idea to raise our spirits and Christmas is the ideal way to do it.
Peace, Prosperity and Pleasure ... To Keats it's the "Season of mists and mellow fruitfulness" and to Bryant [it's] "the year's last, loveliest smile".
No spring nor summer's beauty hath such grace ... ... Welcome to our October newsletter - it's a little longer than usual as there's lots to tell you.
Rest is not idleness ... «...
Worth Waiting For ... We hope your summer (or winter) has been as pleasant as ours.
This Sporting Summer ... This year it's certainly another summer of sport with the World Cup in Brazil as well as the usual round of tennis, golf and other tournaments.
People Take Pictures of Summer ... ... «People take pictures of summer, just in case someone thought they had missed it, and to prove that it really existed.»
A spirit of youth in everything ... The title is taken from Shakespeare's Sonnet XCVIII
San Serriffe and the Spaghetti Harvest ... Welcome to our April newsletter ...
No one relaxes in March ... Indoors or out, no one relaxes
A Hint of Spring ... Maybe we no longer think of
A Big Year ... Happy New Year!
Time to Reflect ... Less than 3 weeks to Christmas now so if you didn't manage to finish that cross-stitch Advent calendar in time ...
Now's the Time! ... The astrologers tell us that whoever is determined to achieve something can make significant progress during November.
No Time for Poetry ... There's no quote from a great poem this time!
Autumn is a second Spring ... ... «Autumn is a second Spring when every leaf is a flower».
That beautiful season the Summer! ... ...
The Meadows' Queen ... «The empress of the year, the meadows' queen,
Spring Cleaning ... It's «out with the old and in with the new» this month as many suppliers have been having a Spring clean.
Hot Cross Stitches ... You may be enjoying your break for Easter which falls this weekend.
Moscow, March and Mary ... Commonwealth Day
If we had no winter, the spring would not be so pleasant - Anne Bradstreet ... February was the month of purification for the Romans - who evidently did their spring cleaning earlier than most of us.
January, month of empty pockets! ... Welcome to our January 2013 newsletter, and may we start by wishing you
Childhood's Beginning ... As the Christmas season approaches, we, like everyone else, are preparing for the big day.
Clocks, Crafting and Ceremony ... Our clocks went 'back' last weekend and we've still to adjust to our new time zone after a week.
Anticipation ... «Well,» said Pooh, «what I like best,» and then he had to stop and think.
Departing summer hath assumed an aspect tenderly illumed ... Welcome to the September newsletter!
The important thing in life ... Here in Britain
Summer's lease hath all too short a date ... Vervaco's summer Collection
A Light In The Darkness ... As you may have heard
The Month that May be Named ... Did you remember to wash your face in the morning dew on 1st May?
Soft in Flowered Languor ... April is
March marches in and the year marches on ... Welcome to our March 2012 newsletter.
A Whole New Day ... A huge welcome to February - which of course has one extra day this year.
... and gie's a hand o' thine! ... A warm welcome to our December newsletter.
December 2011 - Beads, Tapestries and Hotheads ... December is upon us again.
Transylvania and Turnip Lanterns ... Welcome to the end ...
Lanarte Autumn releases, Taller de Canamazo and Disney Dreams ... Welcome to October - normally a time for misty mornings and central heating.
Autumns and Advents ... Autumn has already started in our wayward Scottish climate - oh, how I wish I was in Australia or New Zealand now!
August - Be Creative, Extrovert, Enthusiatic and Generous ... Welcome to August - the month of
Quilting, Blackwork and Summer Designs ... Patchwork and Quilting
The Russians are coming! ... But before they get here, a couple of announcements:
Spring Into Life ... April has started with showers but we're hoping the sun will show up in time for the royal wedding (and for our daughter who's getting married a couple of days after).
March Winds ... The long awaited
Mothers, Maps and maia ... Mothering Sunday
January 2011 - New Kits and Patterns ... A very warm welcome to our first newsletter of 2011.
Needle Time ... As Christmas approaches, you may be looking forward to a frenetic few weeks of gift shopping and preparation followed by a few restful days of 'needle time' when the storm has passed!
Teenies, Birth Samplers and yes, ... more Meerkats ... Sampler Teenies
More Meerkats! ... We're well underway on the countdown to Christmas but there's still Hallowe'en to look forward to.
Fall of the Leaf ... Fall of the Leaf
August News ... Coats Anchor
Cats and Frogs ... John Clayton , the prolific and talented watercolour artist, has designed a new wildlife series of counted cross stitch kits for Heritage Crafts.
And what is so rare as a day in June? ... ...
Stitch into Spring ... Spring has arrived - after an unusually hard winter here in Britain at least.
Birth Samplers ... News of a baby on the way
Lanarte - Spring 2010 Collection ... Lanarte, the leading Netherlands cross stitch studio, have produced lots of lovely new kits this year including three new colourful birth samplers by