To bring man nearer unto man
Hello and welcome to November's newsletter.

We have a pot-pourri of novel and interesting kits and charts this month.


Patterns

Not all witches are ugly, Cross Stitching Art's latest design the glamourous Celeste certainly isn't. Get started now and be ready for next Halloween!

There are two pretty new designs from Nora Corbett in time for Christmas Winter Nest and Winter Owl featuring birds of a feather in Christmas settings and suitable for stitchers of intermediate standard and above.


Kits

Julie Lynes has designed a new long stitch landscape Moonlit Lighthouse for long-stitchers looking for a larger (or should that be longer?) project. It's worked on 14 count canvas using Anchor stranded cottons.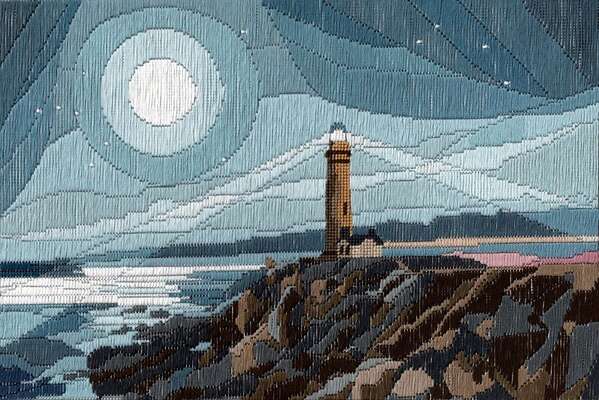 There are new designs from Heritage Crafts We'll Meet Again from the Golden Years series, and Sunflower Landscape and Tree of Life both from the Karen Carter Collection.

We have a set of pretty samplers from the Curly Girl Designs by Mill Hill. They contain 28 count Permin linen in different colours, DMC floss and Mill Hill beads and treasures.

New things seem to be coming in twos these days. From Gobelin we have two new needlepoint projects a little needlepoint of a blue rose and - in complete contrast - an extremely large project Classical Swing, definitely a magnum opus!


Bargains

There are Christmas Cards and ornaments in the Bargain Basement this month as usual at half the previous low price. Still plenty of time to stitch a few before Christmas!


And Finally

As the winter nights draw in (here in the North) we face a bleaker prospect than usual. Even Christmas has effectively been cancelled by our governments as they desperately seek ways to unpaint themselves from the corners in which they are now stuck.

With the world in so much turmoil, we need as many beacons of hope as we can get so this month's title is from The Lighthouse, a poem by an old favourite of this newsletter, Henry Wadsworth Longfellow (US, 1807-1882)

The rocky ledge runs far into the sea,
And on its outer point, some miles away,
The Lighthouse lifts its massive masonry,
A pillar of fire by night, of cloud by day.
...
"Sail on!" it says, "sail on, ye stately ships!
And with your floating bridge the ocean span;
Be mine to guard this light from all eclipse,
Be yours to bring man nearer unto man!"

We hope that you and yours are soldiering on through these difficult times and that soon we will be able to 'bring man nearer unto man' once again.


by Arts and Designs on Fri, 06 Nov 2020, 20:22
Your corn is ripe today
A big howdy-do to our October 2020 newsletter!

In this month's issue we report on new patterns by Bella Filipina, Mirabilia, Nora Corbett and Michael Powell, cross stitch kits by LetiStitch and Long Stitch kits by oor ain Anne Peden.

The postal services have definitely improved over the past couple of months and we hope that the restrictions which have been causing the problems will be gradually eased as time goes on.


Patterns

Mayari, Deity of the Moon is a lovely new design by Bella Filipina. She sparkles with Kreinik metallic floss and Mill Hill beads and treasures.

There was a long delay in getting The Queen Bee by Mirabilia as the makers are running about a month behind in their deliveries. She is very regal in her red dress seated upon her throne - although some people have criticised the design. What do you think?

We were a bit slow in ordering the latest Nora Corbett Orchid Party designs. Lady Orchid Moth and Green Lady Slipper have come and gone and we have of course re-ordered but there's a month delay in delivery.

Not new, but new to us are designs by Michael Powell of wobbly cottages and wobbly Christmas designs. A few at the moment and more to come.


Kits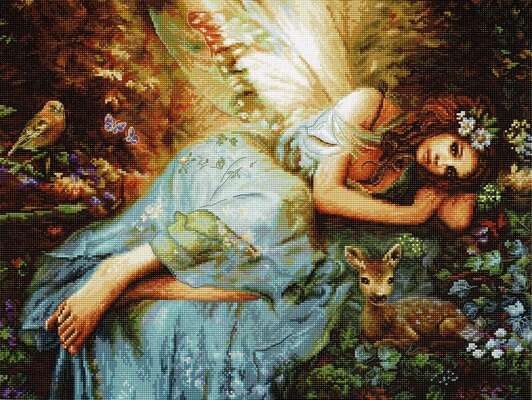 Letistitch is a Moldovan needlecraft company who produce great designs and good value, quality kits. Their latest offerings include Spring Fairy which is a romantic image of a fairy in a blue dress in a sylvan setting, and Into Dreamland which shows a red-haired girl reading dreamily in a rose garden.

Anne has a new long stitch flower design - Wisteria with the long purple flowers on a cream background. This is the latest in a series of long stitch kits that we are now producing.


Bargains

There are designs with a seasonal -all seasons - theme in the Bargain Basement this month as usual at half the previous low price.


And Finally

Our title today is from a quote by the Scottish Enlightenment philosopher David Hume (1711-1776).

«Your corn is ripe today; mine will be so tomorrow. 'Tis profitable for us both, that I should labour with you today, and that you should aid me tomorrow. I have no kindness for you, and know you have as little for me. ... Here then I leave you to labour alone; You treat me in the same manner. The seasons change; and both of us lose our harvests for want of mutual confidence and security.»

Le Bon David (as he was known) is saying what we all know in our heart: if we continue to support each other then we will all be the better for it.

We hope you are enjoying your stitching as the winter or the summer draw in and we wish you a peaceful and supportive October.
by Arts and Designs on Fri, 02 Oct 2020, 18:13
Learn little Maid, each useful Art
Hello and and a warm welcome to September's newsletter.
In this month's issue ...
Kits by Lanarte, Vervaco (Gorjuss), Bothy Threads and Arts and Designs (that's us!)

Patterns by By the Bay Needlearts, JBW Designs and Hands Across the Sea

New wooden display frames and storage

Madame Chantilly review
Kits

There has been a dearth of new kit releases recently and we all know why, but they are finally bouncing back and we've plenty to tell you about.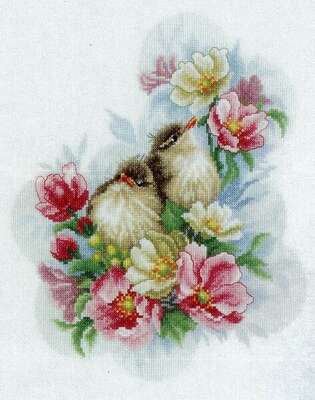 Lanarte's Fourth Collection 2020 has finally arrived. There are birds and flowers, a Christmas design by Marjolein Bastin and pretty ballet shoes with a few re-issues.

Gorjuss is back! The new designs are now manufactured by Belgian maker Vervaco , the first two cross stitch pictures in pretty pastels.

Bothy Threads have released their Autumn Collection. We have selected a few designs but you can see the complete collection in our online catalogue. There are lovely new nursery pictures from the illustrations of Anita Jeram, more Wrendale Designs and some Christmas cards and pictures. There are also two new seashore Silken Long Stitch designs. The lovely new William Morris style cushions will be ready in mid-September.

We are planning a new range of in-house long stitch kits. The first designs of flowers by Anne is ready now with larger landscape designs by Julie in the pipeline.


Patterns

There has been no shortage of new cross stitch patterns. New to us, By the Bay Needlearts has traditional American stylised landscapes.

We have two new JBW Designs booklets each with twenty little Christmas Tree ornaments.

A new Hands Across the Sea Sampler and many more.


Hardware

We have some new and interesting hardware:-
Unfortunately, our deliveries of Nora Corbett patterns, Mill Hill beads, Kreinik metallic floss and Caron Waterlilies silks haven't improved. Delivery is now about five weeks from ordering. However, most of what we order does come so it looks like the manufacturers have largely recovered their stock. Sadly, our US supplier's stocks of Weeks Dye Works and Classic Colorworks cottons still haven't got back to normal.


Review

Anne has stitched and reviewed one of the Iced Lemonade charts by Madame Chantilly. You can see her review here.


September Bargains

September`s Bargain Basement is themed around 'Homes' and 'Welcome' with all items as usual at half previous low price.


And Finally

This month's title is from a sampler pattern reproduced by Hands Across the Sea from the work of Mary Ann Diaper:

«Learn little Maid, each useful Art,
Which may adorn thy Youth;
Learn to improve thy tender Heart,
In Virtue, Grace and Truth;
Shun every vice with studious care,
Each Female folly flee,
That every grace which Crown the fair
May all attend on thee»

And, yes, she was just eight years old when she stitched the original. This was of course in the age before TV, phones and iPads. Have we lost something?

Here's hoping you have a soothing and stress-free stitching September.

by Arts and Designs on Fri, 28 Aug 2020, 19:09
Hope is the Thing with Feathers ...
Welcome to our August newsletter.

This month's contents are very slim - unlike us as we've been comfort eating during these rather dispiriting recent months.


Patterns

Miss Dancing Flower, the latest Mirabilia design has finally arrived. It is now taking several weeks for Wichelt - who produce Mirabilia patterns - to despatch our orders so this one arrived about a month late. They may themselves be suffering from delays in the supply of beads and treasures which are made in Germany, Japan and elsewhere.

Some designers are working hard to keep up with the current demand and we have the latest Bella Fillipina pattern. The tiny Autumn Equinox Fairy is anxiously awaiting her moment . Perhaps that will be when you bring her to life in stitching.


Kits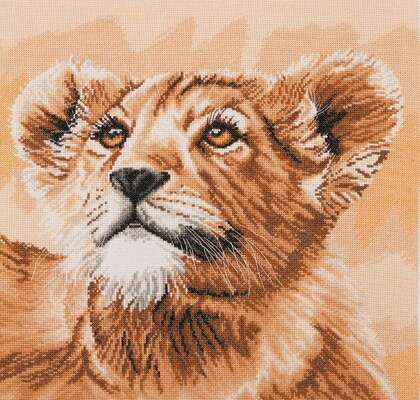 It's been a while since we've had a new maia kit and the latest Little Princess is an appealing picture of a lion cub. We hope you like her as much as we do.


And Finally

As you may know if you've visited the website recently, we've decided to take a holiday (vacation). We've been working 7 days a week for the past 5 months and so it will be very welcome. Hopefully we'll be able to shed a few pounds by climbing some Scottish mountains.

Our title this month is from the poem Hope is the Thing with Feathers by the American poet Emily Dickinson (1830-1886)


«Hope is the thing with feathers
That perches in the soul
And sings the tune without the words
And never stops at all

And sweetest in the Gale is heard
And sore must be the storm
That could abash the little Bird
That kept so many warm

I've heard it in the chillest land
And on the strangest Sea
Yet never in Extremity,
It asked a crumb of me.»

We earnestly hope that we will reach the shores of this strange sea soon, and that reason and rationality will again prevail.

Let's all hope!
by Arts and Designs on Fri, 24 Jul 2020, 18:23
We'll talk of Sunshine and of Song
Welcome to our July 2020 newsletter!

Unlike many unfortunate industries, needlecrafts haven't been in a hiatus - quite the opposite as stitchers have been working with renewed vigour.

The pandemic has continued to affect delivery times as the delivery services have struggled to cope with the extra demand and once again we are grateful to all our customers for their saintlike patience. We can only hope that things continue to improve over the next few months.

This month sees new kits from the weel kent Permin, Glorafilia and Lanarte and patterns from Fairy Wool in the Wood.


Patterns

We know many of you are eagerly awaiting the latest Mirabilia design, Miss Dancing Flower. We do have her on order and we hope she'll be quick-stepping across the Atlantic soon.

Small is beautiful. If you're looking for a small, quirky project that's quite quick to do then these designs by Fairy Wool in the Wood will certainly fit the bill.


Kits

Permin have released their Christmas Collection for this year 2020 Collection 3. Why not have a look at our online catalogue and let us know if anything there takes your fancy!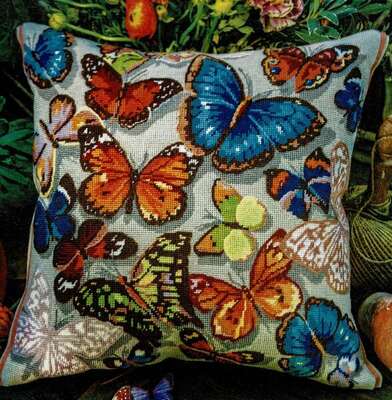 Glorafilia have four new kits this month. Two of them are stamped canvases, one with butterflies (illustrated) and the other with tropical flowers and a hummingbird. The other two are traditional Florentine designs and their canvases are plain (except for the centre mark) with the design printed on a separate chart. The beauty of these patterns is that after you have stitched the first row, the remaining rows just follow the same scheme.

We have two new Lanarte kits from their latest collection - the romantic Close Harmony and, from Marjolein Bastin, the colourful Flower Power Bouquet on black fabric. We haven't been able to get hold of the rest of Lanarte's new releases so far but we'll keep trying. Watch this space.


Magnifiers

Following a customer enquiry, we have a new magnifier which comes with four different strength lenses. This magnifier is a headband style and you can use it with or without your specs.


Kreinik Filaments, Mill Hill Beads and Caron Collection Flosses

One of our suppliers advises «We recently received a delivery from Kreinik. This was by far not everything [that they ordered], because this coincided exactly with their closure. Then it took more than 2 months before we received it. Kreinik has also been closed for a long time and is now struggling with a huge backlog.»
Our usual supplier of Kreinik filaments, Mill Hill beads and the Caron Collection floss currently has a lead time of three weeks before shipping from the US.

And talking of Kreinik, they have brought out five new colours in their metallic ranges. 2829 Seafoam Green, 5025 Jammin Yam, 5026 Sweet Tart, 5027 Electric Apple, 5028 Dandelion Gold are available in various weights - blending filament, #4, #8, #16 braid and 1/16". So far we have only been able to obtain Seafoam Green and Electric Apple in #4 braid but hope to get more as restocking times improve.


Fabric: Peaceful Purple

Permin have now replenished their stocks of 32 count Peaceful Purple, the fabric used in Mirabilia's Princess Elliana, and we have it on order so it should be available soon.


Bargains on the Beach

Beaches may be off limits where you live so we have the seaside and beaches in our Bargain Basement for the month of July. As usual at half previous low price and while stocks last.


And Finally ...

This month's title is from To A Butterfly (March version) by William Wordsworth (1770-1850)

...
Come often to us, fear no wrong;
Sit near us on the bough!
We'll talk of sunshine and of song,
And summer days, when we were young;
Sweet childish days, that were as long
As twenty days are now.


Even if the butterflies are too nervous to sit near us won't it be great to sit together with friends again! What will you talk about? We hope that the lockdown in your own location is not too oppressive and that we can all put this sorry episode behind us as soon as possible.

Until next month, happy stitching!
by Arts and Designs on Fri, 03 Jul 2020, 18:47
Afoot and light-hearted
Greetings and welcome to our June newsletter.

Have we got news for you! Well, no actually, as the recent situation has all but dried up new releases in the needlecraft world (and elsewhere too we suppose). So let's make the best of it and have a look at this month's paltry fare ...

Kits and Charts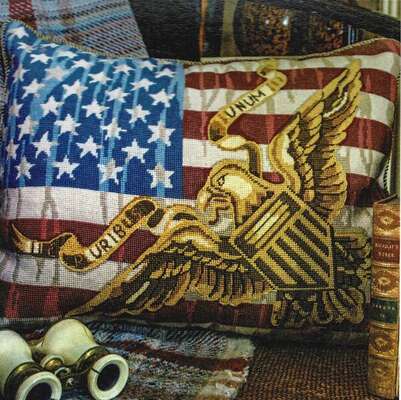 If you're feeling especially patriotic these days, Glorafilia have released two new designs the flags of the United States (illustrated) and the United Kingdom. Striking golden motifs complement the red, white and blues.

UK kit supplier Bothy Threads recently re-opened after being shut down for two months. However, they soon found that they were unable to cope with demand and we haven't so far been able to obtain any more of their kits.

Most of our suppliers continue to work hard to keep up supplies. Jon at Heritage Crafts has been working alone to fill orders (Gold Star to Jon!). We have been able to replace a few Heritage kits.

Generally, kits are taking longer than usual to come back into stock. We are selling so many DMC threads that there are always some shades out of stock. By the time they are replaced others have sold out. We're sorry if you are having to come back to complete your list.

There are five months until Hallowe'en but we stitchers have to think ahead. Anne has designed a Hallowe'en mobile on plastic canvas.

She has also stitched and reviewed the Witch's Shoe pattern by Sue Hillis. You can see the review of the Witch`s Shoe here.

The latest Nora Corbett patterns from the Pond Pixies series, Lotus and Water Reeds, are now on their way from the US after being released on 15th May. The company is taking longer than usual to send orders which also includes beads, Caron Waterlilies, Kreinik metallic threads and embellishment packs.

Princess Elliana, the most recent design by Mirabilia continues to be popular. If you missed it we have more patterns and embellishment packs on order. The model was worked on 32 count Permin Peaceful Purple linen which is currently sold out. Permin hope to have it available again in late June.

We are always looking for better ways to keep our stranded cottons so we were delighted to find the floss organisers from Dubko. They have space for 36 colours and can be labelled with floss number or symbol.


Bargain Basement

For June there are wild animals in the Bargain Basement (none of them caught illegally!) - and as usual they're at half the previous low price.


And finally

This month's title is inspired by a poem from 19th Century US writer Walt Whitman (1819-1892).

«Afoot and light-hearted I take to the open road,
Healthy, free, the world before me,
The long brown path before me leading wherever I choose.

Henceforth I ask not good-fortune, I myself am good-fortune,
Henceforth I whimper no more, postpone no more, need nothing,
Done with indoor complaints, libraries, querulous criticisms,
Strong and content I travel the open road.»

We hope that as your country eases out of lockdown your own road is opened for you and we wish you the freedom to live again.
by Arts and Designs on Fri, 29 May 2020, 19:29
Reasons to be Cheerful
A stir-crazy welcome to May's Newsletter.

This month sees us in continued lockdown. We have been extremely busy and we must say a big 'thank you' to all our lovely customers who have been so patient in the face of postal delays.

Some companies have shut up shop for the time being which means that we cannot get new stocks of their kits or charts. Major UK makers Bothy Threads, Derwentwater Designs and Heritage Crafts remain closed and it's possible that the situation won't change for months. We have had a lot of enquiries especially for Bothy kits. Other companies are soldiering on and we salute them!


Patterns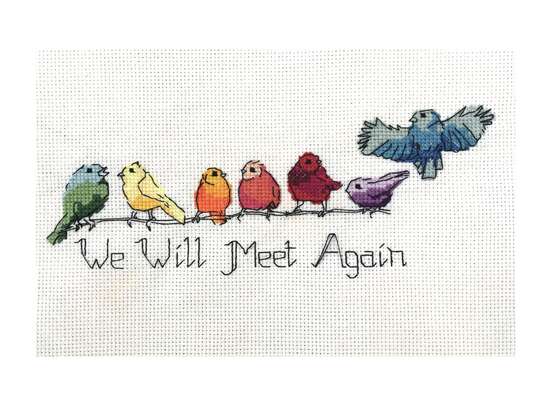 The latest Mirabilia Designs Princess Elliana has a sumptuous dress which uses all the new DMC shades from 01 to 35 as well as lots of beads challenging! The early copies of this sold out very quickly and new stock is on order we hope to have it in soon.

To keep you occupied(!), Julie has designed a free chart called Rainbow Birds (Illustrated). You can download it by clicking here.


Fabric Colours

Permin have introduced several new fabric colours Icelandic Blue, Icelandic Beige, Icelandic Grey and Amazing Grey (which, amazingly, is not that grey). We have fat quarters in 32 count linen and 14 count Aida and they're also available in 16 count Aida and 28 count linen.


Kits

With rainbows in every window, Anne has designed a rainbow mobile of ribbon on plastic canvas. It comes with everything you need including hanging ring and crystals.

Grafitec needlepoint canvases have been popular but it has become increasingly difficult to obtain replacements. Our supplier has therefore decided against stocking them. The canvases and kits in stock won't be replaced. We now have some more Royal Paris canvases and will increase our stock of those.

Lanarte postponed the launch of their latest range after releasing only a few kits. Hopefully the new collection will become available in another month.


Review

Anne has stitched and reviewed Poppy Biscornu by The Tiny Modernist and you can see what she thought here.


Bargains in May

Romance is in the air in the Bargain Basement for May with kits as usual at half original price.


And Finally

Fortunately for us we have had good weather here in Scotland for the last month which has helped to lift our spirits and has inspired this month's theme.

Our title is from the late Ian Dury and the Blockheads single which was a top 10 hit in the UK in 1979. It was written after a near fatal accident on a tour and is a shopping list of uplifting thoughts from the quirky Mr. Dury his own Raindrops on Roses moment:-

«Some of Buddy Holly, the working folly
Good Golly Miss Molly and boats
Hammersmith Palais, the Bolshoi Ballet
Jump back in the alley, add nanny goats»

Why not make your own shopping list of happy thoughts? There is so much in the world to be positive about so ignore those headlines (which are probably wrong anyway) and enjoy your stitching!
by Arts and Designs on Fri, 01 May 2020, 19:05
Seeking refuge with needle and thread
Welcome to our April Newsletter!

What's On and what's Off

We are continuing to work as nearly to normal as we can manage and thankfully most mail services are still operating, albeit with a reduced service.

Most of our suppliers are soldiering on but some have decided to close so we can't renew our stocks at the moment for Heritage Crafts or Bothy Threads. Bella Filipina has also told us that they can't send our order.

This month we're rather short of new kits - but there are plenty in the pipeline just waiting for the current situation to improve. More on this next month!


Patterns

Following the Nashville show a few weeks ago we've had a busy month of new patterns. Most US designers had charts ready for Nashville. Many of those patterns have already come and gone from our stock but don't worry if you've missed something as we have more on order.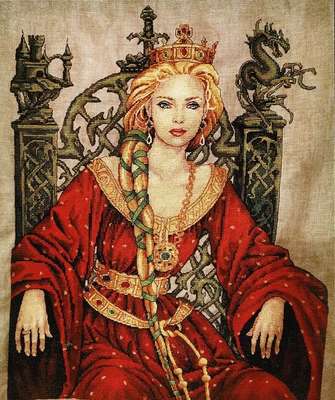 French designer Nimue recently came out with Guinevere (illustrated), a stunning interpretation of the beautiful queen of Arthurian legend. We believe King Arthur will join her in the not too distant future. As for Sir Lancelot - well, we'll have to wait and see.

Among the new designs from Nashville are several from Blackbird Designs, Rosewood Manor, Jeannette Douglas, Hands Across the Sea, Cuore e Batticuore, Heartstring Samplery, Ink Circles and Jardin Prive.

We also have charts from designers new to us Blackberry Rabbit, The Blue Flower, Madame Chantilly, Serenita di Campagna (previously Dewdrop)

See all the new releases in our Spring 2020 patterns gallery!

Nora Corbett has two new fairies from the Orchid Party Collection and another pretty house from the Holiday Village.

The latest sampler Seeking Refuge by The Scarlett House has a verse that's particularly apt for the current situation:

«When the world seems to be out of control
I find a way to nurture my soul
Seeking refuge with needle and thread
The angst and anxiety no longer I dread»

We have been rather busier than usual and it's clear that many stitchers have found solace in these trying times. We hope that you and yours avoid the worst effects of the pandemic and that we can all return to normal as soon as possible.


by Arts and Designs on Fri, 27 Mar 2020, 19:07
Summer in the Light
Hello and a windy welcome to March's newsletter!
In this month's issue ...
Lots of new kits by Lanarte, Vervaco, Julie Lynes, Haandarbejdets Fremme, Bothy Threads and Heritage Crafts

VDV bead embroidery kits

New patterns from Mirabilia, AuryTM, Stoney Creek, Cross Eyed Cricket and others

Floss Storage

Hardanger Bargains
Kits

We have the new season Lanarte kits and some of the colourful new Vervaco kits in stock. Some of the Lanarte kits are re-releases of old favourites and others are new designs.

The Lanarte release features some old favourites from Marjolein Bastin and some traditional romantic designs.

The Vervaco catalogue has a horticultural flavour with bright and cheerful garden images to cheer up dull days.

Julie Lynes has designed more bottle aprons not necessarily for wine bottles this time with an Alice in Wonderland theme. A talking point for your next tea party.

It's a busy month for new kits. We have three new designs from the Danish art company Haandarbejdets Fremme a flower cushion and a bunny cushion with a colourful Easter egg table runner. All are stitched with Danish Flower Thread on 100% linen fabric.

The new Bothy collection has arrived with five more Wrendale designs, two more Beryl Cook cartoons, new Margaret Sherry, flowers and sampler.

Betty and Norman are a sweet elderly couple produced by Heritage Crafts from the artwork of Peter Underhill. The kits are all in whole cross stitch with backstitch detail.

Anne has stitched Winter Warmth by Panna and you can see her review of this pretty design from the long-established Russian maker.


Bead Embroidery

We now have some VDV bead embroidery kits in stock. They come with colour printed background and you just add the beads. One big attraction with bead embroidery is that you never have to change thread!


Patterns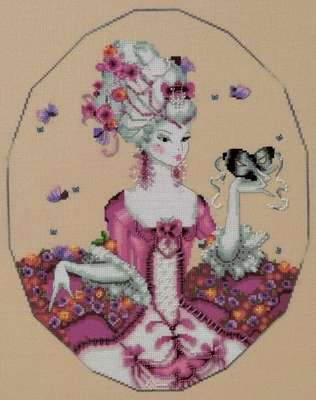 The Duchess of Rouen by Mirabilia, companion picture to The Baker's Wife has arrived. She displays all the elegance of the French court in her gown and jewels.

Mirabilia seem to have discontinued the delightful Crystal Christmas and Queen of Freedom, so we will be unable to replace those. They may still be available elsewhere.

We have some new patterns from AuryTM, Stoney Creek, Cross Eyed Cricket and others.

In early March, there is a Needlework show in Nashville, TN, USA. With four floors of exhibitors there will be lots of new designs on show and hopefully we'll have many of them next month.


Floss Storage

We all have problems storing our threads. Anne keeps hers in plastic ice cream tubs, sorted by number (we eat far too much ice cream). It re-uses plastic containers but the thread still gets tangled and some numbers part company with the cottons. A customer asked us to get Floss-A-Way bags by DMC with grip and seal bags which can be labelled and used to store single colours.

We have also found a system for storing threads short term while stitching a project and we hope to have this in stock next month.


Competition

We hope you had a chance to enter our recent competition on Facebook. If not, then don't worry as we'll be running more in the future! The winner of the Mirabilia pattern lives in the West Midlands, England but there were entries from all over the world. So keep an eye on our Facebook page for the next compo.


Bargains

The Bargain Basement has blackwork this month as usual at half previous low price.


And Finally

This month's title is taken from Great Expectations (a coming-of-age tale in which good does eventually triumph) by Charles Dickens (English writer 1812-1870):
«It was one of those March days when the sun shines hot and the wind blows cold: when it is summer in the light, and winter in the shade. »

If, with the prospect of a pandemic, you do decide to go out a little less this March then it will be a great opportunity to catch up with all those unfinished projects,. Every cloud ...
by Arts and Designs on Fri, 28 Feb 2020, 20:10
What a Tangled Web
A wet and windy welcome to our February newsletter!
In this month's newsletter
New kits from Glorafilia and Julie Lynes

New patterns from Nora Corbett and Bella Filipina

Rainbow gallery floss and Anchor crochet cotton
Kits

There are two new Glorafilia cushion front kits in the style of the Victorian Arts and Crafts designer William de Morgan. These may be stitched in tent stitch throughout or texture added using a variety of tapestry stitches.

Julie Lynes has designed some more bottle aprons this time for the popular tipple derived from the Juniper berry Gin! Julie's Gin Bottle Aprons are available as kits that include a blank apron and are quick and easy to stitch.

It's the season for new kits and Lanarte and Vervaco have announced their first Collections for 2020 which should be available later this month.

Bothy's spring collection will be released on the 11th February and they are tempting us with titbits on their facebook page. New kits are also on the way from Oven, MP Studios and Golden Fleece.

Anne finished stitching the little Lanarte kit Rock Cat, one of a series with quirky dogs as well as cats. Anne has written a short article reviewing this kit.


Patterns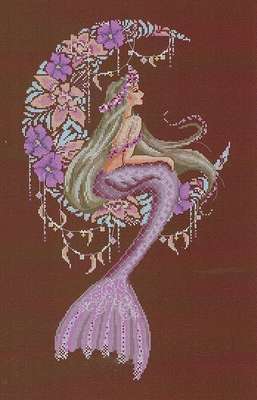 We are pleased to announce that we've just started stocking a selection of patterns by Bella Filipina. The mermaids are stitched in DMC floss with lots of Kreinik floss and Mill Hill beads. Very attractive and challenging designs and a challenger to Nora Corbett's dominance in this area.

This month Nora Corbett has introduced two new pond Pixies. Water Sprite sits on a lily pad and Dewdrops carries a leaf with water dripping from it.


Thread and Floss

We now have all the Rainbow Gallery floss which are substitutes for the Needlepaints flosses used in Lavender and Lace designs. Unfortunately the L & L designs are getting harder to find so let's hope that they are all reprinted soon.

Crochet Cotton Comeback! After an extended absence from the market, Anchor Mercer crochet cotton is again available in thicknesses 20, 40, 60, 80 and a range of colours. Please let us know if you'd like us to order some for you.


February's Bargain Basement

We have motto kits in this month's Bargain Basement as usual at half previous low price and while stocks last.


And Finally

As you probably know, the UK has now officially left the European Union. We in Scotland voted to remain in the EU partly because we believe it has generally been a force for good in the world. We are leaving against our better judgement. Things will remain as they are until the end of this year but prices will likely increase next year when the transition period ends and we have to pay Duty on goods imported from the EU.

Our title this month is from Marmion Canto VI, stanza XVII by Scots writer Sir Walter Scott (1771-1832):

«Oh! what a tangled web we weave
When first we practise to deceive!»

Perhaps we should add that this is not one of the mottos in the Bargain Basement.

As always we wish you a pleasant and mild February and remind you (and ourselves) to Be thankful for all your blessings (which is in the Bargain Basement!).



by Arts and Designs on Fri, 31 Jan 2020, 18:45
Earlier Stitchcraft News ...
A Guid New Year to Ane an' A' ...
Awhile no cares encumber ... Welcome to our December 2019 Newsletter
Treasure your legacy of skills ... Welcome to our November Newsletter!
Here's to October ... A warm welcome to our October Newsletter!
All in the golden afternoon ... Hello again and welcome to our September newsletter.
In the blue and glowing days ... A sunny welcome to our August newsletter!
Sing Oak, and Ash, and Thorn, good sirs ... A hot and sticky welcome to our July '19 newsletter!
We shall get there some day ... A warm welcome to our June newsletter
Dance upon the mountains like a flame ... Welcome to our May 2019 edition!
The First of April ... Hello and a warm welcome to our April 2019 newsletter.
Many are our Joys in Youth ... Greetings and welcome to our March 2019 Newsletter ...
Winter is the Better Season ... Welcome to freezing February - or feverish February - depending on where you live.
As sleeps the patient rose ... Happy New Year and a Hearty Welcome to our January 2019 Newsletter!
Ring every day the chimes ... A very warm welcome to our December 2018 newsletter!
November comes And November goes ... Welcome to the November 2018 newsletter!
Summer has two Beginnings ... A Windy Welcome to the October 2018 Newsletter!
September days are here ... Welcome to our September newsletter ...
Remember to be Gentle ... A warm welcome to our sultry August newsletter ...
Answer July ... In this month's Issue ...
Knee-deep in June ... Welcome to June's Newsletter!
In the Cherry Blossom's shade ... ... In the Cherry Blossom's shade
See the land, her Easter keeping ... ... Welcome to our Easter 2018 newsletter
The winds of March were wild and drear ... ... A warm (especially if you live in Britain) welcome to our March newsletter.
Fair Maid of February ... A very warm welcome to February's newsletter!
The New Years Come, The Old Years Go ... ... Welcome to our last newsletter of 2017 (and first of 2018).
I heard the bells on Christmas Day ... A warm, festive welcome to our December newsletter!
The Black Cat and The Philosopher ... Hello and welcome to our Halloween newsletter ...
O wad some Power ... ... A warm welcome to our Autumnal newsletter.
Faith is the Bird that feels the light ... Welcome to September's Newsletter!
If ever any beauty I did see ... ... ...
She sights a Bird ... Welcome to our July 2017 newsletter
There are Moments ... ... "There are Moments, above all on spring evenings, when the lakes that hold our moons are sucked into the earth and nothing is left but wine and the touch of a hand."
Ne'er cast a cloot 'till May be oot ... A warm Spring welcome to the May 2017 newsletter!
Paint the Meadows with Delight ... A warm welcome to our April 2017 issue ...
Each minute sweeter than before ... A warm welcome to our March 2017 newsletter!
I wonder if the sap is stirring yet ... ... A warm welcome to our February 2017 newsletter!
One Little Person ... «One little person, giving all of her time to peace, makes news.
Warlocks and witches in a dance ... « Warlocks and witches in a dance;
Let Love Take Root ... ... ...
No Man Needs a Vacation ... ... ...
A Fur Coat in Texas in August ... Hello and welcome to our August newsletter!
If there is a limit to all things ... Welcome to the July newsletter!
Lux Tua Via Mea: Your Light's My Way ... Greetings and a warm welcome to our June newsletter.
Love, whose month is ever May, ... ... Welcome to May's Newsletter
Shamrocks, Walls and a Touch of the Blarney ... Welcome to your April 2016 newsletter!
Zen and the Art of Stitching ... A warm welcome to our March Newsletter.
Year of the Monkey ... We hope you enjoyed your Christmas and New Year celebrations.
It's Raining Cats and Dogs ... Happy New Year
The stockings were hung by the chimney with care ... ... ...
Treacle Scones ... Welcome to our November newsletter ...
Drawing the Impossible ... A warm welcome to our October newsletter.
On a bank of flowers, in a summer day ... Perhaps summers were better when Burns wrote the poem whose first line forms our title this month.
Imagination Rules the World ... We were inspired by the 200th anniversary of the Battle of Waterloo on the 18th June 1815 and so this month's title is a quotation attributed to
When pleasant sights salute the eyes ... «It is the month of June,
Ne'er cast a cloot ... ... Ne'er cast a cloot ...
Happy Easter! ... In this month's newsletter ...
We are Stardust ... ... «We are stardust
Kings may be blest ... As the birth of our national bard,
Ring in the New ... Welcome to 2015!
'Tis the season to be jolly! ... As the cold nights draw in, it seems a good idea to raise our spirits and Christmas is the ideal way to do it.
Peace, Prosperity and Pleasure ... To Keats it's the "Season of mists and mellow fruitfulness" and to Bryant [it's] "the year's last, loveliest smile".
No spring nor summer's beauty hath such grace ... ... Welcome to our October newsletter - it's a little longer than usual as there's lots to tell you.
Rest is not idleness ... «...
Worth Waiting For ... We hope your summer (or winter) has been as pleasant as ours.
This Sporting Summer ... This year it's certainly another summer of sport with the World Cup in Brazil as well as the usual round of tennis, golf and other tournaments.
People Take Pictures of Summer ... ... «People take pictures of summer, just in case someone thought they had missed it, and to prove that it really existed.»
A spirit of youth in everything ... The title is taken from Shakespeare's Sonnet XCVIII
San Serriffe and the Spaghetti Harvest ... Welcome to our April newsletter ...
No one relaxes in March ... Indoors or out, no one relaxes
A Hint of Spring ... Maybe we no longer think of
A Big Year ... Happy New Year!
Time to Reflect ... Less than 3 weeks to Christmas now so if you didn't manage to finish that cross-stitch Advent calendar in time ...
Now's the Time! ... The astrologers tell us that whoever is determined to achieve something can make significant progress during November.
No Time for Poetry ... There's no quote from a great poem this time!
Autumn is a second Spring ... ... «Autumn is a second Spring when every leaf is a flower».
That beautiful season the Summer! ... ...
The Meadows' Queen ... «The empress of the year, the meadows' queen,
Spring Cleaning ... It's «out with the old and in with the new» this month as many suppliers have been having a Spring clean.
Hot Cross Stitches ... You may be enjoying your break for Easter which falls this weekend.
Moscow, March and Mary ... Commonwealth Day
If we had no winter, the spring would not be so pleasant - Anne Bradstreet ... February was the month of purification for the Romans - who evidently did their spring cleaning earlier than most of us.
January, month of empty pockets! ... Welcome to our January 2013 newsletter, and may we start by wishing you
Childhood's Beginning ... As the Christmas season approaches, we, like everyone else, are preparing for the big day.
Clocks, Crafting and Ceremony ... Our clocks went 'back' last weekend and we've still to adjust to our new time zone after a week.
Anticipation ... «Well,» said Pooh, «what I like best,» and then he had to stop and think.
Departing summer hath assumed an aspect tenderly illumed ... Welcome to the September newsletter!
The important thing in life ... Here in Britain
Summer's lease hath all too short a date ... Vervaco's summer Collection
A Light In The Darkness ... As you may have heard
The Month that May be Named ... Did you remember to wash your face in the morning dew on 1st May?