Each minute sweeter than before
A warm welcome to our March 2017 newsletter!
In this month's Issue:
What's New in Kits? the latest collections from Lanarte, Permin, Dimensions, Bothy Threads, Vervaco and Thea Gouverneur ...

A new kit from our own Anne Peden and a re-released kit from Eva Rosenstand

New patterns from Stoney Creek, Nora Corbett

Pink Ladies!


Needlecraft Kits

Having got over the Christmas hiatus our designers' new season's kits are coming in apace!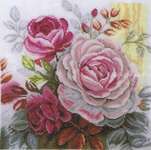 Lanarte's first 2017 Collection has a lovely Spanish lady on black, a snowy owl and lots of flowers. Marjolein Bastin has kits with flowers and chickens in her own detailed style.

We have many more kits from Permin's First 2017 Collection with table covers in cross stitch, printed table covers and hardanger table covers. There are also hardanger Easter egg ornaments and some lovely flower pictures.

From Dimensions new Spring Collection we have chosen an elegant peacock from their Gold Collection, a cute kitten and a pretty wedding record which frames a photo.

For their Spring catalogue, Bothy Threads has designs from two new artists. Beryl Cook was a well known artist with a distinctively humorous style and her plump (and sometimes naughty) ladies are instantly recognisable. Rosina Wachtmeister is an Austrian artist who paints and sculpts stylised cats in colourful surroundings. There are also four new dog designs by Hannah Dale of Wrendale Designs and four new Gorjuss kits on Aida with a beautifully colour printed vintage background.

Thea Gouverneur has three new designs for Spring. Honey Bee on Echinea is a very detailed close-up of the insect, Our Lady of Perpetual Help is a reproduction of a religious icon and Delft Blue Houses (in stock soon) is another Dutch street scene in outline.

Vervaco's first 2017 collection should be with our supplier next week with more of the very popular sepia and monochrome designs. They have also revived some of their Walt Disney kits and have lots of new ones, many from the popular Frozen certainly very popular with our granddaughter! Those are expected in April.

Madonna, a traditional picture of the Virgin Mary and child is a classic relaunch from Eva Rosenstand.

Not to be left out, Anne Peden - our own designer - has added a new blackwork design of an Indian Lady in Traditional Sari, edged with gold and available on 27 count evenweave.


Needlecraft Patterns

Stoney Creek's Home of the Month series is now complete with twelve simple designs.

Nora Corbett seems to be absolutely tireless! This month there are two new designs from the Pixie Blossoms Collection Anemone and Inkberry Holly and next month we'll have Andromeda, the latest Mirabilia design with all the beads and special threads required.




Pink Ladies (Not the kind you drink)

It's 'pretty in pink' in our Bargain Basement for the month of March with ladies in pink at half price.

April's newsletter will be a little late as we'll be at a trade fair in Cologne - we hope to have lots of news for you!


And Finally ...

As it's March, we took our title from a poem by the great English poet William Wordsworth (1770-1850).

« It is the first mild day of March:
Each minute sweeter than before,
The red-breast sings from the tall larch
That stands beside our door.

There is a blessing in the air,
Which seems a sense of joy to yield
To the bare trees, and mountains bare,
And grass in the green field.»

from To My Sister by William Wordsworth

by Arts and Designs on Fri, 03 Mar 2017, 16:36
I wonder if the sap is stirring yet ...
A warm welcome to our February 2017 newsletter!

«I wonder if the sap is stirring yet,
If wintry birds are dreaming of a mate,
If frozen snowdrops feel as yet the sun
And crocus fires are kindling one by one:
Sing, robin, sing;
I still am sore in doubt concerning Spring.»

from The First Spring Day by Christina Rossetti (1830-1894)

Here in the not quite frozen north the snowdrops have been out for a month and the early buds are developing. It's been quite a mild winter.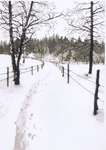 Most of the needlecraft world seems to be in a wintry hiatus but we expect this to change soon with major trade shows later this month and next.

This month we have more from the prolific Nora Corbett, John Clayton, Imaginating and Permin.

There are two lovely new mermaid patterns from Nora Corbett these have Italian names (Bella Vita and Mai Soli) and so must inhabit the warm waters off Italy. Oh that we were there!

Nora has also produced a stunning new design for Mirabilia Miss Christmas Eve has a glittering dress of berries, foliage and satin ribbon. A stylish panel for next Christmas?

There are two new ladies in John Clayton's Elegance series by Heritage Crafts. Grace, a modern young lady in a purple evening gown and Lilly, an Art Deco lady in a silver dress. And for owl lovers there's Christmas Owls by Karen Carter.

Some of Imaginating's designs are now becoming available as complete kits and we have a few of the most sought after. They all come with 14 count Aida and DMC stranded cottons.

Permin have introduced some new kits to tide us over until their next major release - Roses and Forget-me-nots Hardanger Table Mats (a hardanger kit), Summer Farm and Footsteps in the Snow (both cross stitch kits).


Events ...

For our Scottish subscribers, there's an exhibition of embroideries by the East Kilbride Cross Stitching Circle in the East Kilbride Arts Centre, 51 Old Coach Road, G74 4DU from Friday 3rd Saturday 26th February 10 a.m. To 8 p.m. With free admission.

For the month of February we have some big cats in the Bargain Basement as well as fabric remnants.


And Finally ...

When Spring comes along and your neighbour wants to borrow your lawnmower, Chic Murray has the answer.

My next door neighbour said "Is it OK if I use your lawnmower?" I replied, "Certainly, just don't take it out of my garden."

Have a mild February wherever you are.
by Arts and Designs on Fri, 27 Jan 2017, 19:47
One Little Person
«One little person, giving all of her time to peace, makes news. Many people, giving some of their time, can make history.» Peace Pilgrim (Mildred Lisette Norman, 1908-1981)

Well, things have been rather peaceful in the needlecraft world and there isn't a lot to talk about this month!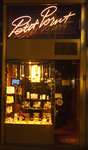 Kits

We now have the fourth and final collection for 2016 from Lanarte and Marjolein Bastin with angel, fairies and flowers and lovely floral kits by Marjolein.

Bothy Threads have new designs from the artwork of Hannah Dale of Wrendale Designs a barn owl, a fox and a highland cow. There are also five more colourful and traditional samplers by Moira Blackburn and a new series of blackwork flowers. Bothy have had a busy year with 70 new kits released. To make space for those and others in the pipeline 55 of their current kits have been discontinued.

Festive Chicks by Valerie Pfeiffer and Heritage Crafts is very cute for Christmas and is available in 27 count evenweave or 14 count Aida.


Designs

Mirabilia's Veronica in her luscious green ball-gown from Nora Corbett has been very popular and there's an embellishment pack too.


The Future and the Past

We're thinking ahead to next year in our Bargain Basement with lots of half price hearts - ideal for Valentine's Day.

If you visited the website in mid-November you might have noticed the 'skeleton staff' announcement. This is because we were in Vienna (for an anniversary). We can recommend the architecture and culture of Vienna, but not the prices! We spotted the tiny Petit Point shop in the main shopping street near to St Stephen's Cathedral. It has exquisite brooches and tiny handbag/umbrella ornaments at 30-60 Euros. If you're planning a visit to Vienna, drop us a line and we'll give you more information.


And Finally ...

It seems that the emotional excess surrounding the recent US Presidential election has now subsided. We guess that things will not really change that much over the next few years and we hope that everyone will follow Peace Pilgrim's simple formula and make history.

Christmas is of course about another little person - but someone whose message was pretty much the same.

We hope your Christmas is everything you wish for and the world in 2017 is everything we all wish for.







by Arts and Designs on Fri, 02 Dec 2016, 19:37
Warlocks and witches in a dance
«Warlocks and witches in a dance;
Nae cotillion brent-new frae France,
But hornpipes, jigs, strathspeys and reels,
Put life and mettle in their heels.»

(from Tam o' Shanter by Robert Burns)

A reminder (in case you needed one) that Hallowe'en is upon us again.


Welcome to the November Newsletter!

In this issue ...

Swedish Weave - simple and effective

Blackbird Designs

Heritage Crafts new kits

Lanarte's New Collection

Eva Rosentand Relaunch

Marjolein Bastin, Anchor and maia

Price rises
Swedish Weave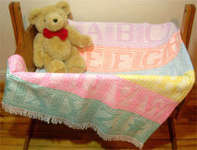 Swedish Weave (also called Huck embroidery) is a counted thread embroidery technique that is simple to do and looks great. It's typically used for table runners and afghans. The fabric is called Huck Fabric or Monk's Cloth and has a 4 thread by 4 thread basketweave pattern. Yarn is stitched behind the blocks of vertical threads to create a design. All of the stitching appears on top of the fabric and rarely shows through on the back. (See this article for more details).

We have stocked downloadable patterns by US supplier Swedish Weaving for a while now but we've now expanded our stock to include kits, fabrics and paper pattern booklets so you can get everything you need.


Blackbird Designs

The last of the twelve designs in the Garden Club series by Blackbird Designs All in a Row - is now available. At last you can complete the set!


Heritage Crafts, Lanarte and Thea Gouverneur

Heritage Crafts have a lovely new Christmas design by John Clayton - Christmas Inn - from his watercolour series. It's available in 27 count evenweave and 14 count Aida versions.

New to Heritage are designs by Maria Diaz of four Christmas cards featuring cute fairies and elves. For owl lovers there's a colourful and witty (or should that be too-witty?) design by Karen Carter called Hanging Around.

Lanarte have launched a new Collection - the fourth of this year. There are pretty flower posies by Marjolein Bastin, a pensive lady, a little flower girl, fairy silhouettes and flowers, ten kits in all. These are not yet available to purchase but you can see the range at https://issuu.com/search?q=lanarte. We expect them to be available from the second week of November on. Do let us know if you would like any of these and we will order them as soon as they become available.

There are two new cute kits by Thea Gouverneur the combinations of cakes and kittens and puppies are sure to be loved by all.


Relaunches and Stragglers

Brass Jug by Eva Rosenstand is a lovely image of a Christmas floral arrangement and is this year's relaunch for Christmas.

And we have finally managed to get Fall by Marjolein Bastin from the previous Lanarte Collection to make up the set of four seasons!

maia and Anchor kits have been unavailable for a few months but are now in stock again after a change over to a new distributor. Both maia and Anchor kits are of excellent quality and we're glad they are still very much on the market.


Prices

Prices for Zweigart fabrics are set to rise for UK customers due to the collapse in the value of the pound versus the Euro. We will hold our prices until we re-stock.

Reluctantly, we will also be increasing the price of our stranded cottons but will hold the current price until 1st December.


And Finally ...

Robert Burns' epic poem paints a vivid and humerous picture of the consequences of over-embibing (Tam wasn't sober from November till October).
The Cotillion was a dance for the refined of 18th Century Europe - a complete contrast to the jigs and reels of the working people.

We hope your Saturday nights are less stressful than our hero's. For the full story (with modern English translation) visit www.robertburns.org.uk/Assets/Poems_Songs/tamoshanter.htm

by Arts and Designs on Fri, 28 Oct 2016, 19:00
Let Love Take Root ...
... and weave a garden of calm beauty (Nora Corbett)

She writes: I drew this beauty (Blossom Goddess - see below) to represent the moment of harmony and peace I experience whenever I make something with my hands.

In this month's newsletter

Blossom Goddess from Nora Corbett

New card kits and Christmas hangers from Permin

Vervaco's latest collection

Lights, YoYos and Bead Boxes

Needlepoint Cushions

Fine Art Needlepoint from SEG

Anette Eriksson Scandinavian Kits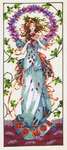 Nora Corbett has produced another design for Mirabilia: a golden-haired goddess titled Blossom Goddess draped in blue with a halo of flowers and blossoms. The embellishment pack is also in stock.

Permin have a new set of hardanger Christmas cards with five designs each available as white on red in a white card or red on white in a red card. There's still plenty of time to make your own special greetings card.

Also new for Christmas this year from Permin, a range of Antique Red metal bell pull hangers finished in dark red enamel. These are available in a range of sizes from 16 cm (6 inches) to 60 cm (24 inches).

Vervaco`s Third 2016 Collection is now available and so far we have in stock a monochrome birth record of mother and baby hands and a sepia picture of a girl with kittens.

Now that the nights are drawing in, getting a decent light to work by is increasingly important. Newly in are portable lights by the Daylight Company. There are two very stylish, functional and reasonably priced foldable LED lamps and a `YoYo` magnifier light (which folds up into what looks like a YoYo!) Easy to carry and quite tactile too!

Also new in the storage line, transparent bead boxes to store all those beads left over when you open a packet, perhaps to work one of Mirabilia's lovely ladies.

Check out our expanded range of needlepoint cushion kits by Vervaco and herb pillows by Cleopatra`s Needle.

We also have striking fine art needlepoint kits by SEG of Paris starting with some based on Gustav Klimt's paintings and others featuring pre Raphaelite ladies by English artists.

Anette Eriksson brings Scandinavian design to her embroidered pillows and lovely samplers.

This month we have some stamped Christmas table covers for you to embroider in our Bargain Basement and as always there are remnants at keen prices.


And finally ...

With apologies to our antipodean readers, the season of mists and mellow fruitfulness is upon us. Or rather it isn't. The trees are still green and the grass is still growing - far too fiercely for our lawn mower. It seems Summer is reluctant to let go this year. Maybe it knows something we don't.

We hope you experience many moments of harmony and peace wherever and whenever you're crafting.



by Arts and Designs on Fri, 30 Sep 2016, 20:07
No Man Needs a Vacation ...
... so much as the person who has just had one. Elbert Green Hubbard (1856 - 1915)

With the holiday season over and the hurricane season approaching, this month is the quiet before the storm. The coming months will see a host of new kits and designs.

In this month's Newsletter

New kits from Bothy

New Permin Catalogue

New Lanarte

Blackbird Designs

The Prairie Schooler

Canada Post
Kits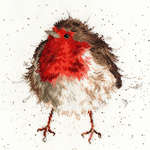 The first to arrive from Bothy Threads are four new William Morris style needlepoint cushions to double the number of those, two more of Hannah Dale's sweet pictures with a Jolly Robin for Christmas and Ducks with Daffs for Spring and a Hallowe'en special - Pumpkin House a goulish silhouette.

Permin have a new catalogue which you can see at https://issuu.com/permin/docs/coll_51 and also a smaller leaflet with table covers and children's designs https://issuu.com/permin/docs/coll_s_2015-4. Please let us know if you see anything you like in there and if we don't already have it we'll be happy to order it in!

There's a new Lanarte catalogue which we hope to add soon to our collections. They are no longer supplying any kits by Maria van Scharrenburg. So if there's one of her designs on your wish list, you shouldn't leave it too long.


Designs

Blackbird Designs' Garden Club series is nearly complete with the arrival of number eleven, the Fairy Garden.

The Prairie Schooler, a very popular chart designer, has closed after over 30 years of producing their own style of sampler. They have transferred their complete catalogue to Hoffman Distributing who are bringing back many of the older 'out of print' patterns in chartpack format. The charts are exactly the same but the paper quality isn't as good.


Canada Post

Canada Post have informed us that their labour dispute has been resolved for the next 2 years. This should mean that Canada Post should return to its formerly excellent reliability.


Bargain Basement

In our Bargain Basement this month we're offering sets of kits with 15-50 percent off the already discounted prices you would pay for the kits purchased separately!


And Finally ...

We hope you enjoyed your vacation/holidays and returned bright-eyed and bushy-tailed.

Ours was a strange mix of helping son-in-law repair his roof and finding ourselves negotiating our way down a precipitous and wet rock scramble on a Scottish Island.

Next year we'll book a beach holiday.
by Arts and Designs on Fri, 02 Sep 2016, 18:04
A Fur Coat in Texas in August
Hello and welcome to our August newsletter!

This month ...

New DMC kits

Rapunzel

Blackbird Designs' Latest

New from Bothy

Lanarte

Winds of Change for Anchor/maia

This Month's Free Pattern
New Kits and Patterns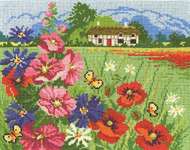 Four sets of new DMC kits have just arrived ...
The latest design from Mirabilia is the fairy tale princess Rapunzel standing on her tower with her long, long hair coiled around her. Another stylish pattern from the great designer Nora Corbett.

Number nine and number ten in Blackbird Designs' Garden Club Series The Gardener and How does the Lily Grow have arrived. There are another two still to come to make up the large composite sampler.

Bothy Threads have a lovely new series of wildlife kits from the beautiful and witty watercolours of Hannah Dale of Wrendale Designs. Don't worry about all the background spots because they are pre-printed on the fabric and not stitched (phew!).

Also from Bothy are two more kits in the Fairy Tales Series :- Cinderella, complete with the Ugly Sisters, the pumpkin coach, glass slipper and Prince Charming, and Snow White with the Wicked Stepmother and poison apple, and of course the seven dwarfs.

Lanarte have released their third 2016 Collection featuring an elegant lady, lots of flowers and a very pretty nature design by Marjolein Bastin.


Anchor and maia

We are sad to say that we have been told by Coats Crafts that the UK company is winding down. The company was founded in the eighteenth century in Paisley, Scotland and grew and merged until it became a world leader. The parent company MEZ in Germany have made arrangements to distribute their products through a UK wholesaler and we understand that all existing products, stranded cottons, tapestry wools, Anchor and Maia kits will still be available. We hope to have a clearer picture by September.


This Month's Free Pattern

To celebrate the summer this month's free pattern is Coreopsis a bright yellow summer flower.

And our Bargain Basement is coming up roses all at half the previous low price!


And finally ...

With the Olympics just starting in Brazil, our sympathies go out to the athletes who have to compete in the tropical heat of Rio. We offer this quote to them: «The pleasure of jogging and running is rather like that of wearing a fur coat in Texas in August: the true joy comes in being able to take the damn thing off» Joseph Epstein (b 1937)

We wish you a relaxed and air-conditioned August.
by Arts and Designs on Fri, 05 Aug 2016, 18:49
If there is a limit to all things
Welcome to the July newsletter!
This month ...
Christmas Already

Woodland Creatures

John Clayton Flower Panel

New from Luca-S

Grafitec Canvasses

Anchor/maia kits News

This month's free pattern

End of Line Bargains
Christmas is half a year away, so don't panic when you see Permin's 2016 Christmas Collection! It features hardanger Christmas tree baubles, advent calendars, stockings, tree skirts, table covers and runners and new and interesting baskets. Some of these are available already and more will come in during August.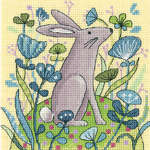 Woodland Creatures are a charming new series of cartoon wild animals produced by Heritage Crafts from the artwork of Karen Carter. So far we have mouse, hare, hedgehog and fox.

Heritage Crafts have introduced a new Flower Panel by John Clayton - the first in several years! Foxglove Panel has the purple flower on a green background and comes in either 27 count Linda or 14 count Aida.

We have some lovely new designs by Luca-S a set of cute animals and couples under umbrellas. Each kit has sepia or colour variants.

Grafitec is a Greek company who produce quality printed canvas for needlepoint. The first design to come in is a picture of a snowy owl by night. This is supplied as canvas only giving you the choice of which silks or wools to work it with tapestry wools, stranded cottons, soft embroidery cottons or pearl cottons. There are lots of lovely designs in their catalogue and we are sure to add more. Ask us for more information!

For the last few years Coats Crafts have been reducing their catalogue of Anchor and maia cross stitch kits. They have now announced that they will now be making the kits to order and that delivery times will be four to six weeks. This seems really short-sighted to us and we can only assume that Coats have been taken over by evil aliens. We will continue to order their kits if you request them - with the proviso that they may not arrive for about three months.

Our free pattern this month is called Iris in Iris and uses a mixture of blackwork and cross stitch. If you haven't tried blackwork before, this is a chance for you to have a go!

The Bargain Basement has a selection of end-of-line kits over the next two months. Don't hesitate if you see one (or two!) you'd like because we can no longer get them in. Another reason to buy now is that the Pound Sterling is in the doldrums which makes these quality kits especially great value if you're a non-UK stitcher. Prices will go up as the Pound recovers against other currencies.


and Finally ...

«If there is a limit to all things and a measure
And a last time and nothing more and forgetfulness,
Who will tell us to whom in this house
We without knowing it have said farewell?»

from Limits by Jose Luis Borges (1899-1986)

A rather sombre message from the great Argentinian writer which captures our mood at the moment!

On a brighter note, we hope you have a great July whether it's the middle of summer or the middle of winter.


by Arts and Designs on Fri, 01 Jul 2016, 18:42
Lux Tua Via Mea: Your Light's My Way
Greetings and a warm welcome to our June newsletter.

This month's title is from a poem titled 'June', by Hilaire Belloc (1870-1953):

«Rise up, and do begin the day's adorning;
The Summer dark is but the dawn of day. ...»

(see the whole poem at poetry.net/poem/19164)


In this month's issue ...

Marvellous Mirabilia, Brilliant Blackbird and Fabulous Pfeiffer

Sublime Safari

Adieu, Classic Embroidery

New stitching frames and magic thread

Special Offer - Rico Design Hardanger

This month's free chart
Marvellous Mirabilia, Brilliant Blackbird and Fabulous Pfeiffer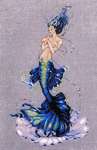 The heavenly Aphrodite Mermaid is the latest design from Mirabilia. She rises from a shell and glitters and shines with beads and metallic floss. Another stellar design from Nora Corbett.

We now have number 8 in the Garden Club series by Blackbird Designs. Despite ordering number 7 several times, we still haven't received any - but we will keep trying!

Heritage Crafts have recently released all of the current Valerie Pfeiffer designs as chart packs. Her flowers and especially her little birds have always been very popular. Only the Harmonies series have made it to our web site at the moment but the Trios and Duets will be coming soon.


Sublime Safari

New kits from DMC this month include six wildlife designs by Jayne Netley Mayhew. We have these sublime Safari animals on an introductory offer while stocks last.


Adieu, Classic

Classic Embroidery are ceasing production at the end of this month. Over the years they have brought out a wonderful range of blackwork designs, some cross stitch and a few hardanger. We will be sorry to see them go and wish them well in their retirement.


Able Frames and Easy Count Thread

We have a new style of embroidery frame, the Able Stretcher from Viking Loom is a portable, lightweight craft frame made of rigid plastic. It's currently available in two sizes and has adjustable size and great tension.

An innovative cross stitching aid, Easy Count Guidelines is a very fine nylon thread which can be used to make a grid and then be removed after stitching.


This month's special offer - Rico Design Hardanger

We have hardanger on special offer in our Bargain Basement for the month of June Rico Design hardanger table covers kits, Rico Design table covers to stitch in hardanger patterns, hardanger pattern booklets and Anchor Pearl cottons all at half price.


June's Free Pattern

This month's free pattern is a Paisley motif using DMC Coloris. Paisley is a town in the West of Scotland which used to be a centre of textile production and from where the designs were popularised.


And Finally ...

Lux Tua Via Mea: your light's my way -
Then do rise up and make it perfect day.

Have a bright, warm and peaceful June!
by Arts and Designs on Fri, 03 Jun 2016, 18:51
Love, whose month is ever May, ...
Welcome to May's Newsletter

Well of course we had to have a title written by the bard of Stratford-upon-Avon whose 400th anniversary was in April. If you love crafts, then every month is May.

In this month's issue ...

New Coloris pattern books and patterns by Imaginating and Cross-Eyed Cricket

Kits from Thea Gouverneur, John Clayton (Heritage Crafts) Bothy Threads, Eva Rosenstand and Permin

May's free pattern

Charts and Patterns

The new Coloris floss by DMC has been very well received. Each shade of Coloris combines four different colours to produce interesting shading effects. We now have three pattern books of samplers specially designed by DMC for Coloris thread Christmas, Sweet Home and Flowers.

There are another three Let's designs by Imaginating Let's live by the Sea, Let's shop 'til we drop and Let's tractor. We are placing bets on how many more Ursula Michael can come up with.

The Cross-Eyed Cricket set of month samplers the month name decorated by relevant items is now complete with the addition of January and February.


Kits

Thea Gouverneur has a new set of kits based on costumes in the Rijksmuseum in Amsterdam. Each kit has two flowery patterns and are available in linen only.

The latest Elegance lady by John Clayton and Heritage Crafts has a much more modern costume an evening dress in deep red. Susannah seems well aware that the whole room has noticed her.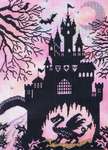 The Enchanted Series, new from Bothy Threads is similar to the Fairy Tales series and is worked in silhouette with added gold and silver floss and beads on hand dyed fabric.

Eva Rosenstand has relaunched the classic Four Seasons kits. In the most brilliant way the artist has succeeded in showing the year cycle of both flora and fauna using the same scene for all four seasons. The colours, the details and the story told ensures that you will never grow tired of looking at the pictures whether displayed individually or as a set.

Permin also has a new Spring collection. We have chosen two cushions and a table runner so far and you can see all the new kits in our online catalogues.

It's been some time since Coats Crafts stopped producing needlepoint kits by Glorafilia but we still have a few left. These are top quality classics and at a bargain price. Don't miss out!


This month's free pattern

Since it's a significant anniversary for Shakespeare, we used a quote from one of his poems to name a design. The Darling Buds of May is free to download during May.

And in the Bargain Basement this month there are sets of kits, three or more designs which go together well. They are all half the discounted price of buying the set one at a time so if you're looking for a large project at a small cost, do check it out.


And Finally ...

Our title this month comes from William Shakespeare's Love's Labour's Lost (Act IV Scene III). Our copy of his Complete Works runs to 1000+ pages of rather small print. One day we'll get round to reading it.

As always, have a peaceful and productive month.

by Arts and Designs on Fri, 29 Apr 2016, 18:50
Earlier Stitchcraft News ...
Shamrocks, Walls and a Touch of the Blarney ... Welcome to your April 2016 newsletter!
Zen and the Art of Stitching ... A warm welcome to our March Newsletter.
Year of the Monkey ... We hope you enjoyed your Christmas and New Year celebrations.
It's Raining Cats and Dogs ... Happy New Year
The stockings were hung by the chimney with care ... ... ...
Treacle Scones ... Welcome to our November newsletter ...
Drawing the Impossible ... A warm welcome to our October newsletter.
On a bank of flowers, in a summer day ... Perhaps summers were better when Burns wrote the poem whose first line forms our title this month.
Imagination Rules the World ... We were inspired by the 200th anniversary of the Battle of Waterloo on the 18th June 1815 and so this month's title is a quotation attributed to
When pleasant sights salute the eyes ... «It is the month of June,
Ne'er cast a cloot ... ... Ne'er cast a cloot ...
Happy Easter! ... In this month's newsletter ...
We are Stardust ... ... «We are stardust
Kings may be blest ... As the birth of our national bard,
Ring in the New ... Welcome to 2015!
'Tis the season to be jolly! ... As the cold nights draw in, it seems a good idea to raise our spirits and Christmas is the ideal way to do it.
Peace, Prosperity and Pleasure ... To Keats it's the "Season of mists and mellow fruitfulness" and to Bryant [it's] "the year's last, loveliest smile".
No spring nor summer's beauty hath such grace ... ... Welcome to our October newsletter - it's a little longer than usual as there's lots to tell you.
Rest is not idleness ... «...
Worth Waiting For ... We hope your summer (or winter) has been as pleasant as ours.
This Sporting Summer ... This year it's certainly another summer of sport with the World Cup in Brazil as well as the usual round of tennis, golf and other tournaments.
People Take Pictures of Summer ... ... «People take pictures of summer, just in case someone thought they had missed it, and to prove that it really existed.»
A spirit of youth in everything ... The title is taken from Shakespeare's Sonnet XCVIII
San Serriffe and the Spaghetti Harvest ... Welcome to our April newsletter ...
No one relaxes in March ... Indoors or out, no one relaxes
A Hint of Spring ... Maybe we no longer think of
A Big Year ... Happy New Year!
Time to Reflect ... Less than 3 weeks to Christmas now so if you didn't manage to finish that cross-stitch Advent calendar in time ...
Now's the Time! ... The astrologers tell us that whoever is determined to achieve something can make significant progress during November.
No Time for Poetry ... There's no quote from a great poem this time!
Autumn is a second Spring ... ... «Autumn is a second Spring when every leaf is a flower».
That beautiful season the Summer! ... ...
The Meadows' Queen ... «The empress of the year, the meadows' queen,
Spring Cleaning ... It's «out with the old and in with the new» this month as many suppliers have been having a Spring clean.
Hot Cross Stitches ... You may be enjoying your break for Easter which falls this weekend.
Moscow, March and Mary ... Commonwealth Day
If we had no winter, the spring would not be so pleasant - Anne Bradstreet ... February was the month of purification for the Romans - who evidently did their spring cleaning earlier than most of us.
January, month of empty pockets! ... Welcome to our January 2013 newsletter, and may we start by wishing you
Childhood's Beginning ... As the Christmas season approaches, we, like everyone else, are preparing for the big day.
Clocks, Crafting and Ceremony ... Our clocks went 'back' last weekend and we've still to adjust to our new time zone after a week.
Anticipation ... «Well,» said Pooh, «what I like best,» and then he had to stop and think.
Departing summer hath assumed an aspect tenderly illumed ... Welcome to the September newsletter!
The important thing in life ... Here in Britain
Summer's lease hath all too short a date ... Vervaco's summer Collection
A Light In The Darkness ... As you may have heard
The Month that May be Named ... Did you remember to wash your face in the morning dew on 1st May?
Soft in Flowered Languor ... April is
March marches in and the year marches on ... Welcome to our March 2012 newsletter.
A Whole New Day ... A huge welcome to February - which of course has one extra day this year.
... and gie's a hand o' thine! ... A warm welcome to our December newsletter.
December 2011 - Beads, Tapestries and Hotheads ... December is upon us again.
Transylvania and Turnip Lanterns ... Welcome to the end ...
Lanarte Autumn releases, Taller de Canamazo and Disney Dreams ... Welcome to October - normally a time for misty mornings and central heating.
Autumns and Advents ... Autumn has already started in our wayward Scottish climate - oh, how I wish I was in Australia or New Zealand now!
August - Be Creative, Extrovert, Enthusiatic and Generous ... Welcome to August - the month of
Quilting, Blackwork and Summer Designs ... Patchwork and Quilting
The Russians are coming! ... But before they get here, a couple of announcements:
Spring Into Life ... April has started with showers but we're hoping the sun will show up in time for the royal wedding (and for our daughter who's getting married a couple of days after).
March Winds ... The long awaited
Mothers, Maps and maia ... Mothering Sunday
January 2011 - New Kits and Patterns ... A very warm welcome to our first newsletter of 2011.
Needle Time ... As Christmas approaches, you may be looking forward to a frenetic few weeks of gift shopping and preparation followed by a few restful days of 'needle time' when the storm has passed!
Teenies, Birth Samplers and yes, ... more Meerkats ... Sampler Teenies
More Meerkats! ... We're well underway on the countdown to Christmas but there's still Hallowe'en to look forward to.
Fall of the Leaf ... Fall of the Leaf
August News ... Coats Anchor
Cats and Frogs ... John Clayton , the prolific and talented watercolour artist, has designed a new wildlife series of counted cross stitch kits for Heritage Crafts.
And what is so rare as a day in June? ... ...
Stitch into Spring ... Spring has arrived - after an unusually hard winter here in Britain at least.
Birth Samplers ... News of a baby on the way
Lanarte - Spring 2010 Collection ... Lanarte, the leading Netherlands cross stitch studio, have produced lots of lovely new kits this year including three new colourful birth samplers by
The Four Seasons in Cross Stitch, Long Stitch and Tapestry ... Spring, Summer, Autumn/Fall, Winter
Ladies for Ladies ... We hope you enjoyed the Christmas season - unusually for us in the United Kingdom it has been a winter wonderland - lovely to look at but hard to travel.
Jive ... Strictly Come Dancing
Corsican Village A new International by John Clayton ... The latest in this marvellous series of cross stitch kits from
The Bright, The Bold and The Beautiful ... Lanarte is the leading Netherlands cross stitch studio and is one of the top European cross stitch kit suppliers.
Maia's Second Birthday ... Coats Crafts Ltd.
Natural Elegance ... Natural Elegance
Thea Gouverneur's Paris ... It had to happen sooner or later!
Anchor Stranded Cotton ... Arts and Designs is pleased to announce that we now offer
Delicious Derwentwater ... Derwentwater Designs , the Penrith based needlecraft studio, have introduced new designs for Spring 2009, several by
Maia at Arts and Designs ... We are pleased to announce that we now stock the
Spring in your Step ... Heritage Crafts, the leading British cross stitch studio, have introduced a number of new kits from
New Kits from Lanarte for Spring! ... Lanarte
Sale Now On! ... We wish you and yours a Happy and Peaceful New Year .
Merry Christmas to Stitchers Everywhere! ... Christmas is celebrated in many ways by different people around the world - in Australia and New Zealand it's hot; in Scandinavia it's snowy; in Canada it's cold.
Introducing Charlotte ... ... Meet
Inspirational Lanarte Autumn Collection ... Lanarte's new collection for Autumn/Fall 2008 sees the introduction of a number of new cross stitch kits from this most stylish of European design houses.
New from Classic Embroidery ... We are pleased to announce a
Bright and Beautiful ... New