When May was young; ah, pleasant May!
Hello and a warm welcome to the May '22 newsletter!

In this month's issue there are new kits from Permin, Anchor and Heritage Crafts, and various creatures from Nora Corbett and Cottage Garden Samplings.

We also have some news for our long-neglected EU customers and there's hardanger in the Bargain Basement.


Kits

Permin have released a second collection for 2022 with cushions, hardanger, landscapes and cute ostrich and giraffe. We have chosen two winter scenes, a bee cushion and the ostrich so far. Let us know if you are interested in any of the new kits.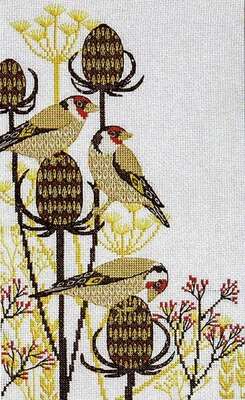 Anchor have a new collection the Birds by Ashley Hutchinson. The designs are elegant and stylish and there are three so far: Nuthatch, Goldfinches (illustrated) and Blue Tits. All of them have a lot of backstitch detail superimposed on the cross stitch.

Heritage Crafts have new designs and we have chosen Hedgehogs in Spring by Nigel Artingstall and the Pessimist by the wonderful Peter Underhill. Their other new designs for 2022 can be seen in their online catalogue.


Patterns

Nora Corbett's June Bug and Luna Moth have alighted.

The latest design in the Year in the Woods series, the Ferret by Cottage Garden has also arrived.


Bargains

There's hardanger in the Bargain Basement this month and as usual it's at half the previous low price. Hardanger is hard so why not try it out while it's at a bargain price!


European Union

We have had a lot of trouble recently with deliveries to the EU and so we decided to suspend them a while ago. The postal services were quick to introduce hefty 'handling charges' which means you have to pay a substantial fee just to get your item through Customs one word might be 'extortion'. We do plan to reintroduce deliveries but we have to have a new condition: if you refuse an item at Customs because you don't want to pay the handling fee, then we will deduct the postage cost from the original payment before refunding. This applies to all items including those with free postage. We think this is fair but what do you think?


And Finally

This month's title is from May by Christina Rosetti (who we meet often in these pages!) a 19th Century English poet.

«I cannot tell you how it was,
But this I know: it came to pass
Upon a bright and sunny day
When May was young; ah, pleasant May!
As yet the poppies were not born
Between the blades of tender corn;
The last egg had not hatched as yet,
Nor any bird foregone its mate.

I cannot tell you what it was,
But this I know: it did but pass.
It passed away with sunny May,
Like all sweet things it passed away,
And left me old, and cold, and gray.»

May '22. We have decided that as the century is 22 years old, we can now miss out the leading digits of the year! If you were around at the turn of the century, you might remember the apocalyptic predictions of things like the millennium bug and how they turned out to be the dampest of squibs.

We hope that the many other dire predictions of our present times will turn out the same way and we hope your May '22 is warm, sunny and long-lasting.

by Arts and Designs on Fri, 29 Apr 2022, 20:03
April golden, April cloudy
A warm welcome to our April 2022 newsletter!

The Nashville show earlier in the year produced a rash of new patterns which are now filtering down to US suppliers and thence to us here in the unfashionable western spiral arm of the galaxy. Anne has been busy adding them to our listings and we hope you approve.

On the kits front, there are new offerings from Glorafilia, Riolis and Anchor.

We're also adding new fabric ranges for the serious stitcher.

If you like to browse through all the latest items we have added then they're always on display here.



Patterns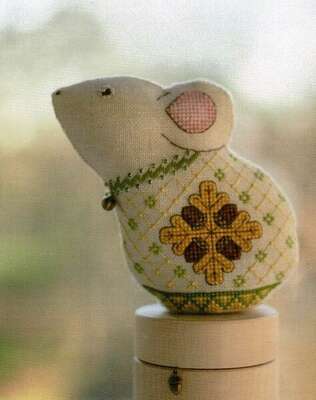 We've added some novel patterns from a designer new to us, Cotton Pixels. There are 3D animals and birds, a halloween sampler and a floral whale, which is not something you see every day. The Acorn Mouse is illustrated.

Our Mirabilia Designs supplier is currently taking a month to deliver orders so we've just got the latest chart of Blossom, a lady bursting with colour and energy in the best traditions of Nora Corbett.

The latest two Bella Filipina designs are now in stock Goddess Aphrodite and Mermaid Treasures: Amethyst.


Kits

Glorafilia have a new set of tapestry designs which are a little bit different. There are four themes flowers, fruits, birds and wild animals. Each theme is available in two variants: a set of four pictures or a cushion front (with extra wools). The canvas is printed with a black outline and there's enough Anchor tapestry wool to finish in tent stitch or be creative with textured stitches. We have chosen the Beautiful Birds and Majestic Animals themes to start with but please let us know if you like the other designs.

Riolis has brought out a new catalogue for 2022 and we have updated our online catalogue to include the latest designs.

Anchor, which includes Maia and Royal Paris, also have introduced new ranges and we've also updated those.

Please visit our catalogues section to view these updated catalogues!


Fabric

We have introduced some new linen fabric by Ubelhor, an Austrian company. It's available in natural in 36 and 40 count and packed in fat quarters. The fabric is similar to Permin's but more flexible.


EU Customers

We're still not sending to most EU countries - please accept our apologies for that. We're trying to get to grips with the problems caused by recent Customs regulation changes which cause delays - and worse - in some EU countries. We continue to hope that things will settle down and normal service will be resumed.


Bargains

There are Janlyn kits in the Bargain Basement this month as usual at half previous low price.


And Finally ...

Our title is from Always Marry An April Girl by Ogden Nash, American Poet (1902-1971).

«Praise the spells and bless the charms,
I found April in my arms.
April golden, April cloudy,
Gracious, cruel, tender, rowdy;
April soft in flowered languor,
April cold with sudden anger,
Ever changing, ever true -
I love April, I love you.»

Here's a fun fact: Nashville was named after a many greats uncle of Ogden Nash, Francis Nash, who fought in the Revolutionary War.

With that dinner table gem we bid you farewell and wish you a peaceful and productive April.
by Arts and Designs on Fri, 01 Apr 2022, 18:25
Have some wine
Greetings and welcome to our sane (but only just) March newsletter.

This month there's new kits from Bothy and Heritage and patterns from Nora Corbett.


Kits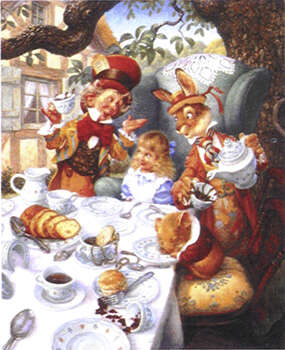 Bothy Threads Winter 2022 collection is now available. We have chosen a few items from the catalogue and if you are interested in any others please check out their catalogue.

Heritage Crafts have two new sweet designs in their Golden Years Collection. These designs are all only on 14 count Aida.

They have also brought back some lovely flower vase kits and Queen Elizabeth II (the person not the boat). You can see their latest designs in their 2022 catalogue.


Patterns

Nora Corbett has a new Rose Couture Collection of little fairies with large roses and a Winter Greenhouse called Crystal Trellis.


Floss Storage

We have a new stranded cottons storage system. It holds up to one hundred skeins in a compact space. It's made of lightweight plastic so will need careful handling.


Stitching Retreat

Julie is attending a stitching retreat this weekend and is presenting a popup shop there so some of our products including DMC threads - are not on the website at the moment. They'll be back on Monday.


Kreinik

There are some signs that the supply of Kreinik floss is picking up. Our latest delivery had more than one of what we ordered! We hope the trend continues.


EU/Brexit Problems

Many EU countries are still presenting problems for little shopkeepers like us in Britain trying to get your orders to you. We have started trial despatches to some EU countries and the results are encouraging so far. We can only hope that things will continue to improve.


Bargain Basement

Because it's Spring here in the North, there are Spring flowers in the Bargain Basement for the month of March. If you're in the southern Autumn at the moment, maybe they'll brighten your day a little!


And Finally

Our title this month comes from Alice's Adventures in Wonderland (Chapter VII: A Mad Tea-Party) by Lewis Carroll.

«...
"Have some wine," the March Hare said in an encouraging tone.
Alice looked all round the table, but there was nothing on it but tea. "I don't see any wine," she remarked. "There isn't any", said the March Hare
...»

Well, March has now firmly established itself as the month for madness. And just when we thought the world was showing signs of returning to sanity, too. We offer our sympathies and best wishes to the people of Ukraine who deserve better than this.

We hope your world returns to the old normal soon and that we don't have to endure too much more madness.

May your own March be tranquil and nonsense-free.


by Arts and Designs on Fri, 04 Mar 2022, 20:06
By Which You May Know
Hello again and welcome, dear reader, to February's newsletter.

Supply shortages and problems with international trade (see later) have slowed everything down so the pickings are quite slim this month!

We do have some new kits from old favourites Permin and Glorafilia and new patterns form the ever-popular Mirabilia and Bella Filipina so please read on.


Kits

The first new collection of the year is from Danish stalwarts Permin with flowers, hardanger, embroidery and new basket projects for the nursery.

Glorafilia have re-released three older designs Medieval Rabbit and Medieval Dog and William Morris style cushion. There's also a new wall hanging of the Lady with Unicorn - which is also available as a cross stitch by Thea Gouverneur.

There will be a new Bothy Threads collection in February - with a few surprise items we don't know what that means but it's piqued our interest!


Patterns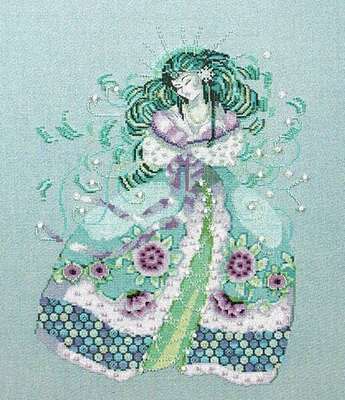 A little late we have the latest design by Mirabilia. The Snow Maiden (illustrated) is based on a Russian fairy tale. The 32 count linen used in the design - Rain Country - has been re-released by Permin and we expect to be available some time this month.

Lakapati, a goddess of fertility is the latest design by Bella Filipina.


Bargains for February

There are delightful kits and patterns in cross stitch and crotchet featuring children in the Bargain Basement for the month of February - and as usual half previous low prices.


Customs Problems

Our shippers have been having delivery problems to some EU countries, especially Ireland, and some items have been returned to us. We have been told that Irish Customs started using a new electronic system in which many items - like foodstuffs - were classified as 'dangerous goods'! Many items sent to Ireland have been sent back and we fear that needlecraft items may also have been thought by these Customs people to have deadly intent ;-)

We have temporarily suspended sales to the EU until the scale of the problem is known and the faulty systems are repaired.

We're sorry for any disappointment and we hope that things return to normal in every way soon.


And finally

Our theme this month is danger and our title is from The Hunting of the Snark, Fit the Second, a nonsense poem in eight 'fits' by Lewis Carol, English writer, 1832-1898
«...
We have sailed many weeks, we have sailed many days,
(Seven days to the week I allow),
But a Snark, on the which we might lovingly gaze,
We have never beheld till now!

Come, listen, my men, while I tell you again
The five unmistakable marks
By which you may know, wheresoever you go,
The warranted genuine Snarks.
...»

This entertaining poem is certainly worth reading in full and has much more of a resonance with our times than you might expect!

We hope you continue to enjoy your stitching (and poetry reading) and we continue to hope that we are all able to return to a free, sane and stable world soon.
by Arts and Designs on Fri, 04 Feb 2022, 19:25
May each day bring thee something fair
A Happy New Year to you and yours and welcome to the January 2022 newsletter!

This month's letter is short as we've shut down for an extended break over the holiday season following a family bereavement just before Christmas and we're resuming only now. There's a lot of catching up to do!


New Patterns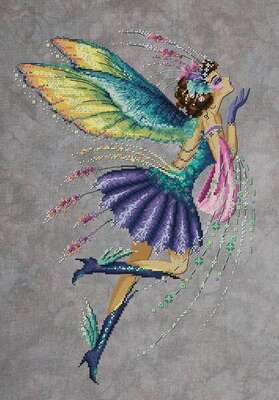 We now have the latest design by Bella Filipina - the rainbow coloured Hummingbird Pixie (illustrated). She's a bit late in arriving but we also now have the October and November designs Arya, Elemental Queen of Air and Crystal Mermaid Aquabella.


New Kits

There are three new Golden Years designs from Heritage Crafts this month and Puffin Shore in the By the Sea Collection by Karen Carter.


New Fabrics

Permin have introduced yet more new fabric colours and we have ordered those in 28 count and 32 count fat quarters. They are also available in 46 x 46 cm pieces and in 14 count and 16 count Aida. Pink Sand is a re-released colour which we also have in 28 count and 32 count fat quarters.


Price Increases

The new year has unfortunately seen lots of wholesale price increases - from Permin, Bothy Threads, Nora Corbett and Mirabilia so far. Royal Mail have also increased their prices which all add to the general dismay. Unfortunately there will be more due partly to rising fuel costs, supply chain problems and other consequences of unhelpful government interventions round the world. As always we'll try to provide the keenest prices.


Bargain Basement

There are cushion fronts in the Bargain Basement this month and at half previous low price as usual. Every cushion deserves a front so pick up a bargain soon.


And Finally

This month's title is from a A New Year's Wish by the somewhat mysterious Helen Van Anderson-Gordon, a US author born in 1859. She wrote several books with a Christian ethos. Other than that there seems to be no information online about her. We think this poem is marvellous.

«May each day bring thee something
Fair to hold in memory -
Some true light to shine
Upon thee in the after days.
May each night bring thee peace,
As when the dove broods o'er
The young she loves; may day
And night the circle of
A rich experience weave
About thy life, and make
It rich with knowledge but radiant
With Love whose blossoms shall be
Tender deeds.»

We hope you find these sentiments as uplifting as we do. It's a lovely wish to start a new year of hope - please pass it on!


by Arts and Designs on Fri, 07 Jan 2022, 19:14
December's smile
A warm Christmas pudding welcome to our Christmas newsletter.

This month we have the remaining Zodiac girls from Nora, a new Mermaid from Julie, new Disney themed kits and a traditional flower kit from Thea Gouverneur. We're extending our ranges of Aida and Metallic thread to give you more options in the 'Kreinik Famine'.

So let's get wired right in ...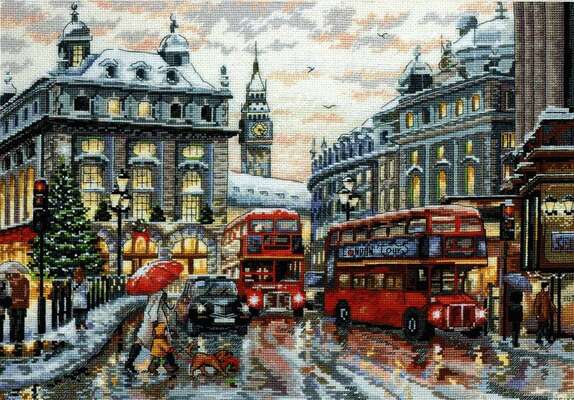 Nora Corbett/Mirabilia

We now have the last three Zodiac Girls making a set of twelve by Nora Corbett.

This month's Nora Corbet's new designs are the new zodiac girls and a pair of witches, one in green and one in purple. Fortunately neither uses Kreinik braid or Caron Waterlilies.

Julie, our 'designer in residence', has designed a stunning Mermaid pattern called At Anchor. She's in bright, vibrant hues and is available as a paper pattern at the moment.


Kits

Dimensions have introduced new Disney Kits Winnie the Pooh Christmas stockings, Disney princesses and Star Wars characters and a cute little Mario for a junior stitcher.

The long awaited, large flower design by Thea Gouverneur has now arrived. The classic design is based on a traditional Dutch flower painting and is available in 36 count linen and black and white Aida.


Printed Aida

We've extended our range of colour printed Aida by MP Studios. Some pieces come in both 14 count and 18 count Aida and in two sizes. Be creative with wild animals on a jungle background or mark a special occasion with the Be Happy style!


More Metallics

We have yet another new metallic yarn. Anchor Fine Metallic although mainly intended for crochet can be used for cross stitch on 14/28 count fabric, needlepoint and hardanger. Only in gold and silver at the moment.

Anne reviewed this yarn and you can read what she said here.


Bargains

There are bears in the Bargain Basement for December mostly teddies but some real ones (really? ed.) as well.


And Finally

December is normally our quietest month as stitchers turn their attention to more pressing matters. We're happy that we can grab some time to do the same!

Our title is from Wuthering Heights by Emily Bronte (English writer, 1818-1848):

«Yet my heart loves December's smile
as much as July's golden beam;
then let us sit and watch the while
the blue ice curdling on the stream.»

We hope you can celebrate Christmas in your own way again with friends and family or whatever. Let's start making it a wonderful time all over again!


by Arts and Designs on Fri, 03 Dec 2021, 19:42
Fall, leaves, fall
Hello and welcome to our November newsletter.

We know many of you will be celebrating Halloween this weekend and we talked about it last month so we'll not say anything more!

In this month's issue we have new kit offerings from Luca-S, Bothy Threads, Heritage Crafts, Lanarte and Maia and in patterns the latest design from Mirabilia/Nora Corbett. The Kreinik metallic thread saga continues with little sign of any improvement.

There's more below so please read on ...


Kits

Anchor have re-released four lovely landscape kits in their Maia range very much in the countryside theme (illustrated).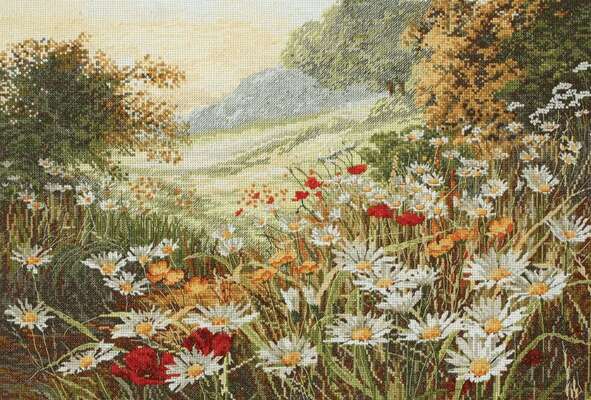 We have some lovely new counted cross stitch table covers by Luca-S. There are two new Christmas themed designs on 28 count sparkly evenweave and two designs on 25 count evenweave with a traditional porcelain blue feel. They are all hemmed and ready to stitch and are great value like other Luca-S products.

Bothy Threads have released their Autumn 2021 Collection - having previously released their Christmas Collection! This time there are a few Christmas cards by Wrendale, more Wrendale kits, some lovely cushions with an Arts and Crafts influence (not by Wrendale), Fashion through the Decades and more. We have chosen a few kits to start and you can see the catalogue for the complete collection. As usual, please let us know if there's something you like that isn't in stock as we can re-stock quickly from Bothy.

The very talented John Clayton of Heritage Crafts has designed a new elegant lady kit. Stella sits on a bar stool and sips a cocktail - she's a companion to Paula who was introduced recently. Also new from Heritage Crafts, Celebration a versatile special occasion sampler from the Karen Carter Collection.

For those who like garden images, we have four lovely kits with flowers and insects by Lanarte, all new. They are all available in either 27 count evenweave or 14 count Aida.



Patterns

Like clockwork on the 15th of each month, Mirabilia release a new design from Nora Corbett. October was no exception and The Three Mermaids is their latest offering. We have it in stock now for immediate despatch.


Kreinik

Like a moribund movie franchise, the Kreinik saga continues. In a galaxy far, far away ...
We keep looking for alternatives to the now very elusive Kreinik braid. DMC Diamant works well as a replacement for Kreinik #4 braid. We now have the complete range of fourteen colours so not a complete solution but definitely worth a look if you're stuck. We have checked the colours and produced a conversion chart for Kreinik to Diamant.

We've expanded our range of Glissengloss Rainbow Blending Filament and now have 57 shades (there are 105 in the Kreinik range). We've checked the colours and yes, there's now a conversion chart from Kreinik to Rainbow Blending Filament.

We know that this comes up in most of our newsletters but to re-interate, we only received one of the Krenik #4 braids out of the 20 we ordered last time. Caron Waterlilies is also becoming more difficult to obtain only 60 % of out last order and only one third of the previous order (sounds like a near 100% improvement! ed).


Barginaceous

Classic Embroidery retired a few years ago and some of their excellent products are still available. For the month of November we have their remaining kits and charts in the Bargain Basement at half previous low price.


And Finally

This month's title is from a poem by Emily Bronte (English write and poet, 1818-1848)

«Fall, leaves, fall; die, flowers, away;
Lengthen night and shorten day;
Every leaf speaks bliss to me
Fluttering from the autumn tree.
I shall smile when wreaths of snow
Blossom where the rose should grow;
I shall sing when night's decay
Ushers in a drearier day.»

Emily Bronte's celebration of the turning of the seasons is one we might all emulate. Like the cycle of life, it's a process to be embraced and not feared. Who cannot be happy to be out and about on a misty day in the company of autumnal trees and with the prospect of a warm homecoming and the embrace of a loved one!

Until next month, enjoy your Halloween celebrations and your stitching!
by Arts and Designs on Fri, 29 Oct 2021, 18:57
When the witches go riding
Greetings and welcome to our October edition in which you will find ...
Lots of New Nora Corbett designs, Blackbird Designs reprints and lots more patterns from the Nashville show

Long stitch from Needleart World, Glorafilia, Heritage Crafts and Lanarte

Building Bargains
Patterns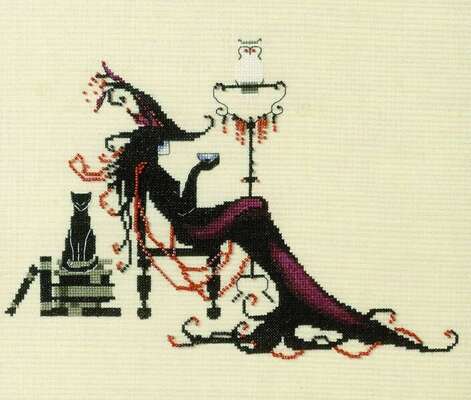 Nora Corbett released lots of new designs this month - Another three Zodiac Girls - Libra, Scorpio and Sagittarius. and she followed those up with two new Bewitching Pixies Witching Hour (illustrated), a very mellow witch and Masqued Mischief striding out with her raven flying behind.

We've had lots of new pattern booklets this month as the new designs from the large Nashville show filter through. Hands across the Sea, Liz Mathews, Carolyn Manning, Lucy Beam, Blue Flower, Scarlett House ...

Some of the older and popular Blackbird Designs booklets have been reprinted. They sold out very quickly and we have already re-ordered. We don't think they're going out of production any time soon.


Kits

The very popular large long stitch kit Tulips by Anchor has unfortunately been discontinued. We've found two new long stitch kits by Needleart World. They are small, complete with hoop and suitable for beginners. We'll keep looking for larger designs.

Blue Flowers Girl is a lovely new design by Lanarte. The chart has a novel coding system using different background colours with black and white symbols if you like trying out new ideas.

There are three new tapestry cushions from Glorafilia. Two Bargello designs in blues and lilacs and a majestic Crane.

The designers at Heritage Crafts have been busy. We have two new Golden Years designs by Peter Underhill, William`s Present by John Clayton and Christmas Jumpers by Karen Carter.


Kreinik ... the Saga Continues

We are still unable to obtain anything much from Kreinik who seem to have had enormous production problems over the last 18 months. We have heard that they're only producing half their normal range but we haven't got anywhere near half of what we've ordered so it remains a mystery. If you happen to know a spell for making #4 braid now would be a good time to use it.


Bargain Basement

There are buildings of various kinds in the bargain basement in October. If only real estate was so cheap.


And Finally

Our next newsletter comes out just before Halloween so we thought we'd get in early as you'll probably be all Halloween'ed out by then.

This month's title is from an anonymous poem which you may have encountered as a child

«When the witches go riding
and black cats are seen
the moon laughs and whispers
'tis near Halloween»

In our neck of the woods the Barnacle Geese are just showing up having flown from Svalbard to overwinter in the estuary a few miles from here. Hopefully they won't collide with any low-flying witches.

Until next month, we hope you enjoy your stitching and those fleeting golden October moments.







by Arts and Designs on Fri, 01 Oct 2021, 19:18
Thirty days hath September
Hello dear stitcher and welcome to our September newsletter.
In this month's issue we have
A new Nora Corbett pattern (of course)

Kits from Bothy Threads, Heritage Crafts, Glorafilia, Permin and Grafitec

more on Kreinik
Patterns

The latest Mirabilia design Botanical Garden has proved to be even more popular than usual. It certainly caught us out - we sold out in a day so please accept our apologies if you were disappointed. We've ordered more and hopefully they'll be back in stock next week.


Kits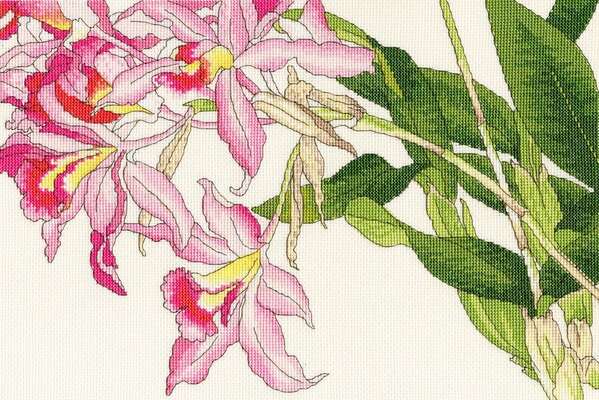 Bothy Threads Christmas collection has been released in plenty of time for you to complete one of their kits. The Japanese-inspired Orchid Blooms is illustrated. There are also some new and unusual designs. Jewelled Leopard and Jewelled Eagle definitely fall into the category 'unusual' (in a good way). There are poster style designs, two vintage and two from the Wild at Heart collection.

Heritage Crafts are getting ahead for Christmas as well with the first three of the Twelve Days of Christmas by Karen Carter.

Also from Heritage Crafts, The Supporter is the latest misfit from Peter Underhill.

We have a pretty new cushion kit by Glorafilia Daisies in the Garden.

Permin of Copenhagen have a new catalogue with more nursery designs, cushions and table covers . There's also a colourful circus sampler. If there's anything you would like, please let us know by clicking the inquire button in the catalogue.

Grafitec canvases are back at our supplier, having been missing for some time. We can also supply the necessary DMC cottons or Anchor wools required.

We've had enquiries about new Merejka, Lanarte and Thea Gouverneur kits which we'll order as soon as they become available from our suppliers.


Kreinik

We're afraid that the Kreinik situation hasn't improved and we are gradually running out of stock, with none of the most popular colours. Anne has produced a conversion chart between Kreinik #4 and Rainbow Gallery Petite Treasure braid. The chart is of course approximate and only covers the most popular the Kreinik shades at the moment. If you're stuck, then this might be a way to make progress.


Europe

The UK now has a different Customs arrangement with the EU so if you live in an EU country you may have noticed that your packages from us have been delayed. We hope this is a temporary situation while Customs officers wrestle with the new system and we expect that things will improve with time.

We plan to ask for some feedback from you soon about how you have found our approach to the problems this new arrangement has brought.


Bargains

The bargain basement has birds in it for the month of September. As usual they're at half the previous low price. We promise to refrain from mentioning bargains flying off the shelves.


And Finally

September is the seventh month of the original Roman calendar (latin septem meaning seven) before they foolishly added January and February. Just think: if they hadn't done that, it would still be summer.

As well as coming from a well-known rhyme, our title this month is in a quote by Julius Henry Groucho Marx (1890-1977), US comedian, actor, writer, stage, film, radio, and television star:

«My favourite poem is the one that starts Thirty days hath September
because it actually tells you something.»

Many places round the world have not had much to cheer about over the past month and our thoughts and best wishes go out to those affected. We hope you are untouched by any of the nonsense and you're able to find some time to set a spell, take yer shoes off, relax and stitch contentedly.

Until next month and with apologies to the Beverley Hillbillies, y'all come back now, hear.
by Arts and Designs on Fri, 03 Sep 2021, 19:02
One day you discover you are alive
A summery welcome to our August newsletter sorry if we're a little late this month!

In the patterns department we have much more from the industrious Nora Corbett and more designs for Halloween from various makers.

On the kits side there are new offerings from Letistitch and Lanarte with Bothy Threads about to release a new collection.


Patterns

Nora Corbett has been busy again. There are three new Zodiac Girls Cancer, Leo and Virgo and additions to the Bridal Bliss Pixies Calla Lily Bride and Pussy Willow Mother of the Bride.

Halloween seems to be on designers' minds at the moment and we have lots of new patterns this month - more to be added as time allows.


Kits

It's never too early to stitch for Christmas and we have new Letistitch releases just in.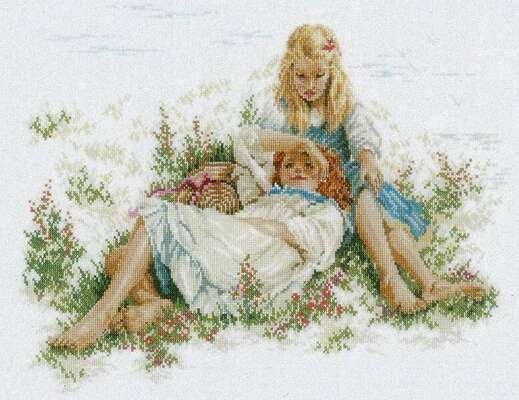 We have two new Lanarte kits. The cat is definitely new but Summertime from the artwork of Dutch Painter Willem Haenraets is a re-release from many years ago and very welcome too.

Bothy Threads will release their Christmas Collection next week with 30 cross stitch and 5 tapestry designs both from their usual contributors: Wrendale Designs, Margaret Sherry and Karen Tye Bentley and from some entirely new artists: Becky Bettesworth, Sharon Turner and Hilary Yafai. We'll post the Bothy catalogue online on Tuesday (10th August) in our online catalogues section.


Thread and Floss

We have expanded our Rainbow Gallery Petite Treasure braid to include more colours and we plan to add more colours soon.


Bargains

The Bargain Basement has Zodiac and Birthday months during August. As usual they're at half the original discounted price.


And Finally

This month's title is from the novel Dandelion Wine by Ray Bradbury (US writer 1920-2012):

«One day you discover you are alive.
Explosion! Concussion! Illumination! Delight!
You laugh, you dance around, you shout.
But, not long after, the sun goes out. Snow falls, but no one sees it, on an August noon.»

We hope that before this August is out, we'll re-discover that we're alive, and laugh and dance and shout like the boy in the story. Perhaps we can recapture the age of innocence and be amazed again by the novelty and unexpected beauty in the world.

May you enjoy a pleasant and productive August!
by Arts and Designs on Fri, 06 Aug 2021, 18:48
Earlier Stitchcraft News ...
Three Things ... A hearty welcome to this midsummer (or midwinter if you're in Oz, NZ or Antarctica) edition of our needlecraft newsletter.
My heart is like a singing bird ... A summery welcome to our latest newsletter in which you will find news about
Oh the cheerful Budding-time! ... Hello and welcome to our May 2021 newsletter with a jaunty air and a spring in our step!
Like a Burnish'd Throne ... Hello wonderful person and welcome to April's newsletter!
the Hope of what will be ... Hello and welcome to our March 2021 newsletter.
Thorough bush, thorough brier ... Hello and a very warm welcome to February's newsletter.
So let us melt, and make no noise ... Hello and welcome to our January newsletter.
A Thousand Christmas Trees ... Hello and a hot chestnuts roasting on an open fire welcome to our December newsletter!
To bring man nearer unto man ... Hello and welcome to November's newsletter.
Your corn is ripe today ... A big howdy-do to our October 2020 newsletter!
Learn little Maid, each useful Art ... Hello and and a warm welcome to September's newsletter.
Hope is the Thing with Feathers ... ... Welcome to our August newsletter.
We'll talk of Sunshine and of Song ... Welcome to our July 2020 newsletter!
Afoot and light-hearted ... Greetings and welcome to our June newsletter.
Reasons to be Cheerful ... A stir-crazy welcome to May's Newsletter.
Seeking refuge with needle and thread ... Welcome to our April Newsletter!
Summer in the Light ... Hello and a windy welcome to March's newsletter!
What a Tangled Web ... A wet and windy welcome to our February newsletter!
A Guid New Year to Ane an' A' ...
Awhile no cares encumber ... Welcome to our December 2019 Newsletter
Treasure your legacy of skills ... Welcome to our November Newsletter!
Here's to October ... A warm welcome to our October Newsletter!
All in the golden afternoon ... Hello again and welcome to our September newsletter.
In the blue and glowing days ... A sunny welcome to our August newsletter!
Sing Oak, and Ash, and Thorn, good sirs ... A hot and sticky welcome to our July '19 newsletter!
We shall get there some day ... A warm welcome to our June newsletter
Dance upon the mountains like a flame ... Welcome to our May 2019 edition!
The First of April ... Hello and a warm welcome to our April 2019 newsletter.
Many are our Joys in Youth ... Greetings and welcome to our March 2019 Newsletter ...
Winter is the Better Season ... Welcome to freezing February - or feverish February - depending on where you live.
As sleeps the patient rose ... Happy New Year and a Hearty Welcome to our January 2019 Newsletter!
Ring every day the chimes ... A very warm welcome to our December 2018 newsletter!
November comes And November goes ... Welcome to the November 2018 newsletter!
Summer has two Beginnings ... A Windy Welcome to the October 2018 Newsletter!
September days are here ... Welcome to our September newsletter ...
Remember to be Gentle ... A warm welcome to our sultry August newsletter ...
Answer July ... In this month's Issue ...
Knee-deep in June ... Welcome to June's Newsletter!
In the Cherry Blossom's shade ... ... In the Cherry Blossom's shade
See the land, her Easter keeping ... ... Welcome to our Easter 2018 newsletter
The winds of March were wild and drear ... ... A warm (especially if you live in Britain) welcome to our March newsletter.
Fair Maid of February ... A very warm welcome to February's newsletter!
The New Years Come, The Old Years Go ... ... Welcome to our last newsletter of 2017 (and first of 2018).
I heard the bells on Christmas Day ... A warm, festive welcome to our December newsletter!
The Black Cat and The Philosopher ... Hello and welcome to our Halloween newsletter ...
O wad some Power ... ... A warm welcome to our Autumnal newsletter.
Faith is the Bird that feels the light ... Welcome to September's Newsletter!
If ever any beauty I did see ... ... ...
She sights a Bird ... Welcome to our July 2017 newsletter
There are Moments ... ... "There are Moments, above all on spring evenings, when the lakes that hold our moons are sucked into the earth and nothing is left but wine and the touch of a hand."
Ne'er cast a cloot 'till May be oot ... A warm Spring welcome to the May 2017 newsletter!
Paint the Meadows with Delight ... A warm welcome to our April 2017 issue ...
Each minute sweeter than before ... A warm welcome to our March 2017 newsletter!
I wonder if the sap is stirring yet ... ... A warm welcome to our February 2017 newsletter!
One Little Person ... «One little person, giving all of her time to peace, makes news.
Warlocks and witches in a dance ... « Warlocks and witches in a dance;
Let Love Take Root ... ... ...
No Man Needs a Vacation ... ... ...
A Fur Coat in Texas in August ... Hello and welcome to our August newsletter!
If there is a limit to all things ... Welcome to the July newsletter!
Lux Tua Via Mea: Your Light's My Way ... Greetings and a warm welcome to our June newsletter.
Love, whose month is ever May, ... ... Welcome to May's Newsletter
Shamrocks, Walls and a Touch of the Blarney ... Welcome to your April 2016 newsletter!
Zen and the Art of Stitching ... A warm welcome to our March Newsletter.
Year of the Monkey ... We hope you enjoyed your Christmas and New Year celebrations.
It's Raining Cats and Dogs ... Happy New Year
The stockings were hung by the chimney with care ... ... ...
Treacle Scones ... Welcome to our November newsletter ...
Drawing the Impossible ... A warm welcome to our October newsletter.
On a bank of flowers, in a summer day ... Perhaps summers were better when Burns wrote the poem whose first line forms our title this month.
Imagination Rules the World ... We were inspired by the 200th anniversary of the Battle of Waterloo on the 18th June 1815 and so this month's title is a quotation attributed to
When pleasant sights salute the eyes ... «It is the month of June,
Ne'er cast a cloot ... ... Ne'er cast a cloot ...
Happy Easter! ... In this month's newsletter ...
We are Stardust ... ... «We are stardust
Kings may be blest ... As the birth of our national bard,
Ring in the New ... Welcome to 2015!
'Tis the season to be jolly! ... As the cold nights draw in, it seems a good idea to raise our spirits and Christmas is the ideal way to do it.
Peace, Prosperity and Pleasure ... To Keats it's the "Season of mists and mellow fruitfulness" and to Bryant [it's] "the year's last, loveliest smile".
No spring nor summer's beauty hath such grace ... ... Welcome to our October newsletter - it's a little longer than usual as there's lots to tell you.
Rest is not idleness ... «...
Worth Waiting For ... We hope your summer (or winter) has been as pleasant as ours.
This Sporting Summer ... This year it's certainly another summer of sport with the World Cup in Brazil as well as the usual round of tennis, golf and other tournaments.
People Take Pictures of Summer ... ... «People take pictures of summer, just in case someone thought they had missed it, and to prove that it really existed.»
A spirit of youth in everything ... The title is taken from Shakespeare's Sonnet XCVIII
San Serriffe and the Spaghetti Harvest ... Welcome to our April newsletter ...
No one relaxes in March ... Indoors or out, no one relaxes
A Hint of Spring ... Maybe we no longer think of
A Big Year ... Happy New Year!
Time to Reflect ... Less than 3 weeks to Christmas now so if you didn't manage to finish that cross-stitch Advent calendar in time ...