O wad some Power ...
A warm welcome to our Autumnal newsletter.

Most of the news this month seems to be about patterns so let's rush in without further ado!


Patterns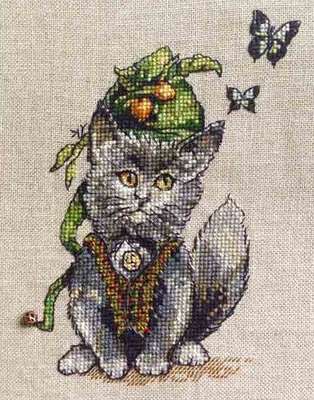 Nimue of France has a sweet new kitten design. The Little Scot wears a scottish bonnet and a tartan (plaid) sash. He's available as a chart or as a complete kit with 32 count natural linen, DMC floss and a tiny bell. Is this how the French really see us Scots?

Some Butternut Road designs by Marilyn Leavitt-Imblum which have not been available for some time are in stock again although this may be just for a limited time. Marilyn also published her designs under the brands Lavender and Lace and Told in a Garden. Sadly she passed away in August 2012. We hope her legacy of excellent designs are continue to be preserved and loved.

We've had lots of enquiries about Hallowe'en at Hawk Run Hollow by Carriage House Samplers. Our supplier now has these patterns just too late for this week's order but we'll certainly add a few to our next order so keep checking in.

Nora Corbett's latest designs are from a new Collection called Butterfly Misses. The first two are Miss Solar Ellipse and Miss Lole's Daggerwing. There are bound to be more to come.

Unfortunately Autumn Queen and Spring Queen by Mirabilia Designs are no longer available. The other two Queens Summer and Winter - are still in print at the moment. It may still be possible to find the patterns online or in your local needlecraft store.


Counting Down to Christmas

Stitchers have to be especially good at planning ahead as projects can take a long time. The countdown to Christmas is well underway now and we have a set of new snowman kits from Janlynn which are stitched on navy with snowflake sequins. They should be quick to stitch but we thought we'd let you know anyway.


Ribbon

Following a customer's request we have expanded our range of Kreinik ribbons and we now have gold in the new 1/4" ribbon.

The company introduced this new size because 'Finishers like the heavier size for trimming stockings, ornaments and pillows. It's also ideal for stitching on 13- and 10-mesh needlepoint canvases, as well as cross stitching on large-scale objects such as screens, wood, and other non-fabric objects. And it can be used in specialty stitches of all kinds for surface embroidery. The colors are exciting, bright, and gorgeous, while the braided ribbon is soft and flexible.'.

The lights are still on in our Bargain Basement for the month of October and we've added half price papercraft stamps - all with a Christmas theme. There's lots of styles to choose from and plenty of time to make your own distinctive Christmas cards.


And Finally ...

Of the bombast and posturing that goes on in the world at every level from dear leaders, dear friends and our dear selves, our national bard Robert Burns had this to say over 200 years ago:

O wad some Power the gift tae gie us, tae see oursels as ithers see us!
It wad frae mony a blunder free us, An' foolish notion:
What airs in dress an' gait wad lea'e us, An' ev'n devotion!

from To a Louse On Seeing One On A Lady's Bonnet, At Church 1786 by Robert Burns

May we wish you a mellow, fruitful and parasite-free Autumn (Fall).


by Arts and Designs on Fri, 29 Sep 2017, 19:11
Faith is the Bird that feels the light
Welcome to September's Newsletter!

Please accept our apologies for the lateness of this month's newsletter - due to weddings and senior moments!

Light is the theme this month and the title is from a verse in the poem Fireflies by Indian writer and Nobel Laureate Rabindranath Tagore (1861 - 1941).

Faith is the Bird that feels the light
and sings when the dawn is still dark

In this month's issue ...

the latest from Nora Corbett and Blackbird Designs

new from Vervaco and LanArte

Derwentwater Designs moves on
Nora Corbett and Blackbird Designs

Lady of Mystery by Nora Corbett of Mirabilia Designs is among the loveliest she has designed. The charts are being snapped up quickly but we still have plenty of the associated materials in stock embellishment packs or beads separately, Caron Waterlilies and the specified shade of linen fabric.

There are two new patterns from Blackbird Designs. All The Hills Echoed is the fourth in this year's Loose Feathers series and Bringing Good Cheer is a Christmas sampler based on an original stitched by a nine year old girl in 1842!


Vervaco and LanArte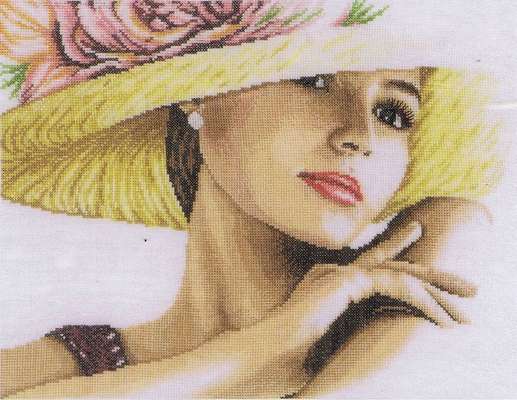 Vervaco have released their third and final Collection for 2017 with new sepia designs, more Disney kits and Christmas needlepoint cushions. This time it's Moana - another favourite with our granddaughter and little girls everywhere.

LanArte`s final collection of 2017 has excelled even their own high standards! Elegant ladies, flowers, copies of old masters, a dog and a fox as well as four new designs of birds and flowers by Marjolein Bastin make this collection really stand out.


Derwentwater Designs

Derwentwater Designs have become well-known for their English country themed kits in cross stitch and long stitch, as well as their range of blackwork kits. After thirty years in the needlecraft business Rose and Sid Swalwell, who started the business, have decided to retire. Their complete range is transferring over to Bothy Theads so will continue to be available. Rose will continue to design and we look forward to many more exquisite designs from her. We have come to respect and admire their talent and generosity over the years we have dealt with them and we wish them both the very best in their retirement.


Bargain Basement

The nights are drawing in and now is a great time to get a craft lamp to see you through the dark days of winter. This month in our Bargain Basement we have craft lamps many at stupendously low prices - less than half their previous discounted price!

We are also offering Rico Design printed table cover kits and Rico Design books with designs for table covers with Aida areas - all at half price. The books have a variety of patterns and although most of them were designed for the matching table cover, could have many other uses.


And Finally ...

We have been away from the office at our son's wedding - we've never seen two people smile so much - which bodes well for the future! Thanks to all of you who wrote to us with their good wishes.

If you want to look up the entire Tagore poem, you can find it at https://terebess.hu/english/tagore5.html

We hope your stitching projects go brightly and your autumn is golden.

by Arts and Designs on Fri, 08 Sep 2017, 18:12
If ever any beauty I did see ...
... Which I desired, and got, 'twas but a dream of thee.

A warm and sunny welcome to our August 2017 newsletter!

This month's title comes from The Good-Morrow, a love poem by John Donne (1572-1631).

In this month's newsletter ...

Mermaids

New Collections

Grafitec Canvas

From Africa to Asia
Mermaids

Mermaids abound this month with two new ones from Nora Corbett's La Petite Mermaid collection Cara Mia in pink and Luce Mia in sparkling green.

Several of our customers have been eagerly awaiting Renaissance Mermaid, designed by Nora Corbett for Mirabilia. We're sure they won't be disappointed with the shimmering mermaid whose design was inspired by Botticelli's The Birth of Venus.


New Collections

Vervaco's second 2017 collection has arrived. It features Anna and Elsa from Frozen, the enduringly popular Disney film. There's also a birth sampler with the princesses entitled Sisters Forever - fun to do and ideal for little girls' rooms.

Heritage Crafts have introduced new kits by Peter Underhill and Phil Smith. Peter Underhill's designs are characteristically witty, one with a guaranteed to make you smile spot-the-dog design and the other with a best mates theme. There's also a new kit from Phil Smith in the nostalgic sepia Silhouettes collection for those who remember the days before automatic washing machines. All are easy to do and reasonably priced.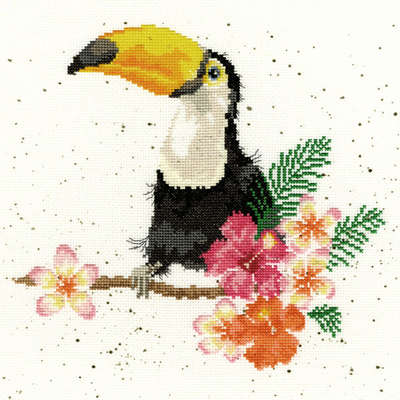 Bothy Threads' Autumn Collection is now in stock with four more distinctive designs from Hannah Dale of Wrendale Designs fox cubs, a toucan, guinea pigs and koala bears. Two of William Morris designs already available as needlpoints are now also in cross stitch sunflowers and bellflowers. There are four more flowers in blackwork and some exciting new Christmas designs, three of which are in Scandinavian style.


Grafitec Canvases

Grafitec have developed a new printing process and their canvases are accurately screen printed on 10 count double canvas.

Anne has been working hard to colour match Anchor Tapestry wools with DMC stranded cottons and we can now offer Anchor Tapestry (Tapisserie) wools as an alternative for use with with Grafitec canvases. .


August Bargains

Moving on from Africa, the Bargain Basement for August now features kits with an Asian theme - from India to the Far East. As always, kits at half price while stocks last!


And Finally ...

As you might guess from our title, love is very much on our minds at the moment.

We will have a skeleton staff for a short while later this month while we attend our son's wedding in the south of England. We're hoping for a dry sunny day but we have bought a large new umbrella just in case!




by Arts and Designs on Fri, 04 Aug 2017, 19:17
She sights a Bird
Welcome to our July 2017 newsletter

This month we have ...

... well, very little actually!

New releases have become thin on the ground as the year moves towards the summer and thoughts turn to sun-drenched beaches and a phone-free zone.


Kits and Patterns

Zoe - she wears a yellow lace dress - is a stunning new cross stitch kit from Heritage Crafts - another of John Clayton`s Elegant ladies collection. and is available in evenweave and Aida.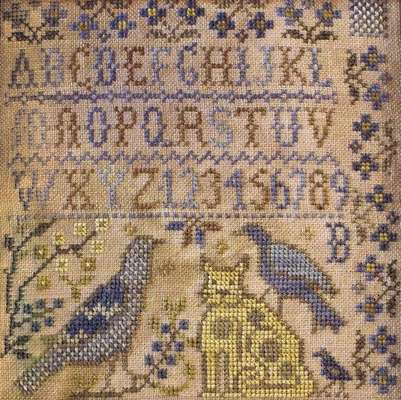 The third cross stitch pattern of Blackbird Designs' Loose Feathers series for 2017 has arrived.
Number three of nine is called She Sights a Bird and is inspired by US civil War era poet Emily Dickinson's poem of the same name. The birds - and the cat - are shown in this traditional sampler design.

French designer Nimue Fee Main has completed the set of four fairy children from the artwork of Erle Ferronniere. Cocoon and Bell are available in cross stitch either as kits on 34 count Murano or as charts.


Stock Clearance Bargains

Our Bargain Basement has an African feel for the month of July with animals and ladies from that continent.

Characterised by colourful dress and stylish design, these cross stitch kits are great value. And, as usual for the Bargain Basement, offers are half their previous, heavily discounted price.


And Finally ...

Our title is from a poem written about 1862 by Emily Dickinson (1830-1886)

She sights a Bird - she chuckles -
She flattens - then she crawls -
She runs without the look of feet -
Her eyes increase to Balls

Some people think that Emily didn't really like cats as they never seem to have much success in her poetry!

Whether you're an ailurophile or ailurophobe - or neither - we wish you a mild, pleasant and peaceful July.



by Arts and Designs on Fri, 30 Jun 2017, 18:19
There are Moments ...
"There are Moments, above all on spring evenings, when the lakes that hold our moons are sucked into the earth and nothing is left but wine and the touch of a hand." (A Breeze of Morning, ch. 11, p. 70), Charles Langbridge Morgan

A Sunny Welcome to the June 2017 Newsletter!

This month ...

New Hardanger Kits from Denmark

Cross Stitch Kits and Charts from Denamrk, France and the USA

Tempting Tapestry and the nearly extinct Bargain Birds

Hardanger Kits

For all our customers who love hardanger we're delighted to be able to offer more hardanger table mats by Oehlenschlager of Denmark .
Oehlenschlager have been established for 140 years and have a vast catalogue with many superb designers specialising in different types of needlecraft (visit their website at ooe.dk/en/index_en.html).


New Cross Stitch Kits and Charts

Haandarbejdets Fremme is just one of Oehlenschlager's extensive stable and we've added more of their stylish cross stitch kits.

More kits and charts have arrived from Nimue Fee Main of France, including some of the Enchanted Cats series from the artwork of Severine Pineaux.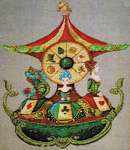 There's now a second chart in the 2017 Loose Feathers series by Blackbird Designs - Light upon the Lawn - a very tradional, 'naive' style design that's already very popular.

The ever-prolific Nora Corbett has two new charts in the Pixie Blossoms series these ones are called Foxglove and Bleeding Heart. (Foxglove has sold out in the last few days but we will soon have more on the way.)


Tempting Tapestry

We've had lots of enquiries recently about Anchor Tapestry (Tapisserie) wools which are becoming increasingly difficult to find in stores, so we've stocked up with all the numbers we were missing and now have the complete range. We also considerably reduced the price so Tapestry (also called Needlepoint) has never been more economical!


Bargain Birds

A few birds in our Bargain Basement have still to fly the nest. They'll be replaced in June by deer which are not dear at half their previous low price. If you'd still like to bag a bargain bird, don't leave it any longer!


And finally ...

Some of us are having a holiday/vacation at the start of June but the skeleton staff will be on hand to despatch orders. Please notre that some items in the supplies category need special packaging and are a bit too difficult for our resident skeleton so these will be unavailable while we're short-staffed.

In a world that seems to be moving slowly but inexorably towards madness, we wish you peace and tranquillity, wine and the touch of a hand.


by Arts and Designs on Fri, 26 May 2017, 19:41
Ne'er cast a cloot 'till May be oot
A warm Spring welcome to the May 2017 newsletter!

There's lots to say this month as many new kits and patterns have been released this Spring.

In this issue ...

Mickey and Minnie are back - new kits and collections from Vervaco, John Clayton, Permin, Luca-S and Bothy Threads

New ranges from European makers - Nimue Fee Main (France) and Haandarbejdets Fremme (Denmark)

Yet more from Nora Corbett and Mirabilia

Special offer on the new Lanarte collection

Bargains for early birds

New Kits and Collections

Vervaco's Disney Mickey Mouse and Minnie Mouse are back in stock. Disney's Frozen has also arrived with Elsa, Anna and Olaf in cushions and rug format. It's been a few years since we had new Disney cross stitch kits but Vervaco have brought them back and lots more new Disney designs are expected in their Second 2017 Collection.

Rose is another lovely lady from John Clayton's fabulous Elegance series by Heritage Crafts. She's wearing a pink evening gown and is standing in front of a white grand piano.

We are delighted to have some unusual and charming fantasy fairies by Nimue Fee Main, a maker from France. The kits have lots of fine detail and special floss and beads and their large scale charts are also available.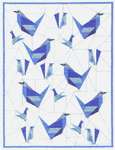 Danish has always been a byword for good design (and good bacon) and so we are proud to stock cross stitch kits by Haandarbejdets Fremme, The Danish Handcraft Guild which has been creating counted cross stitch designs and making cross stitch kits for nearly 90 years. The guild was first established in 1928, as a national association for preserving the best of traditional Danish embroidery and for promoting innovations in design, technique and application. Their latest kits, stitched on linen and with Danish Flower Thread, are stylish and refreshingly different.

Permin - also of Denmark! - has a Spring Collection from which we've chosen a Garden Bird Bellpull hanger and a set of four country pictures which come with mount (or mat) which is printed with a motif to match the individual picture.

New in from Luca-S are two very pretty bird and flower pictures and the cutest owl with a patterned breast.

Bothy Threads Summer Collection has four sweet new animal designs from the artwork of Hannah Dale of Wrendale Designs, pretty birth samplers and the most colourful set of cartoon elephants you'll ever see.

Lanarte`s Second 2017 Collection is now in stock with lots of pretty flowers, teddy bears, ladies and traditional flower design by Marjolein Bastin. These are all reduced by 15% for the month of May as an introductory offer.


New Charts

Mirabilia Designs' latest pattern Royal Games I has already been very popular and we apologise to anyone who asked to be notified when available as both deliveries sold out very quickly. More have now arrived and hopefully there will now be enough to go around! We also have more embellishment packs. There's another design in the Royal Games series in the pipeline - of the Queen of Diamonds combined with the Queen of Clubs.

Meanwhile Nora Corbett has two new Petite Mermaids Tesoro Mia and Solo Tua also with embellishment packe.


Bargains

In the month of Dawn Chorus Day (7th May) we have lots of bird kits at half price in our Bargain Basement. But be quick as some were snapped up as soon as they emerged (or should that be hatched?)


And Finally ...

Our title is a proverb that is common to many European countries - we have used the Scottish version. It means "don't stop wearing your winter clothes until the end of May". Some people think that the word 'May' in the proverb refers to the Hawthorn which flowers early in May and therefore that the proverb means at the start of May and not its end. These are people who have not experienced May in Scotland. As with all proverbs ths one has to be taken with a pinch of salt (which we're not going to explain).

We hope your climate allows the casting of at least some of your 'cloots' and your May is happy and productive.


by Arts and Designs on Fri, 05 May 2017, 18:55
Paint the Meadows with Delight
A warm welcome to our April 2017 issue ...

There's lots of news and new designs from lots of suppliers and lots more to come ...

Kits by Vervaco, Riolis, Deco-Line and Imaginating

Patterns by Blackbird Designs

Kits

Vervaco's first 2017 collection has arrived and so far we have chosen wedding and birth records in sepia, a baby boot birth records and a little girl with baby in sepia. There's also a lovely flower picture in pastels of fuchsias and a flowery counted cross stitch table cover. We've also chosen a design of the Madonna and child and a rooster and chicken on black fabric.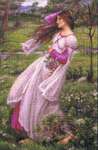 There are two new kits in Riolis Premium Collection Tender Gaze is a mother and child and Windflowers (illustrated) is from a 1903 painting by the Classical/Pre-Raphaelite painter J W Waterhouse. In their Premium Collection Riolis have produced a very high quality series of kits with attractive subjects and elegant packaging. They look spectacular when completed.

Vervaco have renewed their licence with Disney and there are many designs in the pipeline including those from the very popular 'Frozen' and 'Cars'. Those should be available from next week.

Deco-Line have two new embroidery table cover designs for Spring. Both come in either a table centre or runner and one is worked in surface cross stitch only while the other has a variety of stitches.

We have just released new kits by Imaginating including lots of the very popular 'Let's' series by Ursula Michael.


Patterns

Blackbird Designs have released the first of 2017's Loose Feathers. This year it's all about birds. It's Spring Fever is the first of nine in the series which will be released through the year and all worked in Weeks Dye Works floss in a similar colourway. There also three new larger samplers this Spring one the first Christmas pattern of the year.

Following the Nashville Needlework Market in early March we have many new design leaflet by lots of designers which will appear on our web site during the next few weeks.


Supplies

We now offer even more choices in plastic canvas. There's a larger sheet of 7 count clear which would be useful for larger projects. Also a new three inch circle with raised centre (or recessed if you turn it over!). Raised could be a flower centre and recessed makes an ideal wheel. And the other innovation is sheets of metallic style plastic canvas in a choice of gold, silver or copper. Add a measure of your own imagination and you can make something quite unique.


Special Offers

For the month of April we are offering some half price 'ladies in blue' in our Bargain Basement.


News

We saw lots of lovely new kits on our recent trip to the H & H trade show in Cologne. There were some exciting new designers from Denmark, France and Eastern Europe and we will have lots more to show you next month.


And Finally ...

Our title comes from Shakespeare's poem Spring - which is much less about Spring itself than what people get up to in Spring. If you like a cappella music then you will love John Rutter's arrangement of the poem as part of his Birthday Madrigals. There are lots of versions on YouTube.

Don't forget to make some time to relax and enjoy your Spring stitching!
by Arts and Designs on Fri, 07 Apr 2017, 14:30
Each minute sweeter than before
A warm welcome to our March 2017 newsletter!
In this month's Issue:
What's New in Kits? the latest collections from Lanarte, Permin, Dimensions, Bothy Threads, Vervaco and Thea Gouverneur ...

A new kit from our own Anne Peden and a re-released kit from Eva Rosenstand

New patterns from Stoney Creek, Nora Corbett

Pink Ladies!


Needlecraft Kits

Having got over the Christmas hiatus our designers' new season's kits are coming in apace!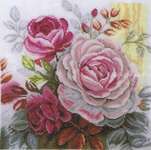 Lanarte's first 2017 Collection has a lovely Spanish lady on black, a snowy owl and lots of flowers. Marjolein Bastin has kits with flowers and chickens in her own detailed style.

We have many more kits from Permin's First 2017 Collection with table covers in cross stitch, printed table covers and hardanger table covers. There are also hardanger Easter egg ornaments and some lovely flower pictures.

From Dimensions new Spring Collection we have chosen an elegant peacock from their Gold Collection, a cute kitten and a pretty wedding record which frames a photo.

For their Spring catalogue, Bothy Threads has designs from two new artists. Beryl Cook was a well known artist with a distinctively humorous style and her plump (and sometimes naughty) ladies are instantly recognisable. Rosina Wachtmeister is an Austrian artist who paints and sculpts stylised cats in colourful surroundings. There are also four new dog designs by Hannah Dale of Wrendale Designs and four new Gorjuss kits on Aida with a beautifully colour printed vintage background.

Thea Gouverneur has three new designs for Spring. Honey Bee on Echinea is a very detailed close-up of the insect, Our Lady of Perpetual Help is a reproduction of a religious icon and Delft Blue Houses (in stock soon) is another Dutch street scene in outline.

Vervaco's first 2017 collection should be with our supplier next week with more of the very popular sepia and monochrome designs. They have also revived some of their Walt Disney kits and have lots of new ones, many from the popular Frozen certainly very popular with our granddaughter! Those are expected in April.

Madonna, a traditional picture of the Virgin Mary and child is a classic relaunch from Eva Rosenstand.

Not to be left out, Anne Peden - our own designer - has added a new blackwork design of an Indian Lady in Traditional Sari, edged with gold and available on 27 count evenweave.


Needlecraft Patterns

Stoney Creek's Home of the Month series is now complete with twelve simple designs.

Nora Corbett seems to be absolutely tireless! This month there are two new designs from the Pixie Blossoms Collection Anemone and Inkberry Holly and next month we'll have Andromeda, the latest Mirabilia design with all the beads and special threads required.




Pink Ladies (Not the kind you drink)

It's 'pretty in pink' in our Bargain Basement for the month of March with ladies in pink at half price.

April's newsletter will be a little late as we'll be at a trade fair in Cologne - we hope to have lots of news for you!


And Finally ...

As it's March, we took our title from a poem by the great English poet William Wordsworth (1770-1850).

« It is the first mild day of March:
Each minute sweeter than before,
The red-breast sings from the tall larch
That stands beside our door.

There is a blessing in the air,
Which seems a sense of joy to yield
To the bare trees, and mountains bare,
And grass in the green field.»

from To My Sister by William Wordsworth

by Arts and Designs on Fri, 03 Mar 2017, 16:36
I wonder if the sap is stirring yet ...
A warm welcome to our February 2017 newsletter!

«I wonder if the sap is stirring yet,
If wintry birds are dreaming of a mate,
If frozen snowdrops feel as yet the sun
And crocus fires are kindling one by one:
Sing, robin, sing;
I still am sore in doubt concerning Spring.»

from The First Spring Day by Christina Rossetti (1830-1894)

Here in the not quite frozen north the snowdrops have been out for a month and the early buds are developing. It's been quite a mild winter.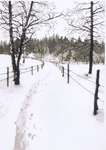 Most of the needlecraft world seems to be in a wintry hiatus but we expect this to change soon with major trade shows later this month and next.

This month we have more from the prolific Nora Corbett, John Clayton, Imaginating and Permin.

There are two lovely new mermaid patterns from Nora Corbett these have Italian names (Bella Vita and Mai Soli) and so must inhabit the warm waters off Italy. Oh that we were there!

Nora has also produced a stunning new design for Mirabilia Miss Christmas Eve has a glittering dress of berries, foliage and satin ribbon. A stylish panel for next Christmas?

There are two new ladies in John Clayton's Elegance series by Heritage Crafts. Grace, a modern young lady in a purple evening gown and Lilly, an Art Deco lady in a silver dress. And for owl lovers there's Christmas Owls by Karen Carter.

Some of Imaginating's designs are now becoming available as complete kits and we have a few of the most sought after. They all come with 14 count Aida and DMC stranded cottons.

Permin have introduced some new kits to tide us over until their next major release - Roses and Forget-me-nots Hardanger Table Mats (a hardanger kit), Summer Farm and Footsteps in the Snow (both cross stitch kits).


Events ...

For our Scottish subscribers, there's an exhibition of embroideries by the East Kilbride Cross Stitching Circle in the East Kilbride Arts Centre, 51 Old Coach Road, G74 4DU from Friday 3rd Saturday 26th February 10 a.m. To 8 p.m. With free admission.

For the month of February we have some big cats in the Bargain Basement as well as fabric remnants.


And Finally ...

When Spring comes along and your neighbour wants to borrow your lawnmower, Chic Murray has the answer.

My next door neighbour said "Is it OK if I use your lawnmower?" I replied, "Certainly, just don't take it out of my garden."

Have a mild February wherever you are.
by Arts and Designs on Fri, 27 Jan 2017, 19:47
One Little Person
«One little person, giving all of her time to peace, makes news. Many people, giving some of their time, can make history.» Peace Pilgrim (Mildred Lisette Norman, 1908-1981)

Well, things have been rather peaceful in the needlecraft world and there isn't a lot to talk about this month!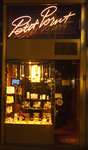 Kits

We now have the fourth and final collection for 2016 from Lanarte and Marjolein Bastin with angel, fairies and flowers and lovely floral kits by Marjolein.

Bothy Threads have new designs from the artwork of Hannah Dale of Wrendale Designs a barn owl, a fox and a highland cow. There are also five more colourful and traditional samplers by Moira Blackburn and a new series of blackwork flowers. Bothy have had a busy year with 70 new kits released. To make space for those and others in the pipeline 55 of their current kits have been discontinued.

Festive Chicks by Valerie Pfeiffer and Heritage Crafts is very cute for Christmas and is available in 27 count evenweave or 14 count Aida.


Designs

Mirabilia's Veronica in her luscious green ball-gown from Nora Corbett has been very popular and there's an embellishment pack too.


The Future and the Past

We're thinking ahead to next year in our Bargain Basement with lots of half price hearts - ideal for Valentine's Day.

If you visited the website in mid-November you might have noticed the 'skeleton staff' announcement. This is because we were in Vienna (for an anniversary). We can recommend the architecture and culture of Vienna, but not the prices! We spotted the tiny Petit Point shop in the main shopping street near to St Stephen's Cathedral. It has exquisite brooches and tiny handbag/umbrella ornaments at 30-60 Euros. If you're planning a visit to Vienna, drop us a line and we'll give you more information.


And Finally ...

It seems that the emotional excess surrounding the recent US Presidential election has now subsided. We guess that things will not really change that much over the next few years and we hope that everyone will follow Peace Pilgrim's simple formula and make history.

Christmas is of course about another little person - but someone whose message was pretty much the same.

We hope your Christmas is everything you wish for and the world in 2017 is everything we all wish for.







by Arts and Designs on Fri, 02 Dec 2016, 19:37
Earlier Stitchcraft News ...
Warlocks and witches in a dance ... « Warlocks and witches in a dance;
Let Love Take Root ... ... ...
No Man Needs a Vacation ... ... ...
A Fur Coat in Texas in August ... Hello and welcome to our August newsletter!
If there is a limit to all things ... Welcome to the July newsletter!
Lux Tua Via Mea: Your Light's My Way ... Greetings and a warm welcome to our June newsletter.
Love, whose month is ever May, ... ... Welcome to May's Newsletter
Shamrocks, Walls and a Touch of the Blarney ... Welcome to your April 2016 newsletter!
Zen and the Art of Stitching ... A warm welcome to our March Newsletter.
Year of the Monkey ... We hope you enjoyed your Christmas and New Year celebrations.
It's Raining Cats and Dogs ... Happy New Year
The stockings were hung by the chimney with care ... ... ...
Treacle Scones ... Welcome to our November newsletter ...
Drawing the Impossible ... A warm welcome to our October newsletter.
On a bank of flowers, in a summer day ... Perhaps summers were better when Burns wrote the poem whose first line forms our title this month.
Imagination Rules the World ... We were inspired by the 200th anniversary of the Battle of Waterloo on the 18th June 1815 and so this month's title is a quotation attributed to
When pleasant sights salute the eyes ... «It is the month of June,
Ne'er cast a cloot ... ... Ne'er cast a cloot ...
Happy Easter! ... In this month's newsletter ...
We are Stardust ... ... «We are stardust
Kings may be blest ... As the birth of our national bard,
Ring in the New ... Welcome to 2015!
'Tis the season to be jolly! ... As the cold nights draw in, it seems a good idea to raise our spirits and Christmas is the ideal way to do it.
Peace, Prosperity and Pleasure ... To Keats it's the "Season of mists and mellow fruitfulness" and to Bryant [it's] "the year's last, loveliest smile".
No spring nor summer's beauty hath such grace ... ... Welcome to our October newsletter - it's a little longer than usual as there's lots to tell you.
Rest is not idleness ... «...
Worth Waiting For ... We hope your summer (or winter) has been as pleasant as ours.
This Sporting Summer ... This year it's certainly another summer of sport with the World Cup in Brazil as well as the usual round of tennis, golf and other tournaments.
People Take Pictures of Summer ... ... «People take pictures of summer, just in case someone thought they had missed it, and to prove that it really existed.»
A spirit of youth in everything ... The title is taken from Shakespeare's Sonnet XCVIII
San Serriffe and the Spaghetti Harvest ... Welcome to our April newsletter ...
No one relaxes in March ... Indoors or out, no one relaxes
A Hint of Spring ... Maybe we no longer think of
A Big Year ... Happy New Year!
Time to Reflect ... Less than 3 weeks to Christmas now so if you didn't manage to finish that cross-stitch Advent calendar in time ...
Now's the Time! ... The astrologers tell us that whoever is determined to achieve something can make significant progress during November.
No Time for Poetry ... There's no quote from a great poem this time!
Autumn is a second Spring ... ... «Autumn is a second Spring when every leaf is a flower».
That beautiful season the Summer! ... ...
The Meadows' Queen ... «The empress of the year, the meadows' queen,
Spring Cleaning ... It's «out with the old and in with the new» this month as many suppliers have been having a Spring clean.
Hot Cross Stitches ... You may be enjoying your break for Easter which falls this weekend.
Moscow, March and Mary ... Commonwealth Day
If we had no winter, the spring would not be so pleasant - Anne Bradstreet ... February was the month of purification for the Romans - who evidently did their spring cleaning earlier than most of us.
January, month of empty pockets! ... Welcome to our January 2013 newsletter, and may we start by wishing you
Childhood's Beginning ... As the Christmas season approaches, we, like everyone else, are preparing for the big day.
Clocks, Crafting and Ceremony ... Our clocks went 'back' last weekend and we've still to adjust to our new time zone after a week.
Anticipation ... «Well,» said Pooh, «what I like best,» and then he had to stop and think.
Departing summer hath assumed an aspect tenderly illumed ... Welcome to the September newsletter!
The important thing in life ... Here in Britain
Summer's lease hath all too short a date ... Vervaco's summer Collection
A Light In The Darkness ... As you may have heard
The Month that May be Named ... Did you remember to wash your face in the morning dew on 1st May?
Soft in Flowered Languor ... April is
March marches in and the year marches on ... Welcome to our March 2012 newsletter.
A Whole New Day ... A huge welcome to February - which of course has one extra day this year.
... and gie's a hand o' thine! ... A warm welcome to our December newsletter.
December 2011 - Beads, Tapestries and Hotheads ... December is upon us again.
Transylvania and Turnip Lanterns ... Welcome to the end ...
Lanarte Autumn releases, Taller de Canamazo and Disney Dreams ... Welcome to October - normally a time for misty mornings and central heating.
Autumns and Advents ... Autumn has already started in our wayward Scottish climate - oh, how I wish I was in Australia or New Zealand now!
August - Be Creative, Extrovert, Enthusiatic and Generous ... Welcome to August - the month of
Quilting, Blackwork and Summer Designs ... Patchwork and Quilting
The Russians are coming! ... But before they get here, a couple of announcements:
Spring Into Life ... April has started with showers but we're hoping the sun will show up in time for the royal wedding (and for our daughter who's getting married a couple of days after).
March Winds ... The long awaited
Mothers, Maps and maia ... Mothering Sunday
January 2011 - New Kits and Patterns ... A very warm welcome to our first newsletter of 2011.
Needle Time ... As Christmas approaches, you may be looking forward to a frenetic few weeks of gift shopping and preparation followed by a few restful days of 'needle time' when the storm has passed!
Teenies, Birth Samplers and yes, ... more Meerkats ... Sampler Teenies
More Meerkats! ... We're well underway on the countdown to Christmas but there's still Hallowe'en to look forward to.
Fall of the Leaf ... Fall of the Leaf
August News ... Coats Anchor
Cats and Frogs ... John Clayton , the prolific and talented watercolour artist, has designed a new wildlife series of counted cross stitch kits for Heritage Crafts.
And what is so rare as a day in June? ... ...
Stitch into Spring ... Spring has arrived - after an unusually hard winter here in Britain at least.
Birth Samplers ... News of a baby on the way
Lanarte - Spring 2010 Collection ... Lanarte, the leading Netherlands cross stitch studio, have produced lots of lovely new kits this year including three new colourful birth samplers by
The Four Seasons in Cross Stitch, Long Stitch and Tapestry ... Spring, Summer, Autumn/Fall, Winter
Ladies for Ladies ... We hope you enjoyed the Christmas season - unusually for us in the United Kingdom it has been a winter wonderland - lovely to look at but hard to travel.
Jive ... Strictly Come Dancing
Corsican Village A new International by John Clayton ... The latest in this marvellous series of cross stitch kits from
The Bright, The Bold and The Beautiful ... Lanarte is the leading Netherlands cross stitch studio and is one of the top European cross stitch kit suppliers.
Maia's Second Birthday ... Coats Crafts Ltd.
Natural Elegance ... Natural Elegance
Thea Gouverneur's Paris ... It had to happen sooner or later!
Anchor Stranded Cotton ... Arts and Designs is pleased to announce that we now offer
Delicious Derwentwater ... Derwentwater Designs , the Penrith based needlecraft studio, have introduced new designs for Spring 2009, several by
Maia at Arts and Designs ... We are pleased to announce that we now stock the
Spring in your Step ... Heritage Crafts, the leading British cross stitch studio, have introduced a number of new kits from