When the witches go riding
Greetings and welcome to our October edition in which you will find ...
Lots of New Nora Corbett designs, Blackbird Designs reprints and lots more patterns from the Nashville show

Long stitch from Needleart World, Glorafilia, Heritage Crafts and Lanarte

Building Bargains
Patterns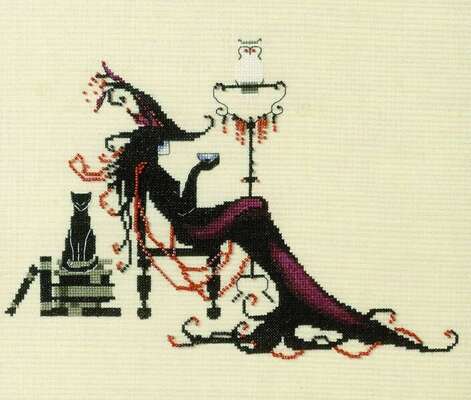 Nora Corbett released lots of new designs this month - Another three Zodiac Girls - Libra, Scorpio and Sagittarius. and she followed those up with two new Bewitching Pixies Witching Hour (illustrated), a very mellow witch and Masqued Mischief striding out with her raven flying behind.

We've had lots of new pattern booklets this month as the new designs from the large Nashville show filter through. Hands across the Sea, Liz Mathews, Carolyn Manning, Lucy Beam, Blue Flower, Scarlett House ...

Some of the older and popular Blackbird Designs booklets have been reprinted. They sold out very quickly and we have already re-ordered. We don't think they're going out of production any time soon.


Kits

The very popular large long stitch kit Tulips by Anchor has unfortunately been discontinued. We've found two new long stitch kits by Needleart World. They are small, complete with hoop and suitable for beginners. We'll keep looking for larger designs.

Blue Flowers Girl is a lovely new design by Lanarte. The chart has a novel coding system using different background colours with black and white symbols if you like trying out new ideas.

There are three new tapestry cushions from Glorafilia. Two Bargello designs in blues and lilacs and a majestic Crane.

The designers at Heritage Crafts have been busy. We have two new Golden Years designs by Peter Underhill, William`s Present by John Clayton and Christmas Jumpers by Karen Carter.


Kreinik ... the Saga Continues

We are still unable to obtain anything much from Kreinik who seem to have had enormous production problems over the last 18 months. We have heard that they're only producing half their normal range but we haven't got anywhere near half of what we've ordered so it remains a mystery. If you happen to know a spell for making #4 braid now would be a good time to use it.


Bargain Basement

There are buildings of various kinds in the bargain basement in October. If only real estate was so cheap.


And Finally

Our next newsletter comes out just before Halloween so we thought we'd get in early as you'll probably be all Halloween'ed out by then.

This month's title is from an anonymous poem which you may have encountered as a child

«When the witches go riding
and black cats are seen
the moon laughs and whispers
'tis near Halloween»

In our neck of the woods the Barnacle Geese are just showing up having flown from Svalbard to overwinter in the estuary a few miles from here. Hopefully they won't collide with any low-flying witches.

Until next month, we hope you enjoy your stitching and those fleeting golden October moments.







by Arts and Designs on Fri, 01 Oct 2021, 19:18
Thirty days hath September
Hello dear stitcher and welcome to our September newsletter.
In this month's issue we have
A new Nora Corbett pattern (of course)

Kits from Bothy Threads, Heritage Crafts, Glorafilia, Permin and Grafitec

more on Kreinik
Patterns

The latest Mirabilia design Botanical Garden has proved to be even more popular than usual. It certainly caught us out - we sold out in a day so please accept our apologies if you were disappointed. We've ordered more and hopefully they'll be back in stock next week.


Kits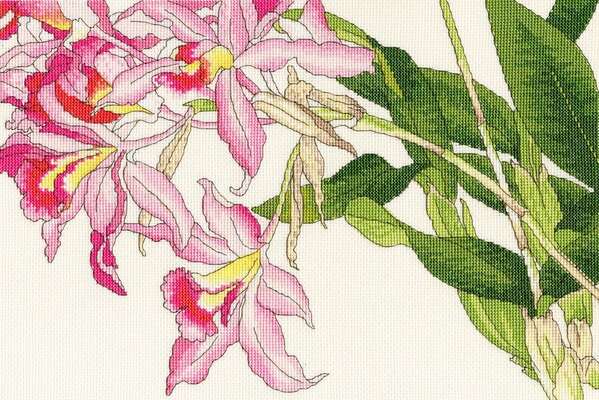 Bothy Threads Christmas collection has been released in plenty of time for you to complete one of their kits. The Japanese-inspired Orchid Blooms is illustrated. There are also some new and unusual designs. Jewelled Leopard and Jewelled Eagle definitely fall into the category 'unusual' (in a good way). There are poster style designs, two vintage and two from the Wild at Heart collection.

Heritage Crafts are getting ahead for Christmas as well with the first three of the Twelve Days of Christmas by Karen Carter.

Also from Heritage Crafts, The Supporter is the latest misfit from Peter Underhill.

We have a pretty new cushion kit by Glorafilia Daisies in the Garden.

Permin of Copenhagen have a new catalogue with more nursery designs, cushions and table covers . There's also a colourful circus sampler. If there's anything you would like, please let us know by clicking the inquire button in the catalogue.

Grafitec canvases are back at our supplier, having been missing for some time. We can also supply the necessary DMC cottons or Anchor wools required.

We've had enquiries about new Merejka, Lanarte and Thea Gouverneur kits which we'll order as soon as they become available from our suppliers.


Kreinik

We're afraid that the Kreinik situation hasn't improved and we are gradually running out of stock, with none of the most popular colours. Anne has produced a conversion chart between Kreinik #4 and Rainbow Gallery Petite Treasure braid. The chart is of course approximate and only covers the most popular the Kreinik shades at the moment. If you're stuck, then this might be a way to make progress.


Europe

The UK now has a different Customs arrangement with the EU so if you live in an EU country you may have noticed that your packages from us have been delayed. We hope this is a temporary situation while Customs officers wrestle with the new system and we expect that things will improve with time.

We plan to ask for some feedback from you soon about how you have found our approach to the problems this new arrangement has brought.


Bargains

The bargain basement has birds in it for the month of September. As usual they're at half the previous low price. We promise to refrain from mentioning bargains flying off the shelves.


And Finally

September is the seventh month of the original Roman calendar (latin septem meaning seven) before they foolishly added January and February. Just think: if they hadn't done that, it would still be summer.

As well as coming from a well-known rhyme, our title this month is in a quote by Julius Henry Groucho Marx (1890-1977), US comedian, actor, writer, stage, film, radio, and television star:

«My favourite poem is the one that starts Thirty days hath September
because it actually tells you something.»

Many places round the world have not had much to cheer about over the past month and our thoughts and best wishes go out to those affected. We hope you are untouched by any of the nonsense and you're able to find some time to set a spell, take yer shoes off, relax and stitch contentedly.

Until next month and with apologies to the Beverley Hillbillies, y'all come back now, hear.
by Arts and Designs on Fri, 03 Sep 2021, 19:02
One day you discover you are alive
A summery welcome to our August newsletter sorry if we're a little late this month!

In the patterns department we have much more from the industrious Nora Corbett and more designs for Halloween from various makers.

On the kits side there are new offerings from Letistitch and Lanarte with Bothy Threads about to release a new collection.


Patterns

Nora Corbett has been busy again. There are three new Zodiac Girls Cancer, Leo and Virgo and additions to the Bridal Bliss Pixies Calla Lily Bride and Pussy Willow Mother of the Bride.

Halloween seems to be on designers' minds at the moment and we have lots of new patterns this month - more to be added as time allows.


Kits

It's never too early to stitch for Christmas and we have new Letistitch releases just in.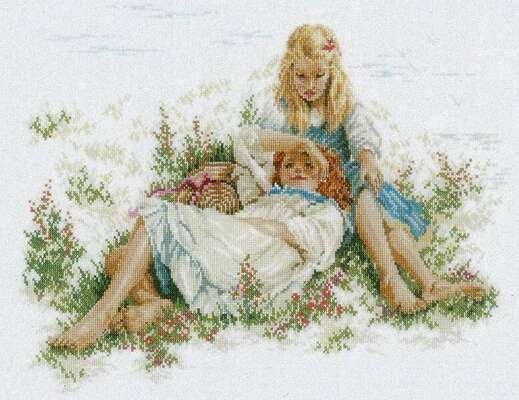 We have two new Lanarte kits. The cat is definitely new but Summertime from the artwork of Dutch Painter Willem Haenraets is a re-release from many years ago and very welcome too.

Bothy Threads will release their Christmas Collection next week with 30 cross stitch and 5 tapestry designs both from their usual contributors: Wrendale Designs, Margaret Sherry and Karen Tye Bentley and from some entirely new artists: Becky Bettesworth, Sharon Turner and Hilary Yafai. We'll post the Bothy catalogue online on Tuesday (10th August) in our online catalogues section.


Thread and Floss

We have expanded our Rainbow Gallery Petite Treasure braid to include more colours and we plan to add more colours soon.


Bargains

The Bargain Basement has Zodiac and Birthday months during August. As usual they're at half the original discounted price.


And Finally

This month's title is from the novel Dandelion Wine by Ray Bradbury (US writer 1920-2012):

«One day you discover you are alive.
Explosion! Concussion! Illumination! Delight!
You laugh, you dance around, you shout.
But, not long after, the sun goes out. Snow falls, but no one sees it, on an August noon.»

We hope that before this August is out, we'll re-discover that we're alive, and laugh and dance and shout like the boy in the story. Perhaps we can recapture the age of innocence and be amazed again by the novelty and unexpected beauty in the world.

May you enjoy a pleasant and productive August!
by Arts and Designs on Fri, 06 Aug 2021, 18:48
Three Things
A hearty welcome to this midsummer (or midwinter if you're in Oz, NZ or Antarctica) edition of our needlecraft newsletter.

In this month's issue we have news on kits from Bree Merryn, Golden Fleece, Riolis, Anchor and many others; and there's a new Mirabilia/Nora Corbett chart for her many aficionados. There's also news for European Union customers.


Hello Kitties

We have a super new range of cute, fun and striking animal pictures by Bree Merryn the Yorkshire based artist and maker.

Here's a tantalising picture of a Caribbean scene new from Russian maker Golden Fleece.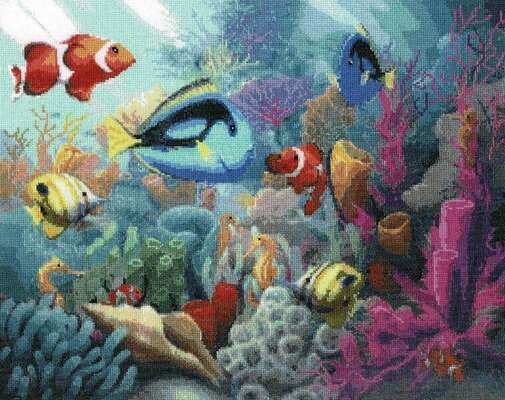 The stitches cover the entire design area so there's plenty to keep the most ardent stitcher engrossed. We don't expect to see the actual Caribbean any time soon so this might be a stitchy substitute for you. It's good value like many kits from eastern Europe.
Click here to see the latest kits!

There are two new designs from Glorafilia of tropical birds in the rainforest.


Patterns

The Twisted Mermaids with entwined tails is the latest Mirabilia design by Nora Corbett. It's sold out once already and there are more embellishment packs are in transit.

Also, we hope to receive a batch of the next 3 zodiac girls from Nora in the next week or two watch this space!


Kreinik Braid

We're afraid that Kreinik #4 braid is still very difficult to obtain. We think they are having trouble with production and/or raw materials. Anne has looked at Rainbow Gallery Petite Treasure braid as an alternative and has written a review comparing the two brands of metallic floss. It's definitely worth considering Petite Treasure braid (and they didn't pay us to say that).


Price Rises

We usually see prices going up a little at this time of year and this year is no exception.

Kreinik braid, Permin fabric, Glorafilia kits, Heritage kits and charts, Vervaco kits and Lanarte kits have announced so far. We will sell all remaining stock at the current price so the prices will go up as replacement items come in.


EU Price Cuts

Well we got your attention! From 1st July the European Union (EU) tightened its import rules. If you're in the EU you'll now have to pay VAT/TVA on all imports from outside the EU - including those from us here in jolly old Blighty.

As we mentioned in last month's newsletter we have a cunning plan: we are going to reduce our prices to EU customers to help offset the importation costs. (We had hoped to have this running by now but there were a couple of technical hitches so we hope to make it live this weekend. We'd like to hear your experiences of how (or if) this works in practice.)


Bargain Basement

This month there are DMC kits in the Bargain Basement, as usual at half the previous low price while stocks last. Don't miss out on these great value offers.


Holidays

Please note that we will be closed for orders between the 19th and the 31st of July while we enjoy the delights of a Scottish summer (torrential rain, high winds and bitey insects).


And Finally

Our title is from a quote attributed to the Buddha (Indian philosopher, 4th Century BC)

Three Things cannot be long hidden the sun, the moon and the truth

We can only hope that normal service will soon be resumed and we can all continue on our paths to enlightenment. Have a great July!


by Arts and Designs on Fri, 02 Jul 2021, 18:18
My heart is like a singing bird
A summery welcome to our latest newsletter in which you will find news about
charts by Nora Corbett and Bella Filipina

kits by Anne, Riolis, Bothy and Permin

bargains this month it's weddings
Charts

The first three in the Zodiac girls by Nora Corbett are in stock now and are proving very popular. They are Aries (March 21 - April 19), Taurus (April 20 May 20) and Gemini (May 21 June 20) and maybe you know someone with a big birthday next year who might like one!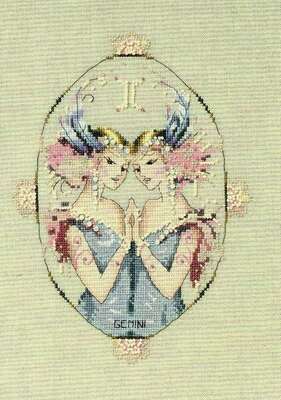 Ophelia the tragic maiden from Hamlet is the latest Mirabilia Design. She's surrounded by the roses she has collected.

Also this month, there are two Bewitching Pixies by Nora Corbett. The witches heads in silhouette use the same materials so one embellishment pack should have enough beads for both designs. There's plenty of time before Halloween to finish these stylish projects.

We have two new patterns from Bella Filipina Bird of Paradise and Sol Tropica a companion to Luna Mystica.


Kits

We have selected five new Marjolein Bastin kits by Lanarte, a set of four birds and a large floral design and the large limited edition kit is still available.

Anne has produced another kit for fans of long-stitching. Nasturtiums are in bright summer colours and it's a midi size so a good project for summer.

Many makers introduce their new designs around this time of year and three of them have brought out new ranges which you can see in our online catalogue section.

Riolis has an addition to their catalogue for 2021. It may take some time before our supplier has all the items.

Bothy's Summer Collection is out now. There are some new ranges including the miniature world of bee and ladybird and pretty garden flowers as well as new designs from old favourites.
Permin`s Christmas catalogue is now available to view online and the kits themselves will be available from July.

All these collections (and more) can be found on our catalogues page.

Please let us know if there's anything you would like us to order.


Bargains for June

Since June is the traditional month for weddings, we are featuring wedding kits and charts in our Bargain Basement - as usual at half previous low price.


More News on EU Taxes and Charges

If you live in the EU and you've ordered from us lately then you may have noticed charges being imposed on your package. At the moment VAT/TVA shouldn't be charged for items less than 22 Euros but from 1st July this tax will apply to all packages whatever their value. There's going to be a system for dealing with this but at the moment it looks like it will be expensive to use, and uneconomical for lower value packages. So we are developing a plan B and we'll give you more details when we've got it up and running.


Continuing Supplier Delays

We are still seeing a lot of delays in the supply chain. This is a knock-on effect from the restrictions of last year. We hope that things will get back to the (old) normal as workers start to resume their jobs and things start to move.


And Finally

With all this talk about star signs and birthdays, our title this month is from the poem 'A Birthday' by Christina Rossetti (yet again!)

«My heart is like a singing bird
Whose nest is in a water'd shoot;
My heart is like an apple-tree
Whose boughs are bent with thickset fruit;
My heart is like a rainbow shell
That paddles in a halcyon sea;
My heart is gladder than all these
Because my love is come to me»

A better description of being in love would be hard to find and what could be a happier thought than this to finish up until next month!
by Arts and Designs on Fri, 28 May 2021, 18:31
Oh the cheerful Budding-time!
Hello and welcome to our May 2021 newsletter with a jaunty air and a spring in our step!
In this month's letter
Julie's Japanese Garden

New limited edition Marjolein Bastin kit

A second 2021 collection from Permin

A new catalogue from Anchor for Spring/Summer

Bargains

News for our EU customers
Kits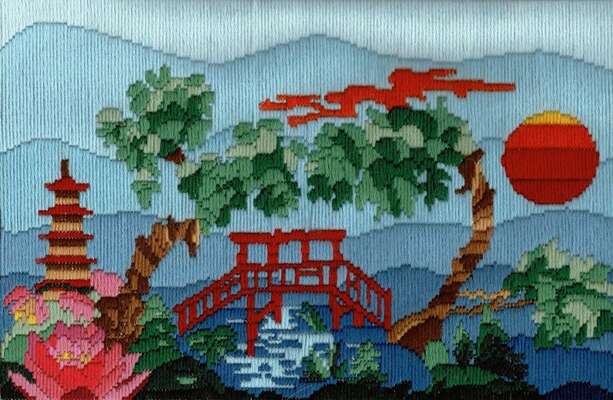 Julie has designed a striking and colourful long stitch kit called Japanese Garden on 14 count canvas worked with Anchor tapestry wools. It has all the emblems that you'd expect and is suitable for an intermediate long-stitcher.

It's taken us all year so far (!) but we finally have the new limited edition Marjolein Bastin kit by Lanarte. It's a large project (24 X 35 in) full of wildlife detail animals, birds and flowers. It has been very popular so we will re-order as long as Lanarte keep making them!

Permin`s second 2021 Collection is now available. We have a few of these already in stock and would be happy to order any you are interested in. Pretty birth samplers, monochrome flowers, printed table covers...

Anchor have a new collection out for Spring/Summer 2021. There are cross stitch kits, needlepoint kits and free embroidery kits.

There are another two Bridal Bliss Pixies from Nora Corbett: Gladioli Maid of Honor and Passion Flower Bridesmaid which has been very popular. We expect new stock back in soon although the maker has been struggling recently.


Supplies

Permin have informed us that unfortunately, due to the rise in the cost of raw materials, their fabric prices will increase on the 1st August.

Kreinik metallics continue to be a problem. We have heard that they're only producing half their range at the moment and our most recent orders from the US have returned less than a tenth of what we wanted. If you're stuck for sparkle, then you could get creative with floss from other makers like Anchor metallic or Rainbow Gallery

If you're stuck for a metallic, let us know and we'll try to get an alternative.


Bargains

You don't normally get owls in your basement but there are some in our Bargain Basement for May and as usual they're at half the previous discounted price.


News for our EU customers

Frankly, things have been a bit of a mess since Britain left the EU at the start of this year with new rules and regulations causing delays and unwarranted charges. The EU is also removing the import TVA/VAT allowance on 1st July but there is hope on the horizon!

We are planning to participate in a new Europe-wide scheme where we pay your TVA/VAT when you make a purchase. We hope this will fix the customs and delivery issues.


And Finally

Our title comes from a poem by Christina Rosetti (1830-1894) (who features in this column quite a lot! )

The poem is called simply Seasons and is in four stanzas, one for each season. This is the one for Spring:

«Oh the cheerful Budding-time!
When thorn-hedges turn to green,
When new leaves of elm and lime
Cleave and shed their winter screen;
Tender lambs are born and 'baa,'
North wind finds no snow to bring,
Vigorous Nature laughs 'Ha, ha,'
In the miracle of spring.»

As we continue on our slow journey back to normality, we hope that you have spring in your steps (even if it's autumn where you are) and that your stitching continues to lift your spirits.
by Arts and Designs on Fri, 30 Apr 2021, 18:16
Like a Burnish'd Throne
Hello wonderful person and welcome to April's newsletter!

There's not a lot of news this time except to say that we will be on holiday/vacation soon (from 31st March until 7th April inclusive - so the checkout will be closed). We apologise for the inconvenience but we do need the break!

So let's get straight into this month's updates ...


Patterns

Echo Lake is a stylish new design from Mirabilia in Art Nouveau style. As usual there's glitter and beads and an embellishment pack is available. Although this was released over a month ago, the supplier has sent it to us only recently they're clearly having major problems.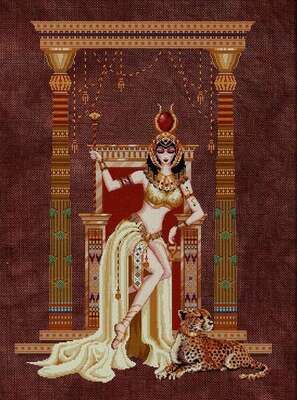 Bella Filipina's new design is Cleopatra wearing a crown and sitting on her throne with a cheetah at her feet. Perhaps she's waiting for the arrival of Antony!


Vintage Fabric

Permin have four new `vintage` fabric colours in 32 count linen Vintage Laurel, Vintage Milk Chocolate, Vintage Star Sapphire and Vintage Waterlily. These are a special price as an introductory offer.


Thread and Floss

As well as Dinky Dyes silk packs for specific patterns, we are building up our stock of individual Dinky Dyes Silk skeins which we know are used in other popular patterns. Keep checking as there are more to come!

We now have silk packs for the popular Northern Expressions designs Twisted Band Sampler and Twisted Rainbow Sampler.

We had heard a lot about CXC stranded cottons, a cheaper Chinese alternative to DMC. Julie decided to order a complete set and Anne has written a review of this range.


Supply Problems

Our deliveries of floss are mostly improving apart from Kreinik metallic floss. Perhaps it would be worth looking into alternatives.


Bargains for April

There are samplers in the Bargain Basement for April as usual at half previous low price. There's a wide selection, some traditional and some modern.


And Finally ...

Our title is from Antony and Cleopatra (Act 2 Scene 2) by William Shakespeare as Enobarbus describes the queen to Agrippa and Maecenas ...

«The barge she sat in, like a burnish'd throne,
Burned on the water: the poop was beaten gold;
Purple the sails, and so perfumed that
The winds were lovesick with them; the oars were silver,
Which to the tune of flutes kept stroke, and made
The water which they beat to follow faster ...»

Nowadays, most of us have less ostentatious means of transport and fortunately what we lack in grandeur we make up for in other ways.

We wish you a happy and peaceful Easter and the chance to get some sun - even if it is only in your own garden!
by Arts and Designs on Fri, 26 Mar 2021, 19:29
the Hope of what will be
Hello and welcome to our March 2021 newsletter.
In this month's issue ...
new kits from Needleart World, Bothy Threads and Glorafilia

new patterns from Bella Filipina and Nora Corbett

more silks from Caron Waterlilies and Dinky Dyes

A few words on shortages
Kits

We have some new kits from Needleart World in a variety of styles and themes. The kits which come with accurately stamped and washable Aida are now in cardboard instead of plastic so are a little more friendly to our environment.

Bothy Threads Spring 2021 collection has been released and we have chosen a few. If there's anything in their catalogue which interests you, please inquire.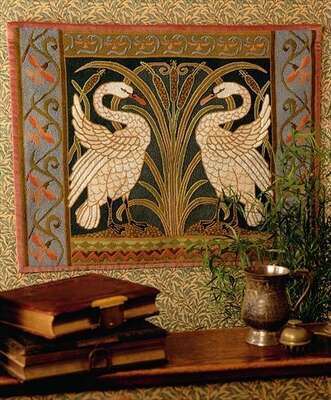 Glorafilia have two new designs - Virginia, a colourful cushion front and the large Swans Wall Hanging which is a re-release of a kit which has been unavailable for some years.


Patterns

Two new designs by Bella Filipina made it over here from the Philippines in record time well done to the couriers! The mermaids, Daughters of the Estuary have already been very popular but for the reasons below, we have to wait a little longer to have all the beads, treasures and Kreinik.

The latest Nora Corbett designs are very cute Winter Bear and Winter Hare from the Holiday in the Forest series are ideal designs for Christmas display.


Silks

The Caron Collection has new shades of Waterlilies. We have almost all the shades from 315 to 340 now.

We are also collecting more Dinky Dyes silks. This month we've introduced floss packs for Glendon Place A-Maze-ing Desserts Collection. The lovely colours had Anne reaching for her recipe books.


Materials Shortages ...

We'd like to explain why we are unable to get some kits and supplies at the moment. Deliveries of our stock from our international - and some British suppliers have suffered as a result of Covid restrictions and Brexit impact.

Most of our patterns/charts are arriving normally without delay. However, there are serious hold-ups on deliveries of Mill Hill beads, Kreinik metallic floss, Caron Waterlilies and Nora Corbett patterns. Weeks Dye Works and Classic Colorworks floss have been harder to come by since the start of lockdowns.

Kreinik production is limited due to restrictions and some colours are temporarily not being produced. If you look at their web site under metallic floss and the weight you would like, you can see what's currently available. At the moment they are listing 85 of Kreinik #4 out of a possible 170 and only 30 colours of #8.

Since the start of this year with new import rules some DMC stranded cottons have not always been available. Of course such problems affect UK needlecraft makers as well and Bothy Threads with a large catalogue haven't had many items - especially tapestry kits - available for some time.

We can only hope that things will get better and thank you for your continuing patience.

Even though we have a new trade deal with Europe, some of our European customers are finding that they have to pay additional taxes to receive their orders. This of course works both ways and there are extra charges for us when importing into the UK. All British companies are in the same boat and it will ultimately lead to price increases.


March Bargains

There's Hardanger in the Bargain Basement for March.


And Finally

Our title is taken from Stanza 18 of the epic poem Ode to Liberty by the English Romantic Poet Percy Bysshe Shelley (1792-1822)

«Come thou, but lead out of the inmost cave
Of man's deep spirit, as the morning-star
Beckons the Sun from the Eoan wave,
Wisdom. I hear the pennons of her car
Self-moving, like cloud charioted by flame;
Comes she not, and come ye not,
Rulers of eternal thought,
To judge, with solemn truth, life's ill-apportioned lot?
Blind Love, and equal Justice, and the Fame
Of what has been, the Hope of what will be?
O Liberty! if such could be thy name
Wert thou disjoined from these, or they from thee:
If thine or theirs were treasures to be bought
By blood or tears, have not the wise and free
Wept tears, and blood like tears?The solemn harmony»

So let's hope we can soon get ourselves out of our 'innermost caves' and into the light of freedom of thought and deed again. We wish you and yours the best in your journey to the light.
by Arts and Designs on Fri, 26 Feb 2021, 19:19
Thorough bush, thorough brier
Hello and a very warm welcome to February's newsletter.

In this month's issue we have patterns from Bella Filipina and Mirabilia, kits from Dimensions, Anne Peden and Permin, and innovative cross stitching needles from John James.


Patterns

We have three new designs by Bella Fillipina. Triton son of Poseidon and Amphitrite with his golden conch shell, Akoya Pearl Mermaid and Magnolia from the Au Naturel Collection.

Mermaid Perfume is a new design from Mirabilia. With her emerald green tail, she sits on a pedestal and wafts her perfume to lure sailors to their doom.

There are lots of new Valentine designs this month, mostly small enough to finish in time to give to your loved one (or loved ones if you fancy your chances).


Kits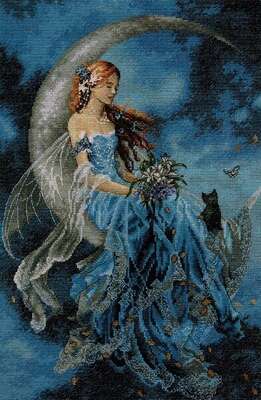 Wind Moon Fairy, a new kit by Dimensions has a lovely fairy and black kitten on a crescent moon.

Anne has designed a new long stitch mini kit, this time it's a rosebud. This kit is competitively priced and quick to do - it would make a good introduction to long stitch if you haven't tried it.

Permin`s first 2021 Collection is now available with new hardanger kits, Eva Rosenstand kits, printed table linen, cushions and pictures. Everything from Quite Busy cushions to Talking Chickens. Have a look at the new Permin Collection 2021/1!


Needles

We have some innovative new twin pointed needles by John James. These work with a hands free frame and are claimed to increase your speed. Might take a bit of practice but definitely worth a try.


February Bargains

Patterns by Imaginating are featured in the Bargain Basement this month with a wide variety of designs.


And Finally ...

Our title this month is from a poem by Shakespeare - who was known to pen the odd bit of verse.

A Fairy Song by William Shakespeare (1564-1616), English poet and playwright

«Over hill, over dale,
Thorough bush, thorough brier,
Over park, over pale,
Thorough flood, thorough fire!
I do wander everywhere,
Swifter than the moon's sphere;
And I serve the Fairy Queen,
To dew her orbs upon the green;
The cowslips tall her pensioners be;
In their gold coats spots you see;
Those be rubies, fairy favours;
In those freckles live their savours;
I must go seek some dewdrops here,
And hang a pearl in every cowslip's ear.»

We would very much like to regain our freedoms to 'wander everywhere'. We hope it won't be long now and we wish you the best of health and happy stitching for the remainder of these difficult times!
by Arts and Designs on Fri, 29 Jan 2021, 19:06
So let us melt, and make no noise
Hello and welcome to our January newsletter.

We've just a little to tell you about kits and patterns and a few things about our exit from the European Union which has now become final.


Kits

We have some new kits Heritage Crafts Togetherness the older couple from the Golden Years series at Christmas, and Winter Landscape with a robin and holly from the Karen Carter Collection.

Glorafilia have re-released their Medieval tapestries of King Arthur and Lancelot with Guinevere.


Patterns

Another superb King Arthur pattern is now available from Nimue fee Main and is a companion to Guinevere.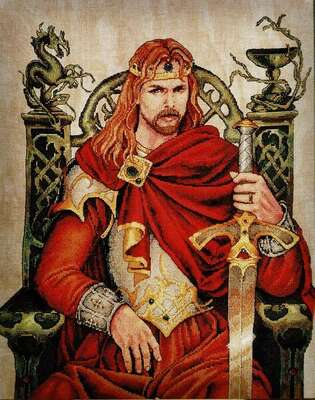 Nora Corbett has a new series Bridal Bliss Pixies. The first two designs are Mum Flower Girl and Primrose Bridesmaid.


January Bargains

If you would like to make a present for a new baby in the New Year, you may find something to interest
you in the Bargain Basement. As usual at half previous low price while stocks last.


And Finally

Well, as you may know, Britain has finally left the EU. We are unhappy that our compatriots voted for this but we are stuck with it. We are happy that a trade deal has been struck. We will gain a little from changed VAT rules but lose a little as postal rates have increased. Overall, we don't expect a great deal to change. All we hope for is a year in which reason and rationality return.

Our title this month is from a poem by an English poet and scholar.

A Valediction: Forbidding Mourning by John Donne, English poet and scholar (1572-1631)

«As virtuous men pass mildly away,
And whisper to their souls to go,
Whilst some of their sad friends do say
The breath goes now, and some say, No

So let us melt, and make no noise,
No tear-floods, nor sigh-tempests move;
'Twere profanation of our joys
To tell the laity our love.

...

Such wilt thou be to me, who must,
Like th' other foot, obliquely run;
Thy firmness makes my circle just,
And makes me end where I begun.»

We thank you Europe for your culture, science and sunny holidays. Perhaps we may yet end where we began.

May we wish you and yours a Happy and Prosperous New Year!
by Arts and Designs on Fri, 01 Jan 2021, 19:23
Earlier Stitchcraft News ...
A Thousand Christmas Trees ... Hello and a hot chestnuts roasting on an open fire welcome to our December newsletter!
To bring man nearer unto man ... Hello and welcome to November's newsletter.
Your corn is ripe today ... A big howdy-do to our October 2020 newsletter!
Learn little Maid, each useful Art ... Hello and and a warm welcome to September's newsletter.
Hope is the Thing with Feathers ... ... Welcome to our August newsletter.
We'll talk of Sunshine and of Song ... Welcome to our July 2020 newsletter!
Afoot and light-hearted ... Greetings and welcome to our June newsletter.
Reasons to be Cheerful ... A stir-crazy welcome to May's Newsletter.
Seeking refuge with needle and thread ... Welcome to our April Newsletter!
Summer in the Light ... Hello and a windy welcome to March's newsletter!
What a Tangled Web ... A wet and windy welcome to our February newsletter!
A Guid New Year to Ane an' A' ...
Awhile no cares encumber ... Welcome to our December 2019 Newsletter
Treasure your legacy of skills ... Welcome to our November Newsletter!
Here's to October ... A warm welcome to our October Newsletter!
All in the golden afternoon ... Hello again and welcome to our September newsletter.
In the blue and glowing days ... A sunny welcome to our August newsletter!
Sing Oak, and Ash, and Thorn, good sirs ... A hot and sticky welcome to our July '19 newsletter!
We shall get there some day ... A warm welcome to our June newsletter
Dance upon the mountains like a flame ... Welcome to our May 2019 edition!
The First of April ... Hello and a warm welcome to our April 2019 newsletter.
Many are our Joys in Youth ... Greetings and welcome to our March 2019 Newsletter ...
Winter is the Better Season ... Welcome to freezing February - or feverish February - depending on where you live.
As sleeps the patient rose ... Happy New Year and a Hearty Welcome to our January 2019 Newsletter!
Ring every day the chimes ... A very warm welcome to our December 2018 newsletter!
November comes And November goes ... Welcome to the November 2018 newsletter!
Summer has two Beginnings ... A Windy Welcome to the October 2018 Newsletter!
September days are here ... Welcome to our September newsletter ...
Remember to be Gentle ... A warm welcome to our sultry August newsletter ...
Answer July ... In this month's Issue ...
Knee-deep in June ... Welcome to June's Newsletter!
In the Cherry Blossom's shade ... ... In the Cherry Blossom's shade
See the land, her Easter keeping ... ... Welcome to our Easter 2018 newsletter
The winds of March were wild and drear ... ... A warm (especially if you live in Britain) welcome to our March newsletter.
Fair Maid of February ... A very warm welcome to February's newsletter!
The New Years Come, The Old Years Go ... ... Welcome to our last newsletter of 2017 (and first of 2018).
I heard the bells on Christmas Day ... A warm, festive welcome to our December newsletter!
The Black Cat and The Philosopher ... Hello and welcome to our Halloween newsletter ...
O wad some Power ... ... A warm welcome to our Autumnal newsletter.
Faith is the Bird that feels the light ... Welcome to September's Newsletter!
If ever any beauty I did see ... ... ...
She sights a Bird ... Welcome to our July 2017 newsletter
There are Moments ... ... "There are Moments, above all on spring evenings, when the lakes that hold our moons are sucked into the earth and nothing is left but wine and the touch of a hand."
Ne'er cast a cloot 'till May be oot ... A warm Spring welcome to the May 2017 newsletter!
Paint the Meadows with Delight ... A warm welcome to our April 2017 issue ...
Each minute sweeter than before ... A warm welcome to our March 2017 newsletter!
I wonder if the sap is stirring yet ... ... A warm welcome to our February 2017 newsletter!
One Little Person ... «One little person, giving all of her time to peace, makes news.
Warlocks and witches in a dance ... « Warlocks and witches in a dance;
Let Love Take Root ... ... ...
No Man Needs a Vacation ... ... ...
A Fur Coat in Texas in August ... Hello and welcome to our August newsletter!
If there is a limit to all things ... Welcome to the July newsletter!
Lux Tua Via Mea: Your Light's My Way ... Greetings and a warm welcome to our June newsletter.
Love, whose month is ever May, ... ... Welcome to May's Newsletter
Shamrocks, Walls and a Touch of the Blarney ... Welcome to your April 2016 newsletter!
Zen and the Art of Stitching ... A warm welcome to our March Newsletter.
Year of the Monkey ... We hope you enjoyed your Christmas and New Year celebrations.
It's Raining Cats and Dogs ... Happy New Year
The stockings were hung by the chimney with care ... ... ...
Treacle Scones ... Welcome to our November newsletter ...
Drawing the Impossible ... A warm welcome to our October newsletter.
On a bank of flowers, in a summer day ... Perhaps summers were better when Burns wrote the poem whose first line forms our title this month.
Imagination Rules the World ... We were inspired by the 200th anniversary of the Battle of Waterloo on the 18th June 1815 and so this month's title is a quotation attributed to
When pleasant sights salute the eyes ... «It is the month of June,
Ne'er cast a cloot ... ... Ne'er cast a cloot ...
Happy Easter! ... In this month's newsletter ...
We are Stardust ... ... «We are stardust
Kings may be blest ... As the birth of our national bard,
Ring in the New ... Welcome to 2015!
'Tis the season to be jolly! ... As the cold nights draw in, it seems a good idea to raise our spirits and Christmas is the ideal way to do it.
Peace, Prosperity and Pleasure ... To Keats it's the "Season of mists and mellow fruitfulness" and to Bryant [it's] "the year's last, loveliest smile".
No spring nor summer's beauty hath such grace ... ... Welcome to our October newsletter - it's a little longer than usual as there's lots to tell you.
Rest is not idleness ... «...
Worth Waiting For ... We hope your summer (or winter) has been as pleasant as ours.
This Sporting Summer ... This year it's certainly another summer of sport with the World Cup in Brazil as well as the usual round of tennis, golf and other tournaments.
People Take Pictures of Summer ... ... «People take pictures of summer, just in case someone thought they had missed it, and to prove that it really existed.»
A spirit of youth in everything ... The title is taken from Shakespeare's Sonnet XCVIII
San Serriffe and the Spaghetti Harvest ... Welcome to our April newsletter ...
No one relaxes in March ... Indoors or out, no one relaxes
A Hint of Spring ... Maybe we no longer think of
A Big Year ... Happy New Year!
Time to Reflect ... Less than 3 weeks to Christmas now so if you didn't manage to finish that cross-stitch Advent calendar in time ...
Now's the Time! ... The astrologers tell us that whoever is determined to achieve something can make significant progress during November.
No Time for Poetry ... There's no quote from a great poem this time!
Autumn is a second Spring ... ... «Autumn is a second Spring when every leaf is a flower».
That beautiful season the Summer! ... ...
The Meadows' Queen ... «The empress of the year, the meadows' queen,
Spring Cleaning ... It's «out with the old and in with the new» this month as many suppliers have been having a Spring clean.
Hot Cross Stitches ... You may be enjoying your break for Easter which falls this weekend.